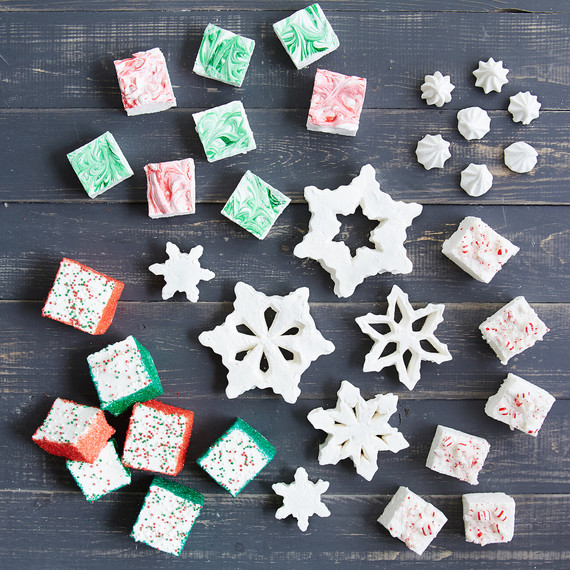 There is nothing quite like a homemade marshmallow. Not only are they delicious, they're really versatile and easy to customize with different shapes, flavors, and colors, just right for holiday gifting. Here are 5 ideas for mixing up this fluffy treat that all start with this marshmallow recipe.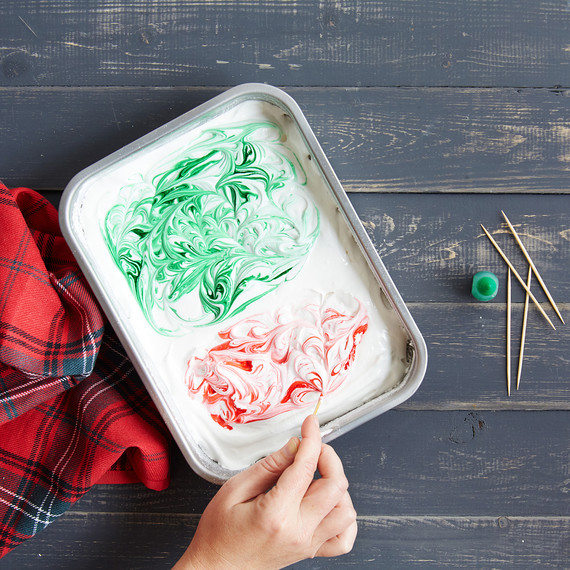 1. Marble With a Festive Color (or Two)
Marshmallow set quickly so if you decide to marble the marshmallow you'll need to work fast. Make sure the food coloring and a wooden pick or skewer is ready to go before you finish the making the marshmallow.
Once the whipped marshmallow is poured into the prepared dish, place 4-5 small dots of each food color randomly over the marshmallow. Use one color per tray, or marble half a tray with one color and half with another as shown here. If you mix colors together be sure sure the colors are complimentary; marbling red and green together results in brown whereas marbling blue and green together produces a teal marble.
Using the wooden skewer or toothpick, swirl color into marshmallow. Be sure to swirl through all dots of color, dragging them in random patterns and covering the entire surface. Set aside, uncovered, until firm, about 3 hours. Cut into squares then toss in powdered sugar before serving or gifting. Use a dry pastry brush to remove excess powdered sugar from the marbled top. This will help re-expose the marbled design.
Fancy a Truffle? Here Are 12 Ways To Coat Homemade Chocolates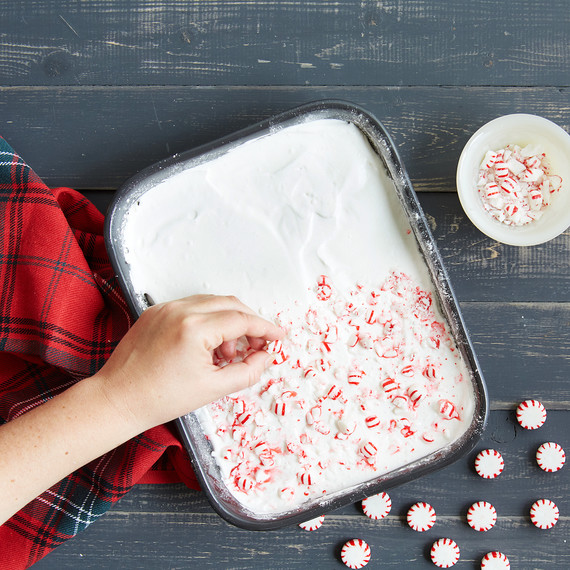 2. Add crushed peppermint candies
Adding crushed peppermint candy brings wonderful texture, flavor, and festive color. Finely crush candy canes or peppermint candies, adding about 1/3 cup directly to the marshmallow during last minute of whipping. Pour whipped marshmallow into prepared dish. Add additional, larger chunks of crushed peppermints to the top of marshmallow. Set aside, uncovered, until firm, about 3 hours. Cut into squares then toss in powdered sugar before serving or gifting.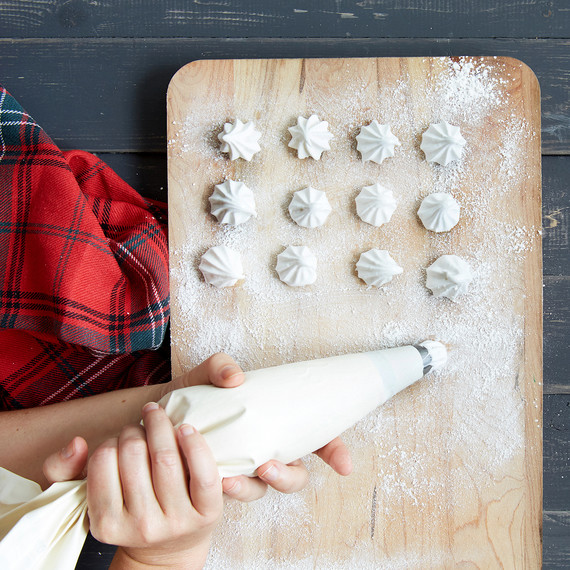 3. Pipe mini marshmallows
Rather than putting marshmallow in a pan to set, transfer it directly from the mixer into a piping bag and pipe out small (or large) shapes. Piping is an easy way to make mini decorative marshmallows. I used a large closed-star tip to make mini marshmallow that look like meringue cookies.
The marshmallow will start setting as soon as the whipping motion stops and they start to cool, so work quickly. This method is best suited to cooks who have had practice with a piping bag before.
Dust a cutting board or cookie sheet with powdered sugar. Then pipe marshmallows in different shapes and sizes onto the board or sheet. After piping, use a pastry brush to dust powdered sugar on top of each of the piped marshmallows. Set aside, uncovered, until firm, about 2 hours. Toss in additional powdered sugar before serving or gifting.
Get Our Best Marshmallow Recipes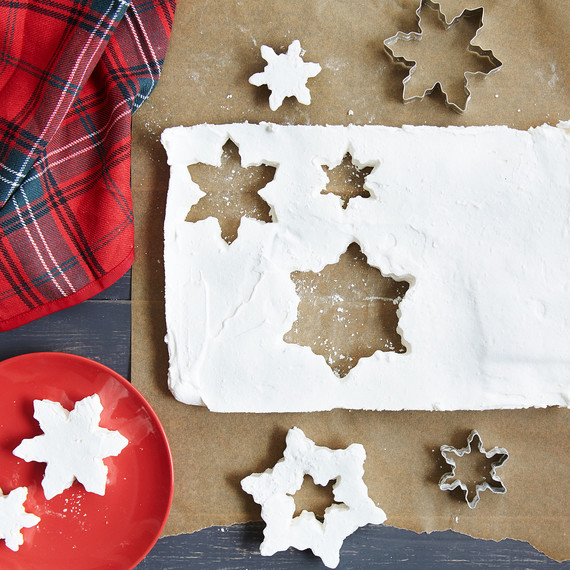 4. Cut into snowflakes
Once homemade marshmallows is firm it is easy to cut in nearly any shape, even intricate snowflake shapes. Dust both the top surface and the cookie cutter in powdered sugar before cutting, this will prevent sticking. I also like to use a larger pan, a 9 x 13, to mold the marshmallows; the firm marshmallow will be a bit thinner, but the large pan provides more surface space for cutting out shapes. Remove the marshmallow from the pan before cutting out shapes. Toss or press the sides in powdered sugar before for serving or gifting.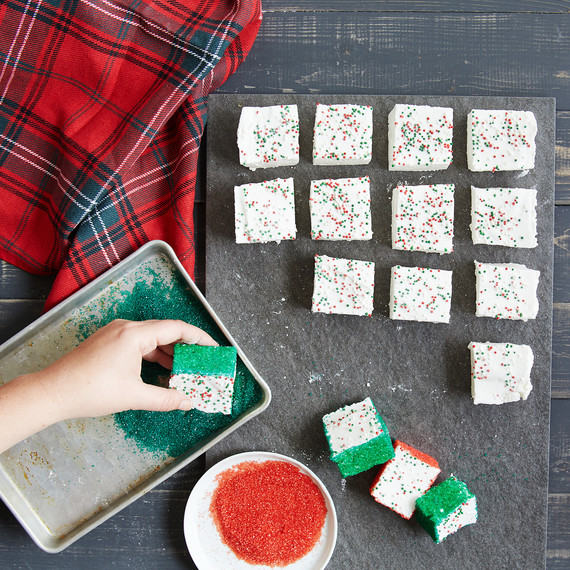 5. Toss in sprinkles
This is one of my favorite options. Sprinkle the top of the marshmallows with mini sprinkles once they are in the pan to set. Once marshmallows are firm and have been cut into squares, amp up the color by rolling the exposed sticky sides of the cut marshmallows in more sprinkles, or as shown here in colored sanding sugar, before serving or gifting.
Ready For More Homemade Food Gifts? See Our Favorites