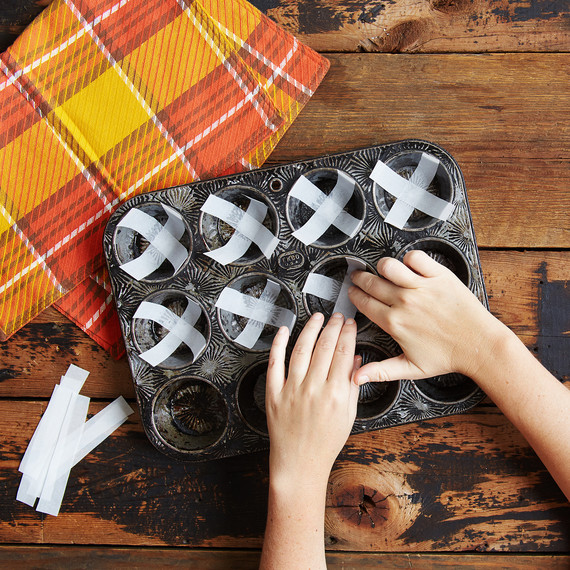 Cute, tiny, and totally delicious, these mini pies are made in a standard-size muffin pan. Using a flower-shaped cookie cutter to cut out the dough gives these perfect little pumpkin pies a very big wow-factor. Use Classic Pumpkin Pie for this project.
You will also need the following equipment:
12-cup muffin pan
Parchment paper
Rolling pin
3 1/2-inch daisy cookie cutter
1. Spray a 12-cup muffin pan with nonstick cooking spray. Cut 24 strips of parchment paper, approximately 5 inches by 1/2 inch. Place parchment paper strips in a crisscross pattern into the bottom and up the side of each muffin cup. (The parchment paper strips will be extremely helpful when it's time to remove baked mini pies from pan.)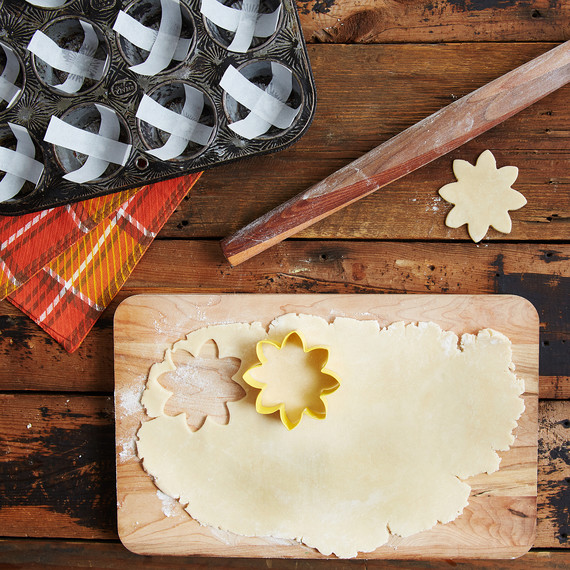 2. Prepare pie dough. Once it's ready, roll it out on a lightly floured surface. Then, using flower cookie cutter, cut flower shapes out of pie dough. Combine and re-roll dough scraps as necessary to make 12 flower shapes. One recipe for a single pie crust should yield enough dough for 12 flower cut-outs.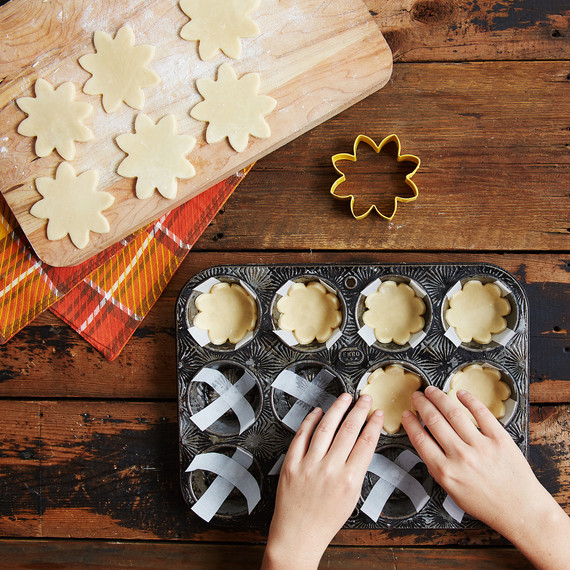 3. Gently press each flower-shaped dough piece over the parchment paper strips, into each cavity. The base of flower should fill the bottom and up the sides, just slightly creating a "cup" that will eventually hold pie filling. The petal portion of the dough will naturally stand upwards along the side of the cavity. Repeat, placing dough into each cavity. Then transfer to the refrigerator to chill.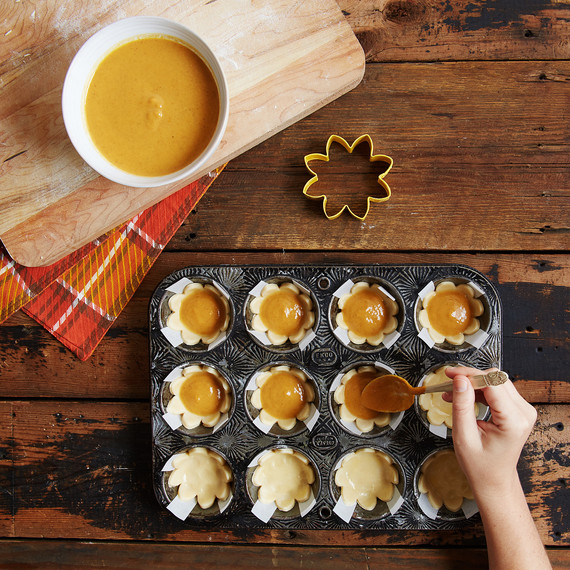 4. Preheat oven to 400 degrees. Brush dough shells with egg wash on the base and inside of the petals. Spoon pumpkin pie filling into each shell, just filling the cupped base. (Do not overfill the shells: make sure pumpkin pie filling stays in the base and doesn't overflow into space between the petals. The actual amount of filling needed will vary based on the size of your shell. I used about 1 tablespoon per shell, which means a full recipe for a 9-inch pie could easily yield filling for 3 dozen mini pumpkin pies.) Bake for 15 to 20 minutes, or until the crust is golden and filling is set. Transfer to a wire rack and let cool in pan for at least 25 minutes.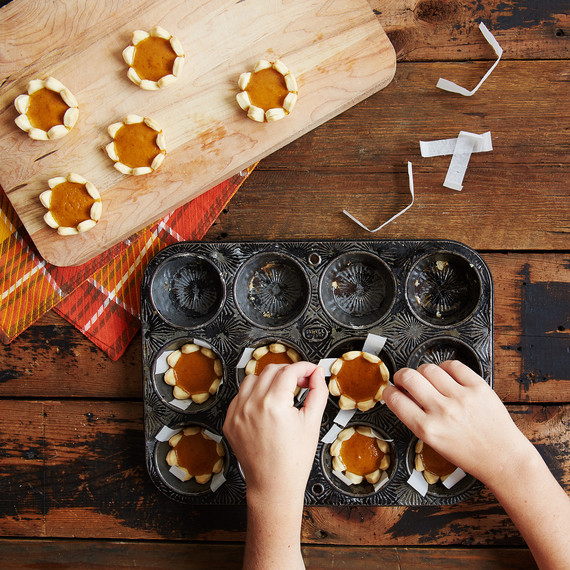 5. Once pies have cooled, gently pull up on the parchment strips to remove from pan.
Chill until ready to serve. Serve garnished with whipped cream.
If You Adore Mini Pies, Try Adrienne's Bite-Sized Rose Apple Pies