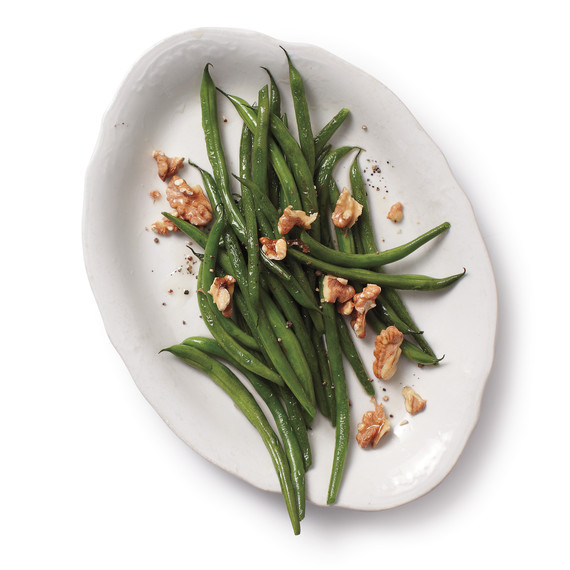 They're a popular vegetable but most people who count green beans as one of their favorite vegetables probably don't know how healthy they are. They just like the taste and the crunch. 
Like other vegetables, green beans are a good source of fiber, potassium, and folate, and are an excellent source of protein, iron, and zinc. They contain anti-oxidants similar to those found in green tea, also known as catechins, which can improve heart health and help prevent cancer and manage/prevent diabetes. Plus they are also a good source of Vitamin C which helps to fight infection and has protective benefits for our immune system.
A one cup serving of ½-inch pieces contains 30 calories and a whopping 3.4 grams of fiber. This alone should be a motivator to incorporate green beans into more of your meals!
Green beans are available nearly year-round in supermarkets but the peak season for fresh green and wax beans is May through September. Frozen green beans are another way to have this healthy vegetable on hand all the time, for dinner, sides, and more. And they are versatile, green beans take on flavors really nicely as the skin of the bean can easily hold flavor. Try them in these five recipes and also check out our other green bean recipes.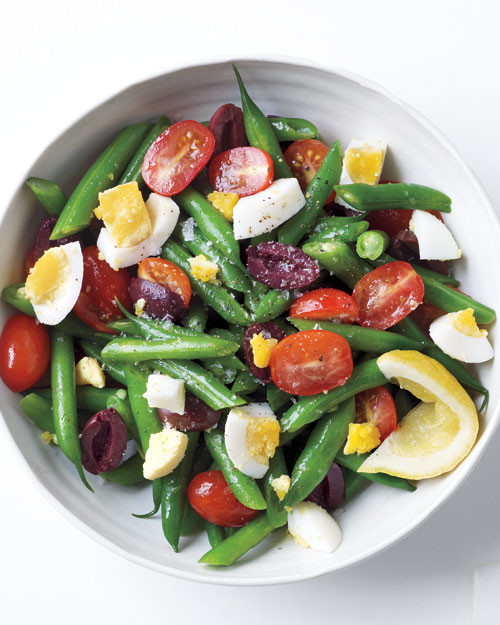 Green Beans with Tomatoes, Olives and Eggs
Four ingredients are all you need to make this colorful, delicious salad. The eggs add protein. The tomatoes bring with them a healthy dose of the anti-oxidant lycopene and the Kalamata olives bring a Mediterranean feel to the dish, but yes it's the green beans that are the star! This salad pairs nicely with any protein and makes for a great outdoor picnic option.
Get the Green Beans with Tomatoes, Olives and Eggs Recipe
Quinoa and Green Bean Salad
Quinoa is a high-protein seed (that acts like a grain) that's packed with fiber, iron, magnesium, and riboflavin. It also contains the antioxidants quercetin and kaempferol, which act as anti-inflammatory agents in the body. Take this super grain and pair it up with high-fiber crunchy green beans sprinkled with parsley and you have a salad perfect for dinner or your next potluck or barbeque.
Get the Quinoa and Green Bean Salad Recipe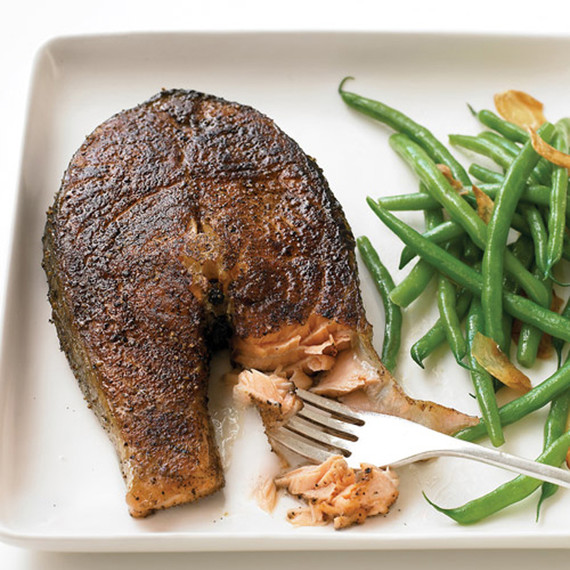 Seared Salmon with Garlicky Green Beans
My go-to fish for cooking at home is salmon. Salmon is a heart healthy, high in Omega-3 fats that have been shown to improve cardiovascular health, good for memory and for skin. This recipe calls for salmon steak which is cooked in the same skillet the green beans were quickly braised in, making for a fast, satisfying and healthy dinner. (The recipe serves one but double, triple or quadruple the amounts to make dinner for your family.) And use this easy green bean cooking technique next time you want a quick, flavorful vegetable side dish.
Get the Seared Salmon with Garlicky Green Beans Recipe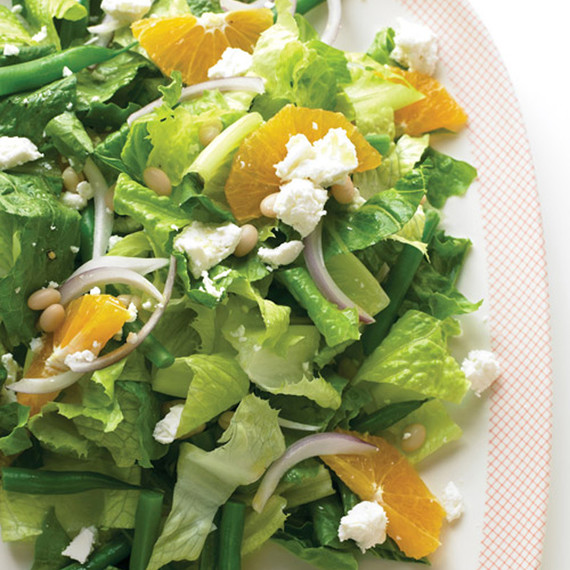 Mediterranean Salad with Green Beans and Feta
The combination of both white cannellini beans with green beans in this simple salad bumps up both the fiber and the protein. The naturally salty feta is offset by the sweet citrus flavor from the navel oranges. This salad is perfectly balanced with protein, carbohydrate, and fat so it could be a complete meal or a hearty and delicious side dish.
Get the Mediterranean Salad with Green Beans and Feta Recipe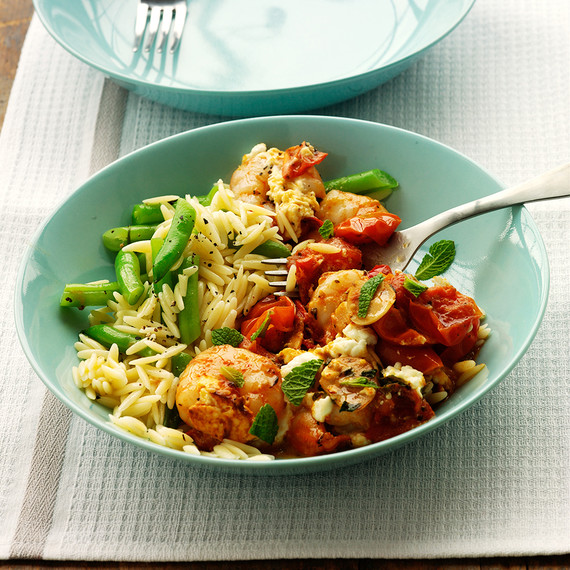 Orzo and Green Beans
Orzo, a form of short-cut pasta shaped like a large grain of rice makes a perfect base for this simple dish. The green beans bring the crunchy, nutrients, and fiber. Shrimp or other seafood would complement this dish as the flavors are simple and not overpowering.
Get the Orzo and Green Beans Recipe