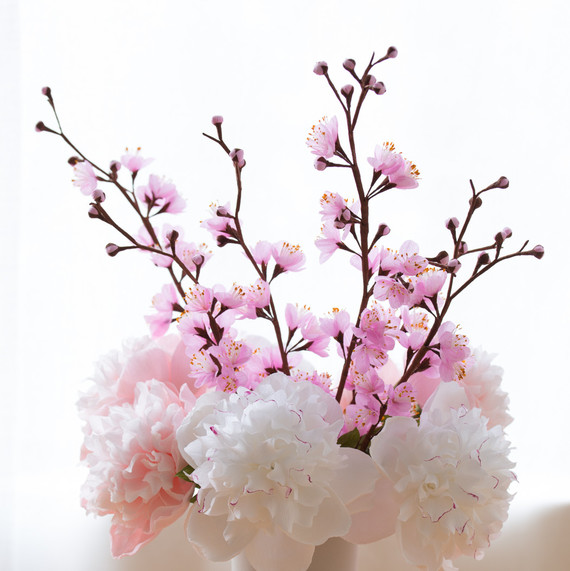 Paper flowers are crafted to give the impression that they are, in fact, the real deal. And maker Jennifer Tran of Papetal achieves just that. 
She begins by examining the flowers she wants to create, dissecting them layer by layer to understand exactly how each flower is formed. "I enjoy looking at the variety in shapes of petals from each flower, seeing their beauty and uniqueness," she tells Martha Stewart Living exclusively. "I love discovering the little imperfections like brown marks and bruises that make each flower so unique. After the initial study, I then experiment with different materials and methods of construction. Sometimes, I get it right at first go. Other times, it take weeks or months to arrive at a version that I can be happy with."
And what next? Tran shares a few of her tricks with us.
[FIND INSPIRATION: 10 Blooms You Can Make That Will Last Forever]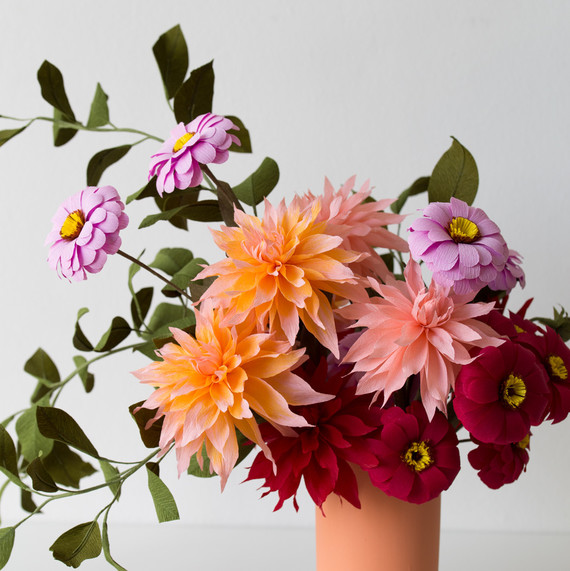 1. Begin Your Bouquet with the Leaves
Tran tells us that green fillers like leaf branches and vines are such an important part of the arrangement that she usually spends double the time on leaves than on flowers. To make these leaves she has two different methods. "The first method involves simple cupping of 180GSM Italian crepe paper, which usually takes about five hours for a luscious looking bouquet." Tran explains. "The second method requires individual construction of each leaf using double-sided German, or Gloria paper. This method delivers a more realistic result but can take up to a week of construction." Tran tells us she makes the decision on which type of leaf to make based on budgets and deadlines. In a regular bouquet, the green fillers can take anywhere from one to two days to create.
2. Painting the Petals Gives More Depth
Don't be afraid to dedicate extra time to the details. Tran tells us that when making a camellia flower, she'll spend at least a day cutting the petals and painting each individual petal by hand so that they appear realistic. 
3. Always Choose Quality Paper
Tran tells us that if a client wants something done fast or long-distance shipping is involved, she'll use 180GSM Italian crepe paper. "This heavy-weight paper is very durable and easy to sculpt. I can cut, curl and cup three to five petals at once and they still hold their shape quite nicely," she says. "If I make a mistake with the curling, it can be easily fixed by reversing the process. Or if I overstretch the paper, I can just scrunch it back and cup it again. Additionally, the 180GSM paper has such a heavy texture that it can deliver quite a bold & dramatic effect for window displays or photoshoots." The downside of this paper Tran tells us, is that the petals never look as realistic as when she's using 60GSM Italian crepe paper. 
60GSM Italian crepe paper has such a fine texture, making it Tran's paper of choice when making faux flowers. "When it comes to working with this fine paper, I do need to handle it with care to avoid damage. Any mistake I make with the shaping is hard to reverse as even a minor fold can be visible. The coloring can be quite challenging too. If I do a wet-wash (wet petal with water, then apply paint over it), I need to be very fast, otherwise the petal gets too soft and can start breaking. Then I need to wait for the petals to completely dry before I can start assembling them."
Thinking of trying your hand at making paper flowers? Then you'll want to take a look at Tran's book Flowersmith: How to Handcraft and Arrange Enchanting Paper Flowers, which contains over 30 paper flower and foliage projects with easy step-by-step instructions.
Feeling inspired? Watch our easy tutorial on how to make paper flowers: