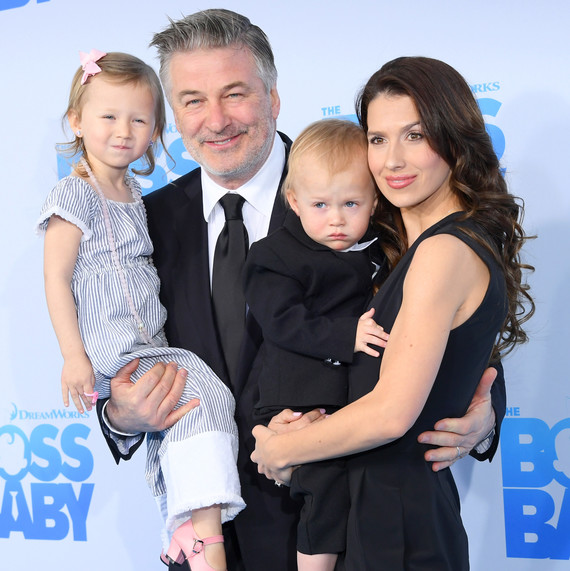 When she's not teaching yoga or spilling the secrets to staying sane in her latest book, The Living Clearly Method, Hilaria Baldwin is trying to be a good model for her three young kids. Recently, we sat down with the fitness pro to talk about healthy eating, the best way to do laundry, and life with Alec. 
You're the founder of a yoga studio, an author, a wife, and a mother of three. How do you find balance? 
It's all about perspective. I realized that childhood -- and life -- go by quickly. It's important to be as present and available in the moment as much as you can. When my kids wake up in the middle of the night and I'm tired, I just think about how many more times they'll wake up wanting me. Eventually, they'll be telling me, "Mom, get out of my room!" I try to remember that it's pretty good right now!
[PUT: A Bit of Stretch in Your Day with These 6 Gentle Yoga Poses]
You don't shy away from showing "the complete picture" on Instagram, while other celebrities may only post polished images. Why are you so comfortable sharing your authentic self? 
A big part of my book focuses on how I used to go out looking very put together, but come home falling apart. So, I've really strived to bring the two together: What you see is what you get. When I stepped into the public life, people starting seeing me as something else, but I'm still the same person. I'm still a yoga instructor. It's important to show the good and not-so-good because I want people to see that [regardless of your clothes or makeup], we really are all the same. 
You've even posted photos on social media of yourself doing laundry. Do you have any good laundry tips? 
Alec and I are both very hands-on people, and we want to show our children that this is what you do! When we travel, I always find the local laundromat and stop by the pharmacy to get detergent -- my favorite is All Sulfate-Free -- and a little drying rack. I love drying things this way [instead of in a machine] because your clothes will last a lot longer.
[BOOKMARK: These 21 Tips for the Perfect Load of Laundry Every Time]
 
When it comes to eating healthy with your kids, what are your some of your favorite meals to make? 
Right now, it's smoothies! Vegetables can be a big fight, so we blend kale or spinach (or both!) with banana, milk or a non-diary alternative, and a nut butter. This way, they get protein, potassium, and greens, but it's sweet enough that they'll drink it. I also let the kids eat something sweet every day, but I have them pick it out. It teaches them that [dessert] is something special. That way, you don't start mindlessly eating junk food. 
[MIX UP: Some of Our Favorite Smoothie Recipes -- Perfect for All Ages!]
Do your family have any special Father's Day traditions? How are you planning to surprise Alec this year? 
Alec doesn't want a lot of things, but he is very sentimental, so you have to be creative. For example, I've been getting him these coffee mugs with pictures of our kids printed on them. We put them around our house, almost like art. I'll take the kids out and ask, "What do you want to get for daddy?" That act of seeing something you think is beautiful and thinking of someone you'd like to give it to teaches them to think about others, which is so important.
WATCH: Make dad a Father's Day picture frame