It's that time again; you're thinking about dinner and what to cook. So here's our weekly list of suggestions: weeknight dinner recipes that take less than an hour of mostly hands-off time. Some recipes will be much faster than that and we'll suggest what you can do ahead to make weeknight prep faster. Recipes will be family-friendly, but we'll stretch the boundaries beyond chicken tenders and broccoli. Yes, there will be pasta, and, yes, it will be delicious. So visit us every week for dinnertime inspiration.
Monday: Green-Pea Burgers with Harissa Mayo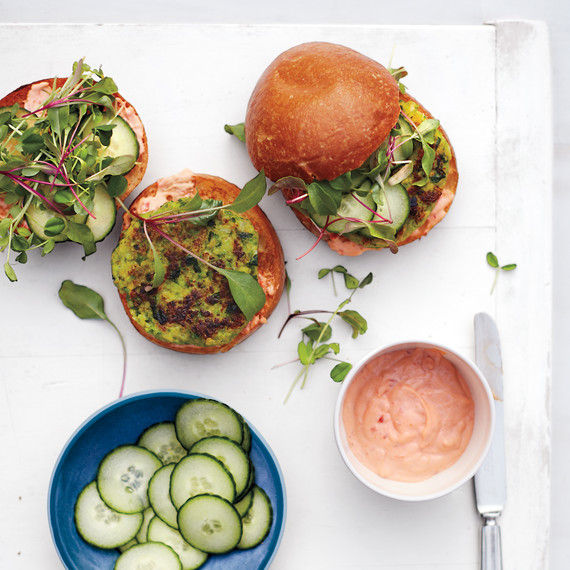 Homemade veggie burgers often have ingredient lists as long as a midsummer day, but these bright-green patties pack in tons of flavor with just a handful of goodies. Chickpeas pair with English peas for protein-packed burgers that are served on brioche rolls with baby greens, crisp cucumber, and mayonnaise spiked with harissa, a Middle Eastern chile paste.
Get the Green-Pea Burgers with Harissa Mayo Recipe
TUESDAY: Mini Asian Meatballs in Lettuce Cups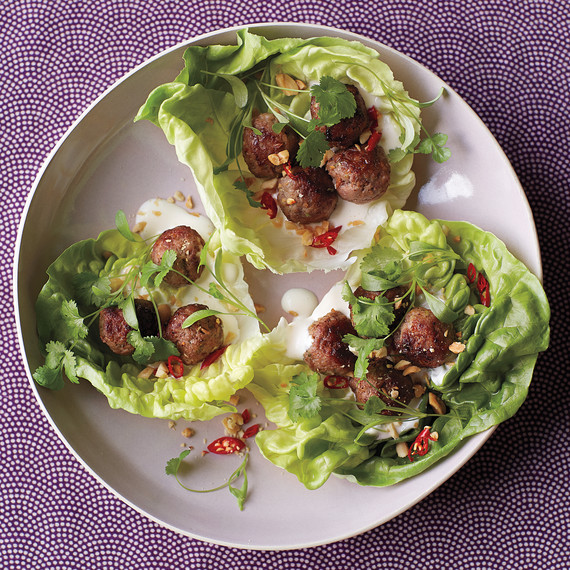 Don't get stuck in a hamburger or chili or Bolognese rut; ground beef is so versatile (oh, yes -- and economical too). Try it in these mini meatballs. They're flavored with ginger and scallions and served in lettuce cups with cilantro sprigs, chopped Thai chiles, peanuts, and a zesty lime mayonnaise.
Get the Mini Asian Meatballs in Lettuce Cups Recipe
WEDNESDAY: Roasted Chicken Breasts with Ratatouille
 
It's miraculous and delicious: Tonight's chicken dinner cooks in the pan atop the vegetables. It's one of our favorite one-pot meals, hearty but summery -- and it showcases the straight-sided skillet, which goes from stovetop to oven to broiler. Honor the French roots of this meal and serve it with a good, crusty baguette.
Get the Roasted Chicken Breasts with Ratatouille Recipe
THURSDAY: Broiled Halibut with Shaved Spring Vegetable Salad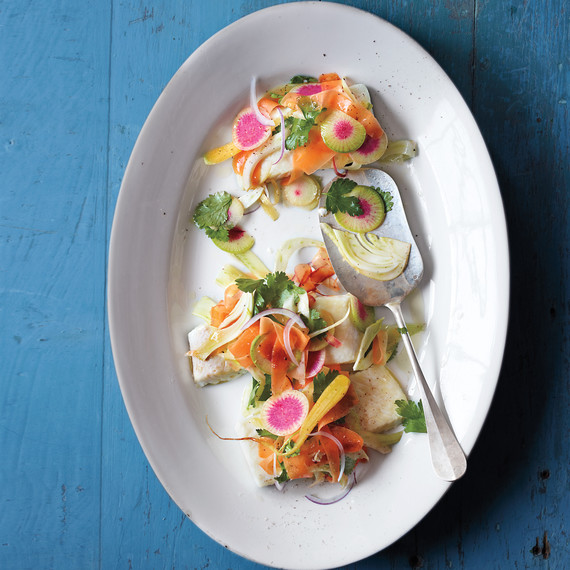 Isn't this the prettiest of entrees? And it takes just 20 minutes to cook. While the fish is under the broiler, you can toss the paper-thin slivers of radish and fennel and ribbons of carrot with plenty of cilantro and parsley -- herbs are an ingredient not just a flavoring here -- in the lively lemony dressing. 
Get the Broiled Halibut with Shaved Spring Vegetable Salad Recipe
FRIDAY: Pasta with Arugula, White Beans, and Walnuts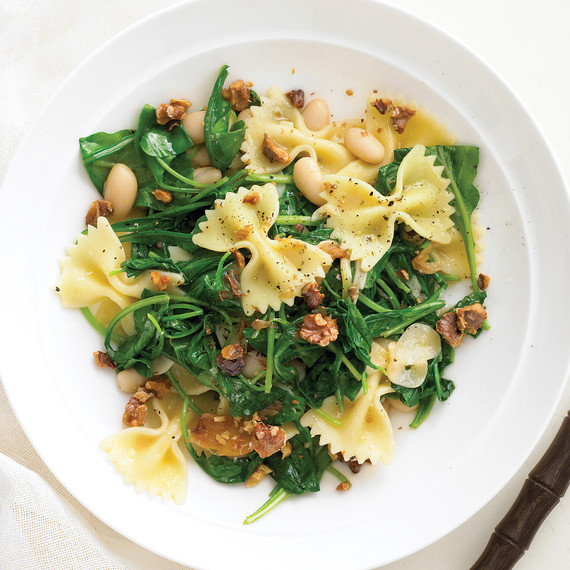 It's healthy, it's delicious, and it's quick to prepare. This vegetarian pasta is a recipe you're sure to make again and again.
Get the Pasta with Arugula, White Beans, and Walnuts Recipe
SATURDAY: Host a Pita Party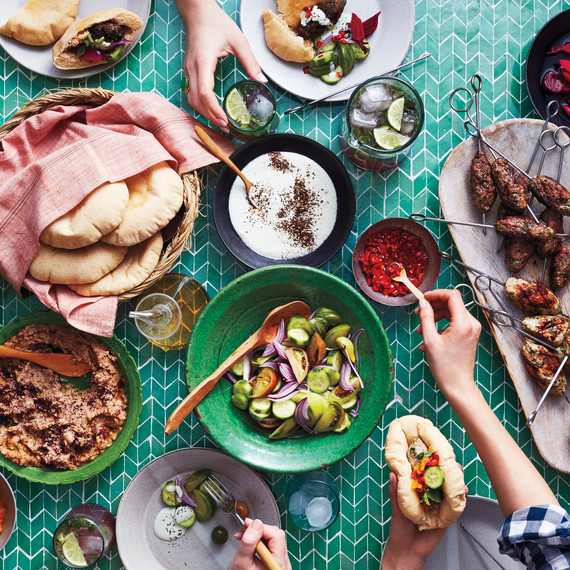 We love do-ahead entertaining menus, especially when they're colorful, delicious, and a bit different. This meze-style meal really fits the bill, it's just right for relaxed summer entertaining. See how easy this meal is on the cooks and how much fun for guests. Also try making your own pita bread.
Get the Pita Party Recipes
SUNDAY: Brine-Boiled Chicken Legs or Pork Ribs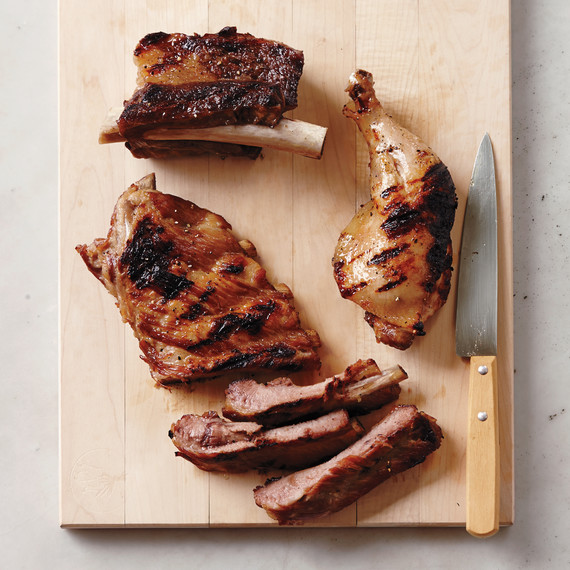 Take a shortcut on the way to the grill tonight. Brine-boiling shaves time off cooking ribs and chicken legs -- all the while producing moist, delicious results. This potato salad-slaw hybrid is an essential accompaniment!
See Step by Step How to Brine-Boil