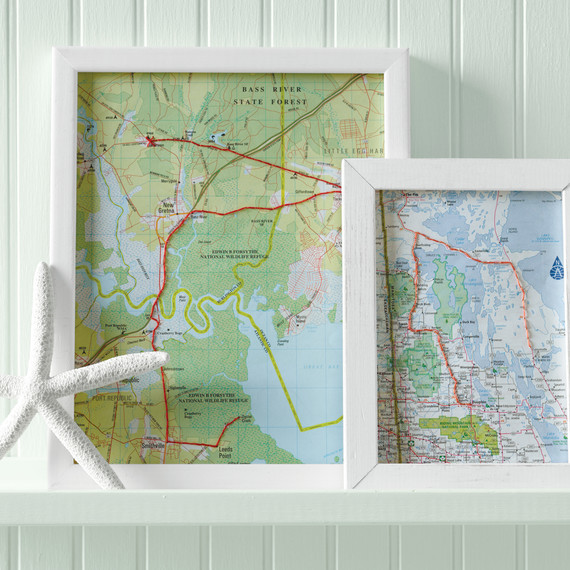 This time of year often marks a big milestone for millions of graduates: They're ending one chapter in their lives and ready to pen a new exciting adventure. Incorporating a travel, "Oh the Places You'll Go" inspired graduation party theme is one way to congratulate a job well done! As the hostess of this event, browse our roundup of travel memorabilia crafts that double as party décor. This party will have the proud new graduate destined for greatness—no passport needed (not yet anyway). 
1. Turn Maps Into Memorabilia
Adventure calls, right? Well, after the graduation party, of course! When decorating the space, use their travels to come for your inspiration. Focus on particular map locations that have a significant meaning to the new graduate. Whether you want to hand stitch the route leading back home or the route to their new college town, the personalization opportunities are limitless. Large world maps can double as tablecloths. (Unfold one to protect the tabletop from scratches and spills while serving as conversation starter. Tip: Look for hikers' maps made from Tyvek, a tear- and drip-resistant paper.) Or on a smaller scale, they can be cut and coated in decoupage as all-purpose coasters. Display floral arrangements in tins decoupaged from maps, menus, and travel brochures. This way, while guests are dining they can plan their next great excursion.
[MAKE THIS: Map Artwork]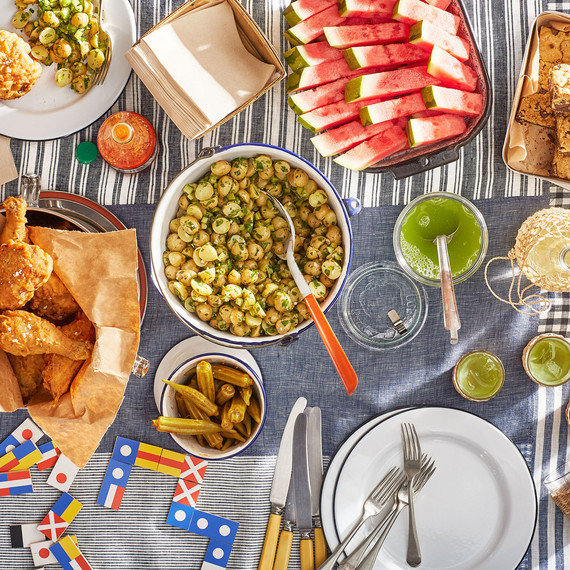 2. Eat Your Way Around the World
Of course, it's never a celebration without treats and sweets. Feed all of your guests with a spread of summertime recipes like crispy fried chicken, herbed celery-potato salad, and chocolate-chip streusel brownies. It's also a fun idea to prepare a menu of international cuisine, depending on where the grad's new adventures will be taking them. (After all, travel does make you hungry.)
[GET THE RECIPES: 3 Next-Level Ways to Do a Picnic]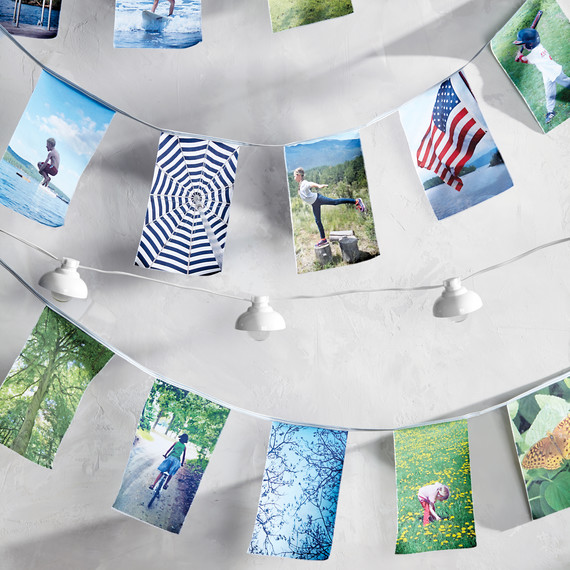 3. Display Photographs as Decorations
When daydreaming about the places you'll go, don't forget about the places you've been. Turn the graduate's happy memories into lanterns, centerpieces, garlands, and even furniture—long-term or just temporarily—with durable but removable vinyl decals. Pictured here, the fluttery no-sew pennant garlands were made by printing photos directly onto cotton fabric: we suggest mixing shots of people, scenery, and objects for an artful effect.
[MAKE THESE: Photograph Centerpieces, Votives, and Party Decor]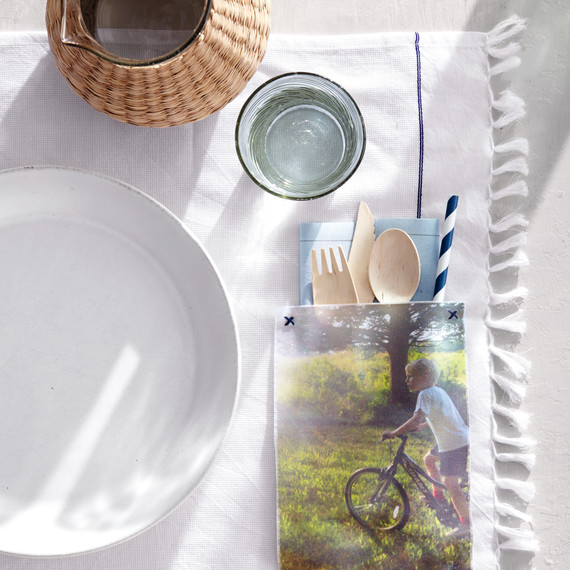 4. Use Those Same Photographs for the Table
(Place mats, place cards... you get the picture.)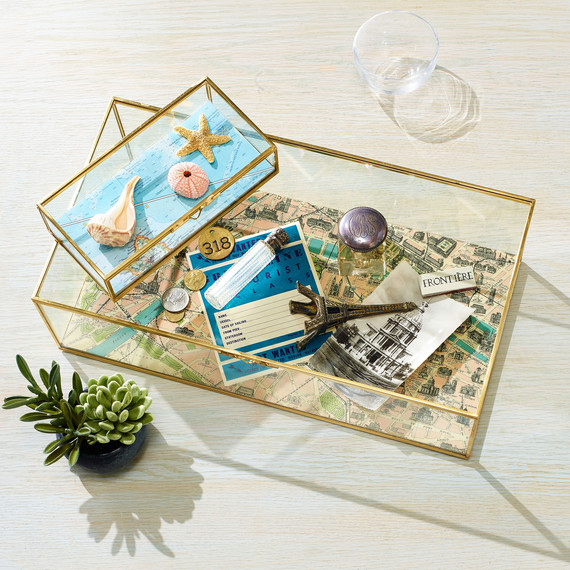 5. Ask Guests to Suggest a Next Destination
Crafting various boxes and labeling them with desired destinations such as Paris, Tokyo, Greece, and Hawaii will not only make for great party staples, but also useful for encouragement for where to next!
[MAKE THESE: 33 Ways to Turn Your Favorite Memories into a Treasured Keepsake]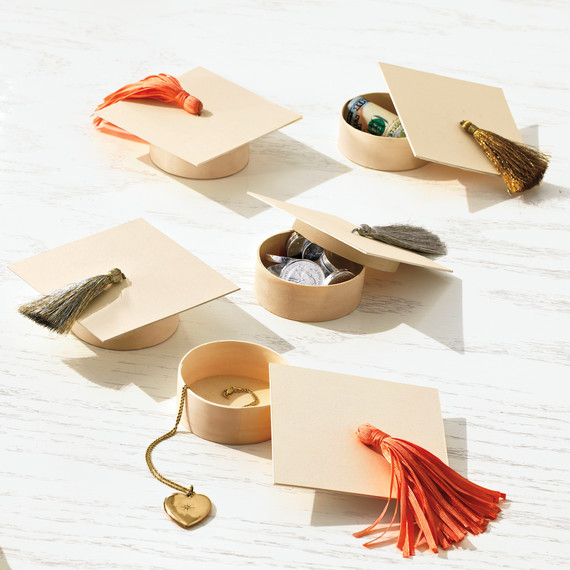 6. Give Them Memento Mortarboard Boxes
As a small going-away gift, store miniature mementos, lucky tokens, photographs, and other items in this perfect package. To make them, start with a small, round balsa-wood box, then cut a 4 1/2-inch square piece of card stock in a matching color. Punch a hole in the middle of the card stock with an awl, pull a tassel through, and tape it down. Secure the paper to the box top with double-sided tape. Then, they're ready for graduation day.
[DON'T MISS: 18 Graduation Gift Ideas to Help Them Take on the World]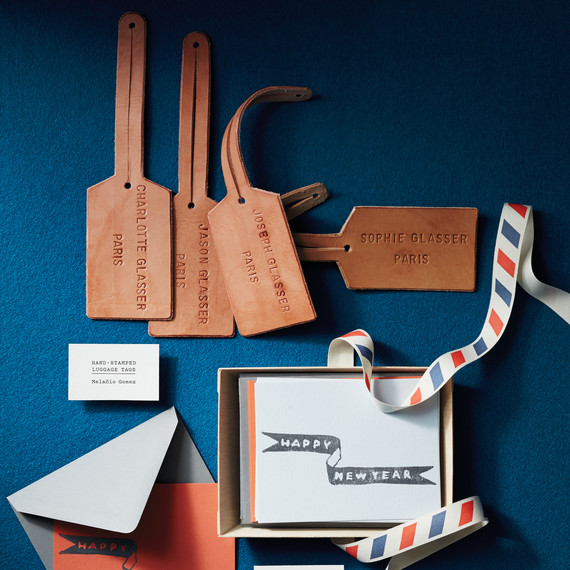 7. Prepare Them for the Next Adventure
Not only are handmade passport covers stylish, but they'll also inspire visions for travel when they're gifted as party favors once the celebrations come to an end.
[MAKE THESE: Leather Luggage Tags]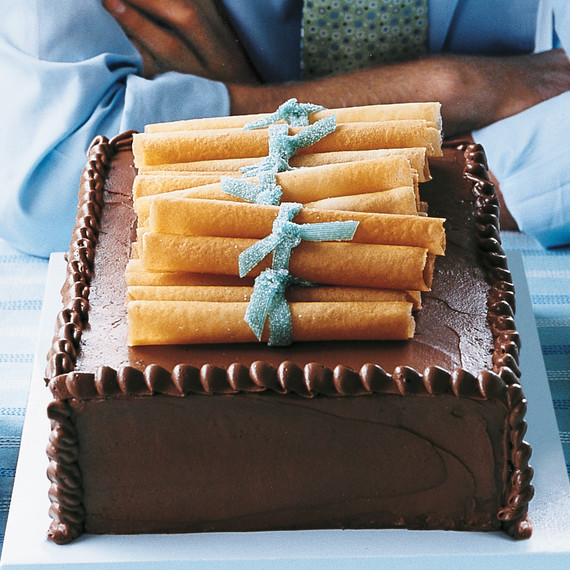 8. Give Them a Sweet Scholarly Send-Off
Every adventure needs a sweet ending. A rich chocolate graduation sheet cake topped with edible scrolled diplomas truly takes the cake when saluting the special grad.
[GET THE RECIPE: Cocoa Buttermilk Cake with Scrolled Tuiles]
Feeling inspired? Watch how to turn photographs into party decor, three different ways: