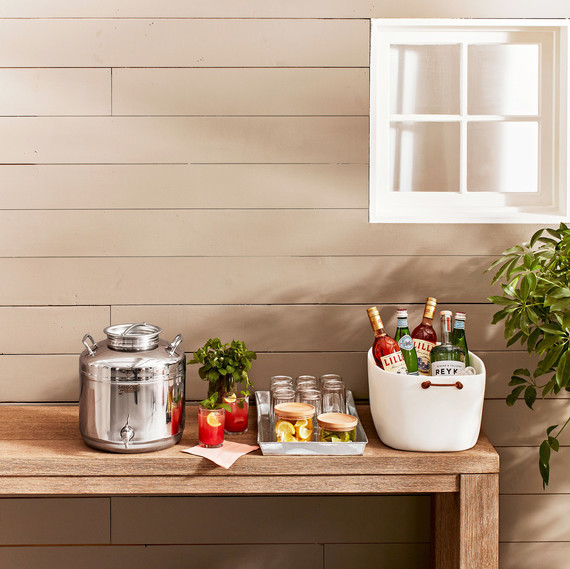 It's summertime, and the entertaining is easy when you enlist a few clever strategies (and we don't just mean making the guacamole ahead of time). Follow our five steps to a stylish backyard party, and the only things you'll have to worry about are keeping your own glass full and avoiding mosquito bites.
[LEARN: How to Stay Bug Free]
1. Raise the Bar
The ideal drinks setup is streamlined, well stocked, and self-serve. Case in point: A batch of freshly squeezed lemonade will please practically everyone. Ice it down in a four-gallon stainless-steel dispenser and no one will get stuck manning the bar. Kids can help themselves; adults can punch theirs up with vodka and citrus and herb garnishes, which double as decor.
Supplement with an easy-to-sip aperitif (we like floral Lillet) and sparkling water, and you'll have all the refreshments you need. Don't forget to update your cooler: An oversize resin Champagne bucket has al the appeal of a galvaanized-steel one, but will look chic storing supplies in your kitchen, too. As for quantities, here's our rule of thumb: Plan two drinks per guest for the first hour, then one each per hour after that; one gallon equals 16 eight-ounce drinks.
THE DETAILS
Sansone Fusti dispenser and spigot, $147, gourmetitalian.com. March Oaxacan glasses, $8 each, marchsf.com. Kinto Baum canisters, from $28 each, kintostore.com. Tina Frey Champagne bucket, $380, shophorne.com. Restoration Hardware French Beam teak console, $1,995, restorationhardware.com.
[SERVE: These Easy Summer Recipes]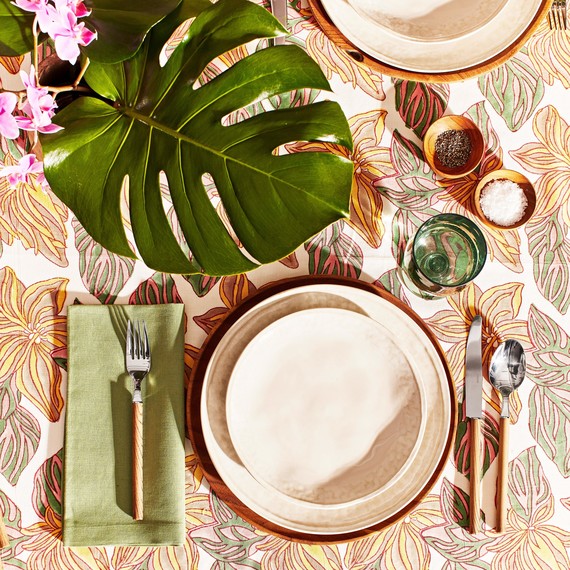 2. Refine Your Table
Dinner outdoors can be just as gracious and comfortable as one you'd host inside. To encourage guests to sit back and stay awhile, set a table with sturdy ceramic plates and flatware, hefty (but unbreakable) glassware, and colorful linens. To anchor your tablecloth in a breeze, clip a fishing sinker onto each corner (see our how-to). Echo the natural surroundings with wooden accents, floral prints, and statement-making palm leaves, which won't wilt in the heat.
THE DETAILS
Kerry Cassill Tropical Fiji table linen, 67" by 98", $136, shop.kerrycassill.com. Williams-Sonoma Italian washed-linen napkins, $50 for 4, williams-sonoma.com. Homenature resin-handled cutlery, $195 for a 4-piece set, homenature.com. Cost Plus World Market Reactive Glaze Muir dinner plates, $32 for a 4-piece set; Reactive Glaze Muir salad plates, $28 for a 4-piece set; and Driftwood chargers, $20 for 2, worldmarket.com. Terrain Picnic wineglass, $8, shopterrain.com. Sur La Table Wooden Pinch bowls, $35 for 4, surlatable.com.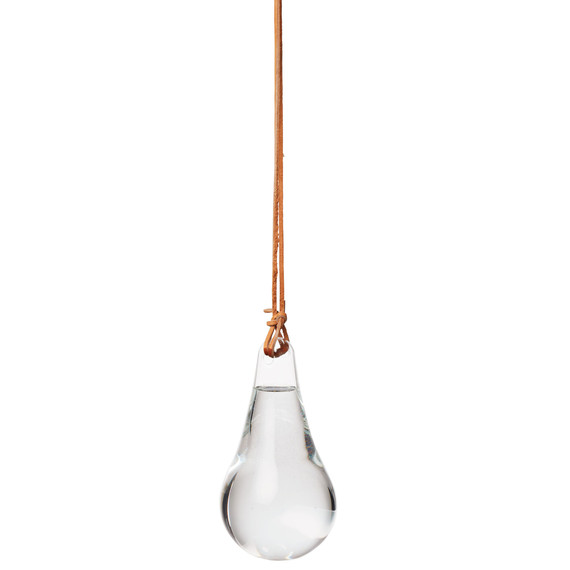 3. Uninvite Pests
Run an electric fan and cover food with mesh domes to keep bugs away. This artistic deflector, inspired by a Mexican street vendor trick, shoos flies naturally: Sunlight reflecting off the water-filled glass bulb confuses and repels them.
De La O Anti-Fly Sphere 3.0, $85, delao.mx.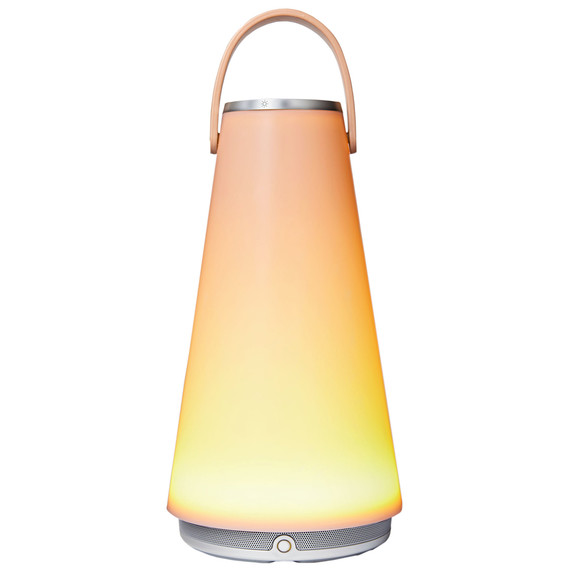 4. Turn on Tunes
Connect a few Bluetooth speakers via wifi, and anyone with a smartphone can DJ. This sleek model with surround sound emits a warm, campfire-like glow. Queue up a few songs, or get our playlist.
Deganello & Pardo UMA Sound Lantern, $479, store.moma.org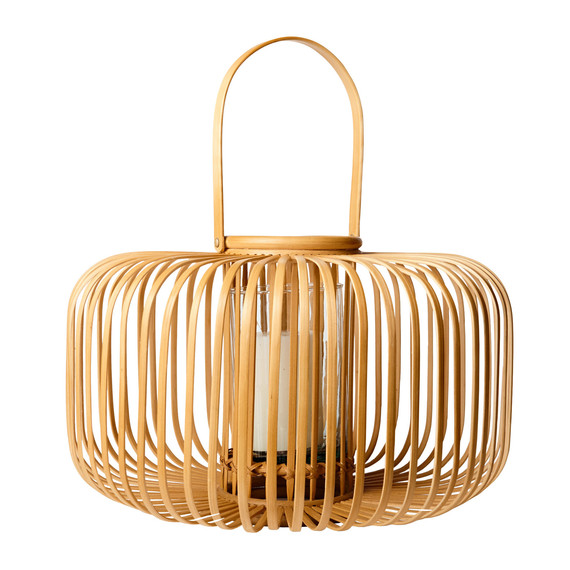 5. Light the Way
Once the sun sets, create ambience (and prevent twisted ankles) with generous, well-placed lighting. Oversize lanterns lit by flameless LED candles can hang or perch along any path that needs brightening. String battery-powered, outdoor-safe bistro lights between trees for extra illumination sans outlets.
CB2 Kini natural-rattan lantern, from $50, cb2.com.
Now, see how you can give your backyard a stylish upgrade with these simple tips: