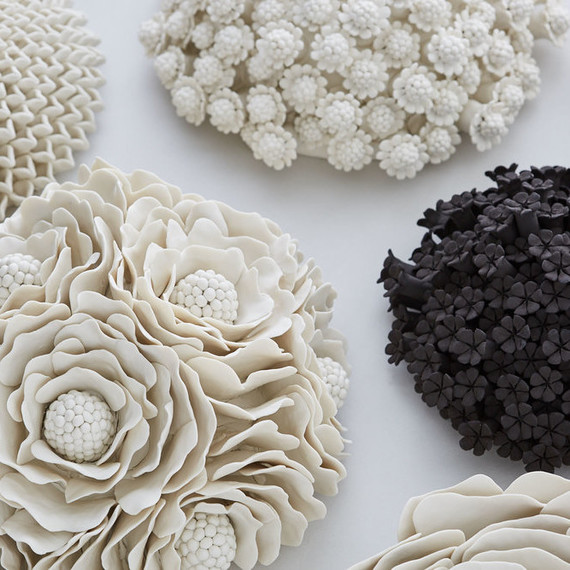 Flowers are mimicked in many forms, be it with paper, fabric, on canvas and even with clay. The beauty of these artistic representations is that these artists are able to capture the essence of seasonal blooms and portray them in their own way. An artist who does a spectacular job of recreating flowers out of clay is British artist Vanessa Hogge. When we discovered her work, there was simply no way we could keep it to ourselves. We marveled at the intricacy of each petal. We spoke with Hogge to learn about her technique, inspiration, and advice for aspiring ceramicists.
1. What kind of clay do you use for the flowers? 
I use two different clays — the white is porcelain and the black is black stoneware. I love the contrast between the two, the smooth, creamy beauty of the porcelain and the gritty toughness of the black stoneware. I have to be very careful to not get either clay contaminated with the other, so I've set up different work benches in my studio for each clay.  
[LEARN: Paper-Flower Making by Artist Susan Beech]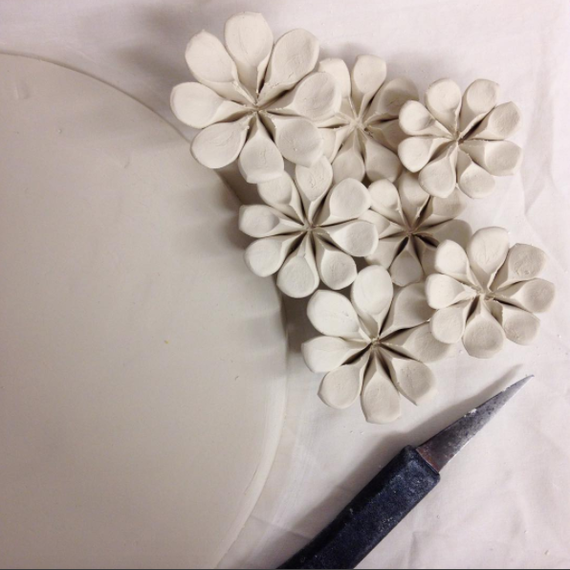 2. What is your technique?
I tear, pinch, roll and cut the clay to form simple petals that blossom and grow into complex symmetrical forms. I'm addicted to the rhythm of repetitive action and how it can alter surfaces.  Each flower is hand formed — no molds used, so every piece is unique. I try to use as few tools as possible — keeping it simple, very handmade and very labor intensive! I use a lot of slip, which is clay and water mixed to a gorgeously gooey 'glue', to join the flowers to the ready press molded forms, be it a vessel or a wall piece. The pieces vary in length of time to make — anything from a day for a small piece to three weeks for a large vessel. The pieces aren't light! But they are also not too heavy to hang on any wall or sit on any surface. I delight in porcelain in it's thickest forms and not it's translucency.
[MAKE THESE: Clay Flowers]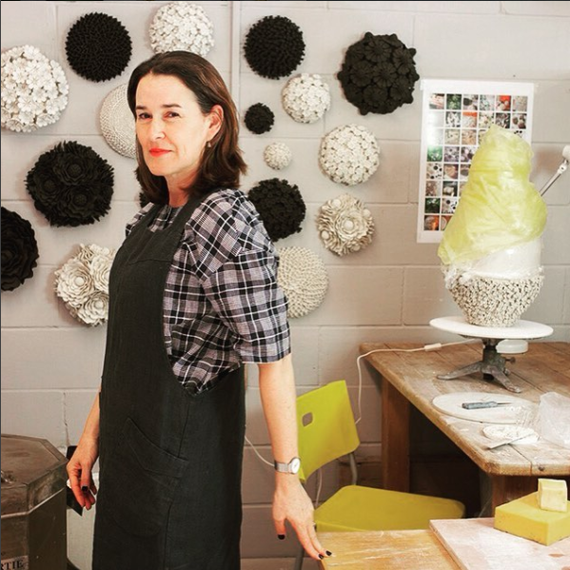 3.  What is your inspiration? 
I'm inspired by all things botanical (I recently took a trip to Botswana to see the water lilies on the Okavango Swamps) and also the way that flowers have been represented over the centuries by different artists and designers — fabrics, wallpapers, Indian miniature paintings. I love the paintings of Marianne North, a brave Victorian woman who traveled the world painting the flowers she saw — there is a gallery dedicated to her work in Kew Gardens, London.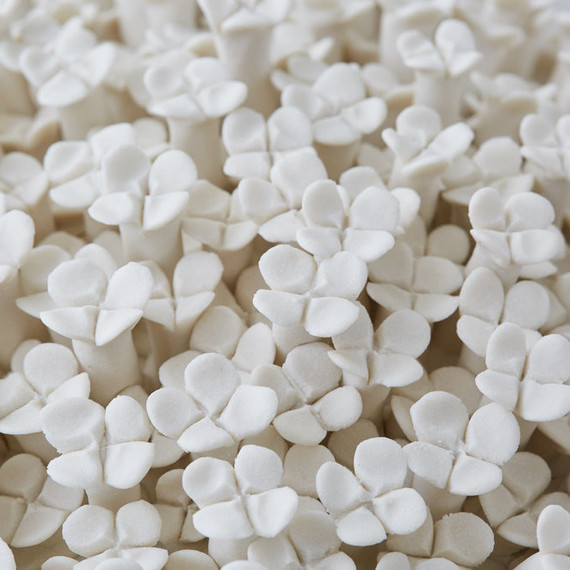 4. What advice would you give to aspiring flower ceramicists?
All you need to get started is a bag of clay — get a feel of it — try pinching out some flowers — you can do a lot on a kitchen table! But then, of course, it's best to find a class to go to where there is good instruction and a kiln to fire your work in! Perhaps learn to throw little vessels on the wheel, which you can then decorate with handmade flowers.
Want to learn more? Watch her technique in action in this video: