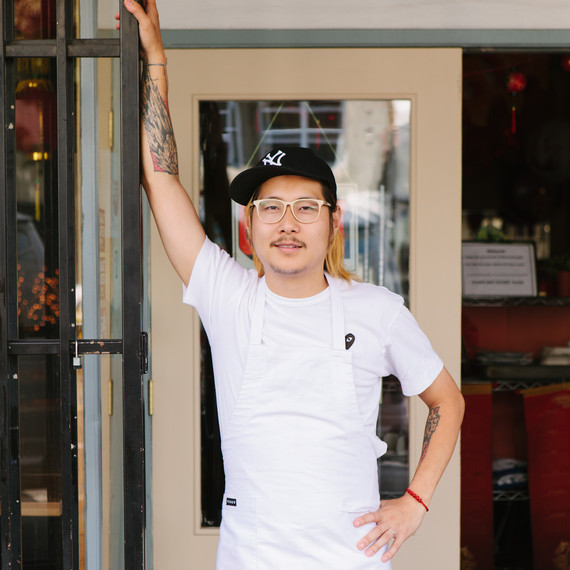 Danny Bowien has had a restaurant in NYC for only a year and a half, but in that short time he's taken the town. Prior to that, the Oklahoma native took San Francisco with a pop-up restaurant also called Mission Chinese. There's always a line outside both restaurants, the wait made easier by a keg of beer and the easygoing spirit that pervades everything he does. Winning the James Beard Rising Star Chef award this year gave him the public recognition of what the food world already knew, this young chef is one to watch. We caught up with him after he was a guest on Martha's Sirius XM radio show.

We know Martha has eaten at Mission Chinese, were you surprised when she came?
I think she's eaten at both of the restaurants. In San Francisco, it's a hole-in-the-wall Chinese restaurant and she came with 14 ladies. They wanted to have a great time, and I think they had the whole entire menu. When a chef visits, we always do a toast in the kitchen with the chefs, so Martha did that. We have only two pictures in the kitchen [in SF]; one is Martha and the other is Ferran Adria.

Did she tell you what she likes from the menu?
She likes the long beans and the hand-pulled noodles, she really loves those.

Seems like you have a lot of energy, running two restaurants on different coasts, opening a third...
Yes, and I don't drink coffee or beer now. And I'm doing a cookbook now with Chris Ying, editor of "Lucky Peach." It's coming out in 2014.

What about TV? We've seen you all over, dancing with pastry chef Christina Tosi and model Karlie Kloss, eating Cronuts with Zagat, cooking with Jimmy Fallon. Do you enjoy performing?
I'm nervous when I'm on TV. The first time I was on TV was with Martha. I made the pulled noodles she likes. I was so nervous. I was in the test kitchen for a day and a half. Usually chefs just give the test kitchen their recipes, but I was so nervous, I didn't know how it worked. I didn't want to mess it up. Wanted to be sure. It was a really big break, a cornerstone. I'm not as nervous now.

So Martha has had an impact on your career?

Martha, her approach is functional. I feel that as a chef I tend to overcomplicate things, most people do. She knows what is good. It's easy to draw inspiration from her.

Between your restaurants and being out and about, do you ever cook at home? Do you ever eat at home?!
I do cook at home more now, as much possible. It's healthier to eat at home. I start cooking in the day, then go home and hang with my wife for an hour and cook. I really like to cook Italian; like with seven ingredients, it's so simple. I try not to have too many things in my fridge -- I don't like leftovers; well, only Chinese leftovers. So I will cook what I want to eat or what my wife wants to eat -- light food, soups, steamed vegetables and fish -- nothing deep-fried.

What inspires you about the world of food?
I like the idea of cooking, the act of cooking. When you cook, you can accomplish something. You can eat and also feed someone, be part of something and bring people together. And then it's amazing how far food can get you. I watched Martha on TV with my mom when I was growing up... If I can cook, it centers me and brings me to reality.
 
Video: Watch Danny and Martha make hand-pulled noodles
For more interviews, tune in to "Martha Live" on SiriusXM Stars Channel 106 weekdays 12pm ET to 2pm ET.
Call in with questions: 866-675-6675.