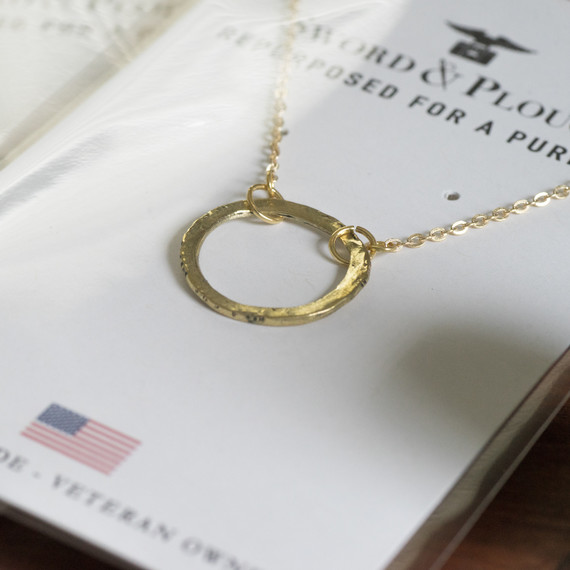 Where most people saw trash, sisters Emily and Betsy Nuñez saw treasure — and the inspiration to launch a company that put military surplus to good use. Founded in 2013, Sword & Plough repurposes everything from surplus tents, uniform fabric, and sleeping bag covers to bullet casings from spent ammunition, transforming them into stylish yet sturdy backpacks, tote bags, wallets, belts, and jewelry. In just four years, Sword & Plough — founded during Emily's senior year of college — has upcycled almost 40,000 pounds of excess materials. And from start to finish, every product is made right here in the United States.
[MEET: The Air Force Officer Who Invented This Popular Lawn Game]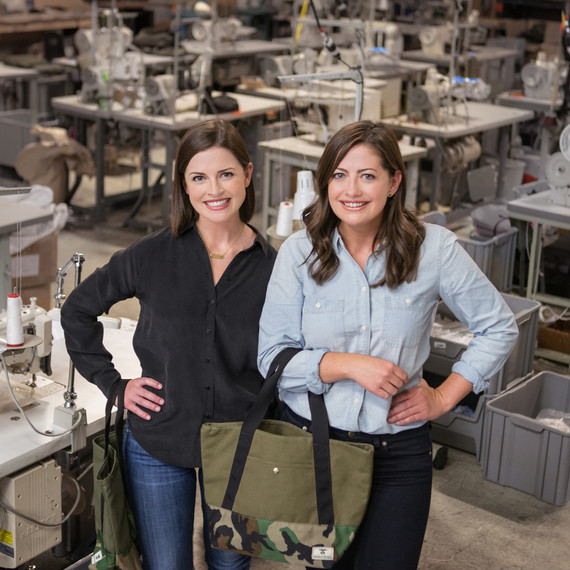 The sisters grew up in a military family; their father, uncle, and cousin all served in the Army, Marine Corps, and Navy, respectively. Emily herself reached the rank of Captain in the Army, and deployed to Afghanistan as an intelligence officer. But it was as a student at Middlebury College — where she was the only ROTC cadet on campus — that the seed for Sword & Plough was planted. "Most of my friends had never met someone in the military," she says. "This spurred me to want to strengthen the understanding between the civilian and military communities." And while attending the U.S. Army Airborne School after her sophomore year, Emily learned about veterans who were struggling to reenter the workforce after military service.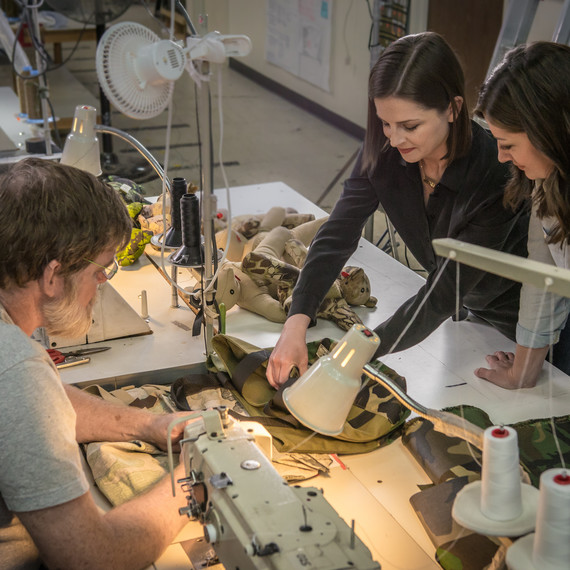 As a way to support the military community through their durable, design-forward accessories, the duo — who raised more than $300,000 on Kickstarter — decided to employ veterans or veteran-owned businesses during every stage of development, as product designers, quality-control experts, sewers, manufacturers, screen-printers, and even a zipper supplier. Oh, and models, too. Sword & Plough also gives back in other ways. Ten percent of after-tax profits go to organizations that benefit veterans, and they've donated more than $30,000 worth of merchandise to a number of charity fundraisers. 
[DON'T MISS: This Village of Tiny Homes Provides Free Housing for Veterans]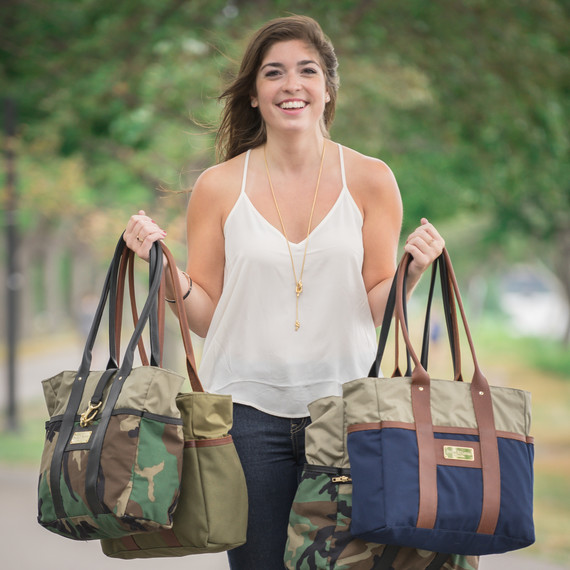 When creating their products, the company — which recently won the grand prize in the FedEx Small Business Grant competition — pays careful attention to details like using slip-proof leather on purse straps and hiding stitching on the inside. Their latest designs include brass stackable rings made from .50 caliber shell casings and hand-hammered by a veteran who served in Iraq, while upcoming looks will incorporate vintage blue fabric that was originally going to be used in American flags. But perhaps the biggest news of all is the opening of the brand's first-ever showroom in Denver. Now that is something we can salute.  
Feeling inspired? Watch how to upcycle extra strips of fabric into a wrapped bangle: