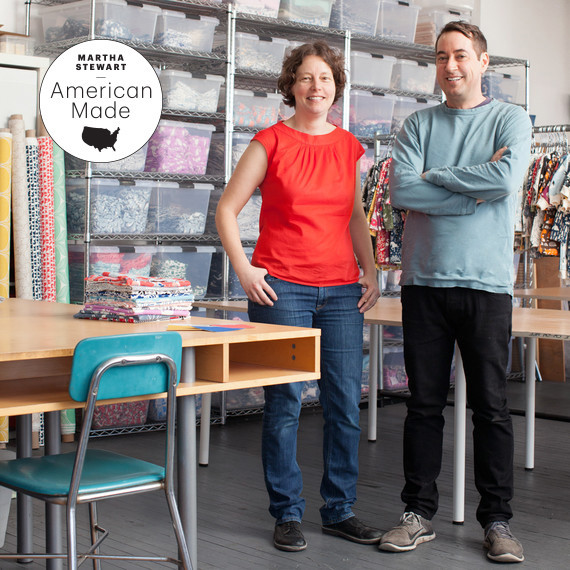 Stefanie Lynen got bitten early by the entrepreneurial bug. As a girl in Germany, she started a "company" with her sister, selling bottles of melted snow gathered from their backyard. They called it "Winter Water Factory." The business was short-lived (even their parents wouldn't buy the water), but her creative energy was just beginning to flow. Lynen soon learned that she loved to make beautiful things with her hands, from paper chains to knit hats — and she'd easily get carried away. "I could never make just one," she says.
About a decade ago, a friend showed Lynen, who started as a freelancer and is now the design director for Martha Stewart Crafts, how to silk-screen, and she was hooked. She began designing screen-printed organic-cotton clothing on the side and selling it at trade shows, where her children's and women's attire featuring sailboats in swirling water, little foxes and hedgehogs, and masses of wildflowers charmed buyers.
For inspiration, Lynen and her husband and business partner, Todd Warnock, brainstorm motifs and look at vintage children's books. Next, Lynen sketches a pattern on paper, fine-tunes it on the computer, and prints it on a transparency, which she uses to create a silk-screen. In their Brooklyn studio, they print small-run yardage to send to a nearby cut-and-sew factory for samples; then a factory in Los Angeles prints the fabric in bulk and returns it to be sewn into clothes.
When they started the business, Lynen's goal was to be American-made, she says, and to "produce a good-quality item that would last and get passed down from one person to the next." Today, Winter Water Factory is sold at dozens of retailers worldwide. She's succeeded, with flying colors.
From Idea To Reality
Winter Water Factory's studio houses a custombuilt 90-foot table, which can print 30 yards of fabric at a time. Here's how the magic happens.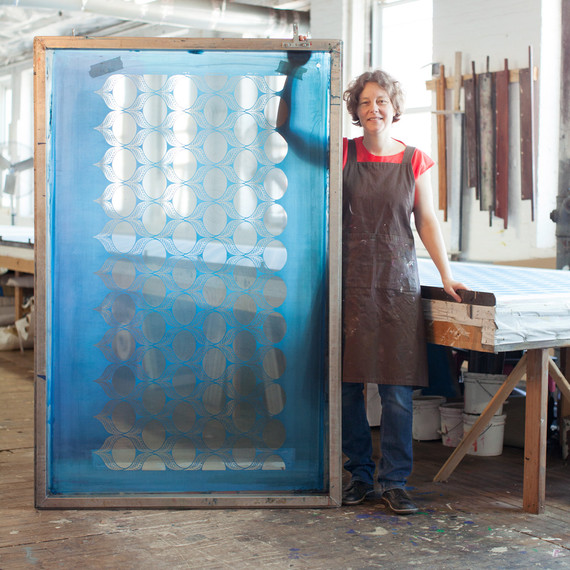 The Screen Grab
Lynen prints a transparency of a design, places it on a glass table with lights underneath, and puts the screen on top, covered in a light-sensitive emulsion. When the emulsion is washed off later, the design is imprinted onto the screen.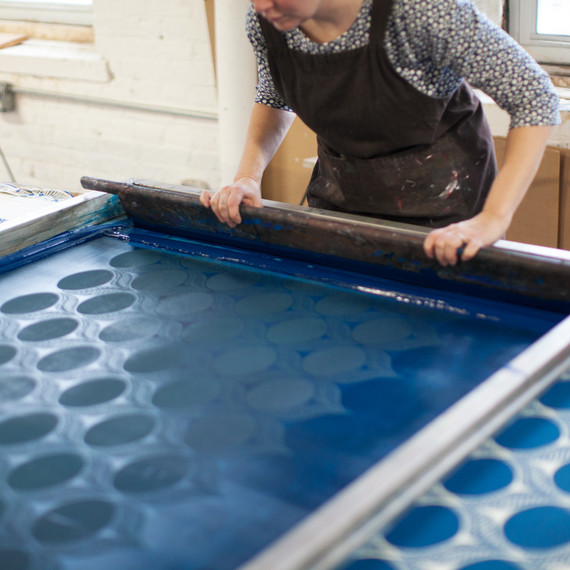 The Transfer
Lynen and Warnock roll out a panel of fabric on the adhesive table and place the screen with the design at one end. After mixing a large batch of ink, they pour it on one side of the screen, then spread it to the other side using a large squeegee.
The Placement
The table has a metal rail and stops to align the screen and ensure that the pattern will repeat seamlessly. Lynen and Warnock skip every other panel so the screen doesn't touch wet ink. When the first round is dry, they fill in the gaps.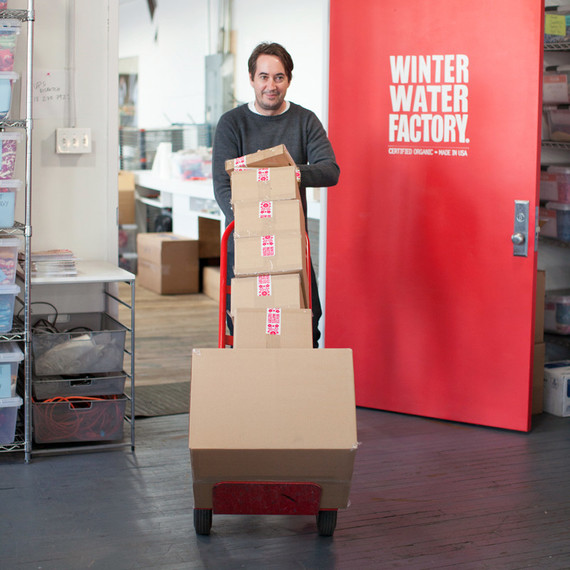 The Result
Once the entire piece of fabric is dry, they send it to a local cutand-sew factory to create samples. The finished products are available in stores and at winterwater factory.com.
The Bright Stuff
Building on its beloved children's and women's lines, Winter Water Factory is expanding into custom upholstery fabrics and home-décor items. Lynen talks about some of their popular designs.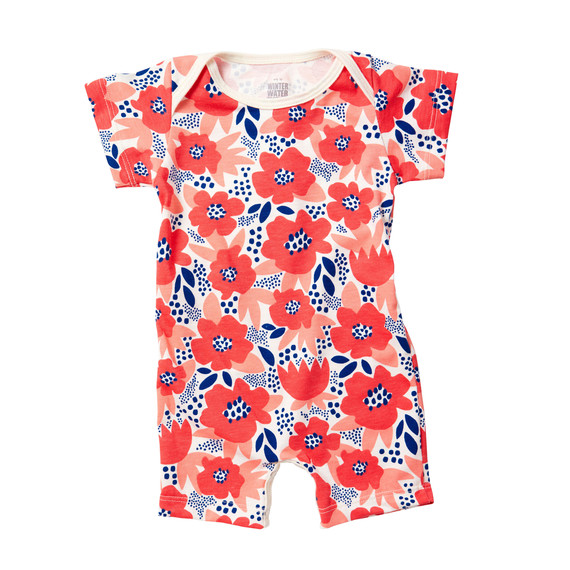 Summer Romper
"Each season we add five to six new prints. Some motifs keep coming back by popular demand." $42.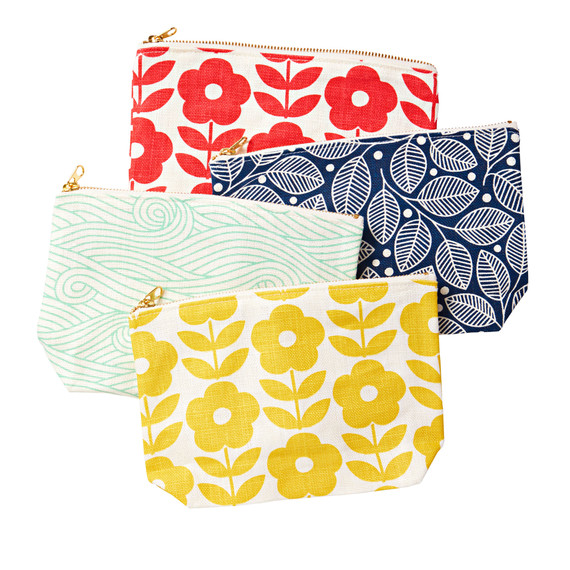 Pouches
"Our bags are hand-printed in Brooklyn on Belgian linen. They get softer with use over time." $22 each.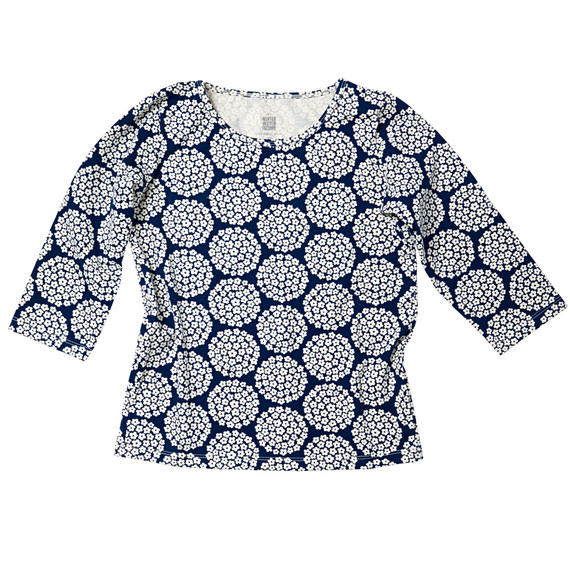 Women's Shirt
"We usually stick with designs that are grown-up, but we do add in some more playful ones – you never know." $48.
Watch this video to learn more about the technique of silkscreen printing: