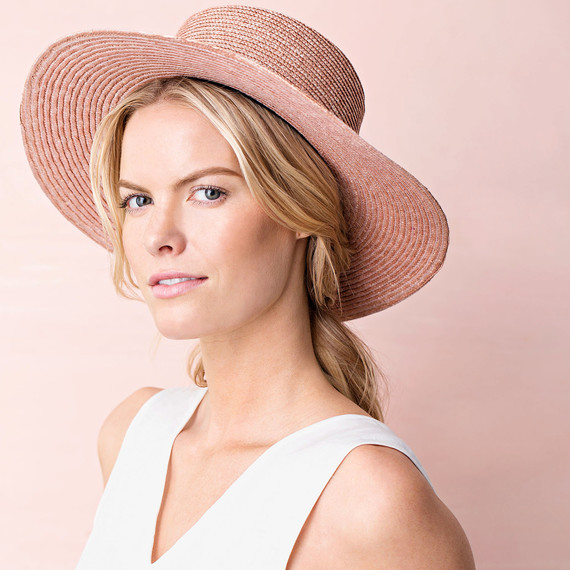 While you're busy soaking up every minute of these longer, warmer days, your sunblock should be hard at work preventing fine lines, spots, and skin cancer. Fortunately, the newest formulas mean serious business. Loaded with cutting-edge technologies, silky-smooth textures, and added skin-care benefits, these 10 standouts will keep you covered from dawn till dusk.
[LEARN: What you need to know about buying the best sunscreen]
1. The Reality Check
Experts advise using a marble-size amount of sunscreen on your face and a golf ball's worth on your body for proper protection. See how you measure up with La Roche-Posay's My UV Patch. Placed on your arm, the sticker analyzes your skin using photosensitive dyes, then displays real-time data on your level of UV exposure via a downloadable app. The patch is water- and sweat-resistant, and lasts for up to three days; it's free when you buy an Anthelios product at laroche-posay.us or amazon.com.
2. The Amphibian
A cult favorite has changed the game again: Shiseido Sports BB Broad Spectrum SPF 50+ now comes In three creamy tints. Its popular WetForce formula, however, still interacts with H2O (even ocean water and perspiration!) to form a water-repellent layer on skin. Sun armor, meet seamless makeup. $38 each, shiseido.com.
3. The "Safest" Tan
Throw off that justback-from-the-tropics vibe with Nars Laguna Body Tint SPF 30. The instant tanner delicately scents skin with the brand's signature tiare-flower perfume, while giving limbs a warm bronze glow that won't budge until you shower it off. $45, narscosmetics.com.
[MAKE: Colorful DIY beach accessories and decorations]
4. The Triple Threat
Fight sun damage -- and look flawless while you're at it -- with this skin care–makeup hybrid. Dr. Brandt Pores No More MultiPerformance Stick SPF 45 is tinted, has lightdiffusing powders to absorb oil and blur imperfections in the T-zone, and offers water-resistant UV protection. $35, drbrandtskincare.com
5. The Froth Factor
Sun protection is no laughing matter, but this clever formula makes applying it fun (half the battle: won). Coppertone Clearly Sheer Whipped Sunscreen SPF 30 is a light, clean-feeling cream that spreads easily and absorbs quickly, without leaving a white cast behind. Psst -- it's especially handy for squirrelly kids and on hairy limbs. $11, coppertone.com.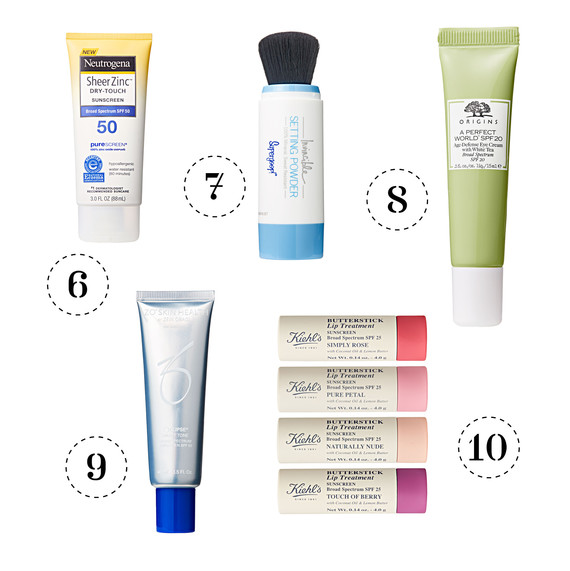 6. The Gentle Giant
Extra-sensitive types, say goodbye to chalky streaks. Neutrogena Sheer Zinc DryTouch Sunscreen SPF 50 is the latest addition to the company's Dry-Touch collection, which is known for leaving skin soft, not sticky. It's 100 percent zinc oxide (translation: free of chemical UV filters, fragrances, parabens, oils, phthalates, and dyes) and even earned the National Eczema Association's Seal of Acceptance. $12, neutrogena.com.
7. The Easiest Add-on
When you're lounging poolside, reapplying sunscreen comes naturally (chill, dip, SPF, repeat). Not so when you're facing a full schedule of errands with a little makeup on. For those days, stash Supergoop! Invincible Setting Powder SPF 45 in your tote. The translucent mineral formula gives skin a soft-focus matte finish and removes perspiration in a single sweep. $30, supergoop.com.
8. The Line Softener
Sunscreen labels warn you to avoid the eye area, but that's exactly where you want to prevent damage and wrinkles. Origins A Perfect World SPF 20 AgeDefense Eye Cream is gentle enough to slather on laugh lines and lids, and contains silver-tip white tea, which offers three times the antioxidant power of green tea. $38, origins.com.
9. The Shade Shifter
UVA and UVB rays are the bad guys we know about. Now sunscreen companies are targeting new threats to skin-plumping collagen: infrared rays, also produced by the sun; and high-energy visible radiation, the blue light emitted from a reflective surface like a computer screen. Zo Skin Health Oclipse Smart Tone SPF 50 combats both with antioxidants, and it darkens to a deep glow as you rub it in, magically adjusting to your skin tone. $70, zoskinhealth.com.
10. The Color Whisperer
The skin on our lips is thinner than that on the rest of our face, which makes it extra-vulnerable to the sun. Protect it with Kiehl's Butterstick Lip Treatment SPF 25, made with coconut oil and a natural butter derived from cold-pressing lemon peel. (It comes in five pretty shades.) $19.50 each, kiehls.com.
Now that you're armed with the most effective SPF formulas, get extra credit with these tips from Beverly Hills dermatologist Ava Shamban:
Check the expiration date on your sunscreen. If there isn't one, it should remain stable for up to three years unopened, and one year once opened.
Make sure to apply sunblock to every nook and cranny. Commonly overlooked spots include ears, the backs of necks and knees, jawlines, the tops of feet, and between toes.
Set a reminder! Don't forget to see a dermatologist once a year for a skin-cancer check.
WATCH: See how Martha keeps her skin healthy and bright