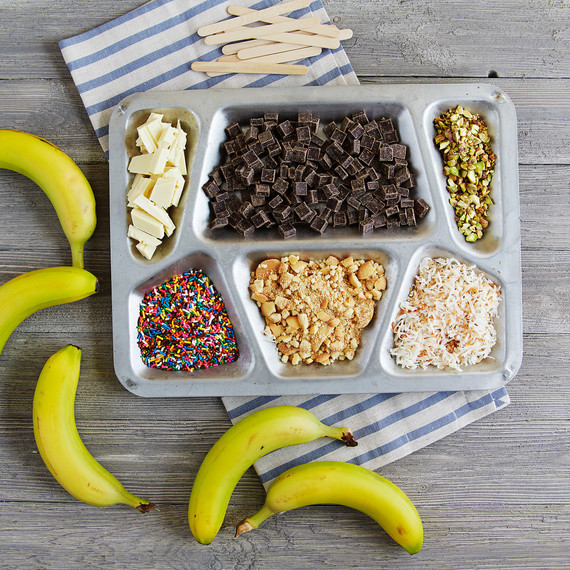 Frozen chocolate covered bananas are a hot weather staple in my house. Simply covered in chocolate they are delicious. I use 60% dark chocolate but you can cover them in milk, semisweet, or whatever your favorite chocolate is. Adding a coating makes these treats even more amazing. With endless sprinkle-on options you can cater to nearly any crowd. Here are my five favorite frozen chocolate banana coatings:
1. White Chocolate - For chocolate lovers what could be better than adding a white chocolate drizzle or white chocolate shavings to make your frozen banana a double chocolate frosty treat?! Plus white chocolate is a dramatic touch with the dark chocolate.
2. Sprinkles - Perhaps my personal favorite, because nothing says fun like sprinkles ... especially rainbow sprinkles. The bold and bright colors pop off the dark chocolate, making these treats irresistible eye candy. If you want to get festive use colored sprinkles that suit the occasion: red, white, and blue sprinkles are perfect for patriotic parties; orange, white, and black would work well for Halloween festivities.
3. Crushed Cookies - The possibilities are endless. I used the vanilla wafers, but chocolate chip cookies, chocolate cream-filled cookies or even graham crackers would also be great.
4. Toasted Coconut - Give your frozen chocolate bananas a tropical flair with toasted coconut. Not only does the sweet toasted coconut add a whole new flavor, it also provides a soft and crunchy texture.
5. Chopped Nuts - You have probably seen chopped peanuts on frozen chocolate bananas, but just about any nut would provide a nice crunchy, salty pairing. I used pistachios because I love their flavor and bold green color. Cashews, pecans, macadamia nuts, or almonds will also work well.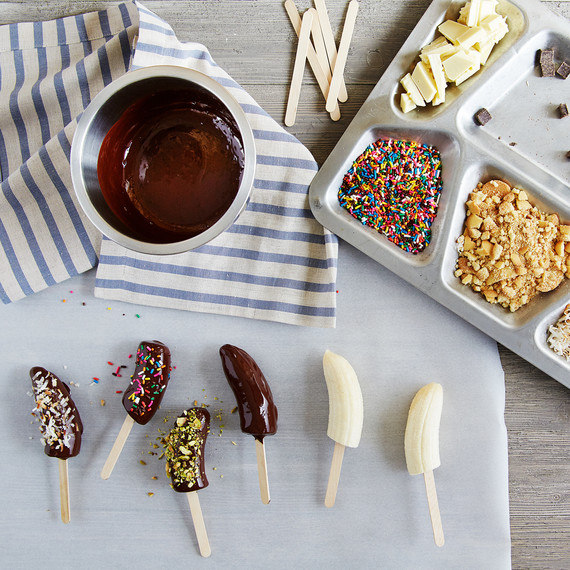 Making these frozen treats is simple. Use this Chocolate-Covered Bananas recipe as a guide for prepping and dipping the bananas. When dipping the bananas in chocolate, be sure to cover the bottom of the banana around the stick. Making sure the bananas are fully coated will prevent any from browning in the freezer.
Simply sprinkle your favorite toppings on to the chocolate before it sets, then transfer the bananas to parchment paper. Once they are all dipped and coated, transfer to the freezer until frozen, about 1 hour. You can them a few days ahead, just be sure to store them in an air tight container.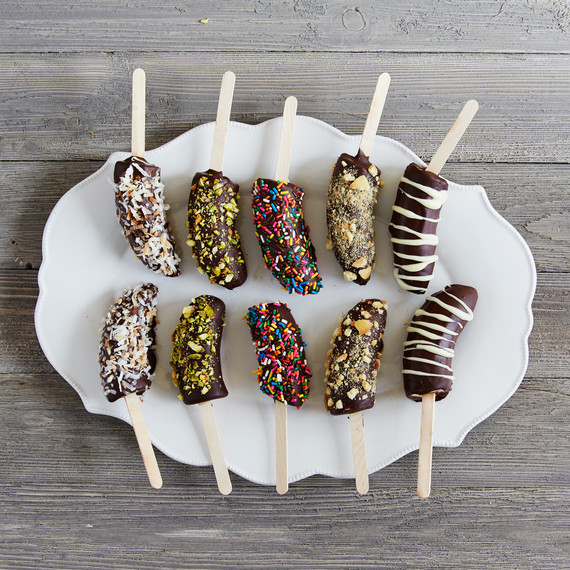 Pull the chocolate covered frozen bananas out of the freezer just before serving. If there is a crowd around, I assure you they won't last long.