Making a juicy, flavorful cheeseburger that rivals the likes of your favorite burger joint may seem darn near impossible. But with the right mix of quality ingredients and our easy-to-follow guide, you'll never have to idle in the drive-thru lane again to get your beef and bun fix. We even break down our favorite flavor combos. All you have to do is fire up the grill and get ready to take a most delicious and quintessential bite out of summer. Without further ado, bring out the charcoal.
Start with Our Classic Cheeseburger
THE IDEAL BUN 
It should be strong enough to hold everything together, but also soft and fluffy. We love Martin's Big Marty's large potato rolls, with sesame seeds for subtle sweetness and crunch.
CONDIMENTS 101
There's nothing fancy here: just store-bought mustards, ketchup, and mayo. Use what you like, or skip them altogether -- there are no rules.
BETTER BEEF
Go for grass-fed, which tends to have less fat and bolder flavor. The typical 50-50 blend of chuck and sirloin makes for an extra-tender, juicy patty. Or try swapping in other red meats. Bison is lean and richer-tasting (like hanger steak or chicken liver). Lamb is an earthier, more tender option.
FRESH FINISH
A thick slice of beefsteak tomato (seasoned with salt to bring out its flavor), sliced dill pickles, and shredded iceberg add crispy brightness.
CHEESE, PLEASE
Different kinds offer distinct flavors, but American cheese melts to perfection for that classic burger-joint style.
Get the Classic Burger-Joint Cheeseburger Recipe
Secrets to Burger Success
1. Don't overwork the meat, or it'll get tough. While your grill is preheating for direct-heat cooking, divide 1 pound 85 percent-lean ground beef into 4 equal portions; gently flatten into 4 1/2-inch-wide, 1/2-inch-thick patties.
2. Be generous when seasoning the patties with kosher salt and freshly ground pepper. They form a nice crust when grilled.
3. For a medium-rare burger, cook, uncovered, until browned on the bottom, 3 to 4 minutes. Then flip, add cheese, and cover grill; cook 2 to 3 minutes more and remove from heat.
4. Grill the buns, too. Spread split sides with mayo; toast about 1 minute.
5. Stack smartly: Spread the bottom and top buns with condiments, and place the patty and toppings in between in the order shown (leafy layers on top).
3 Next-Level Variations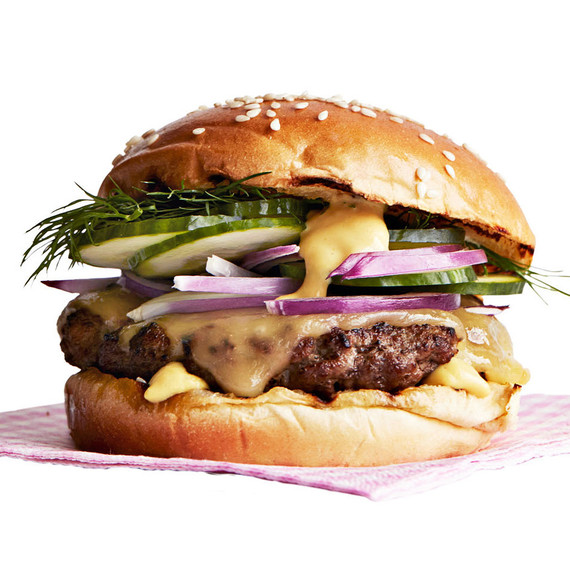 Light & Crispy
Fresh Dill + Cucumber + Red Onion + Havarti
There's something extra-satisfying about an audible crunch when you bite into a burger. This Scandinavian-inspired version, with its simply sliced toppings and dollop of zesty Dijon mustard, is just the ticket. A sprinkling of salt brings out the flavor of the cucumber.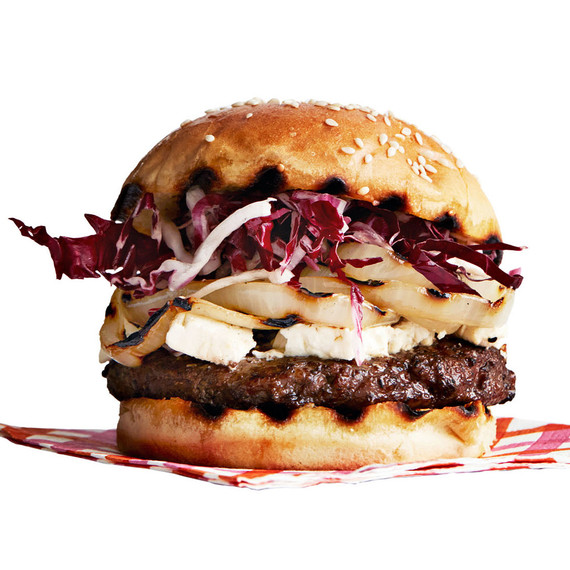 Bold & Tangy
Shredded Radicchio + Sweet Onion + Feta
Each bite of this burger is a sweet-bitter-salty flavor bomb. Slice the onion into rounds, brush with extra-virgin olive oil, season with salt and pepper, and grill, turning once, until charred in places, 5 to 7 minutes. Toss the radicchio with red-wine vinegar and olive oil and a bit of salt. Feta and grilled onions go well with ground lamb, too.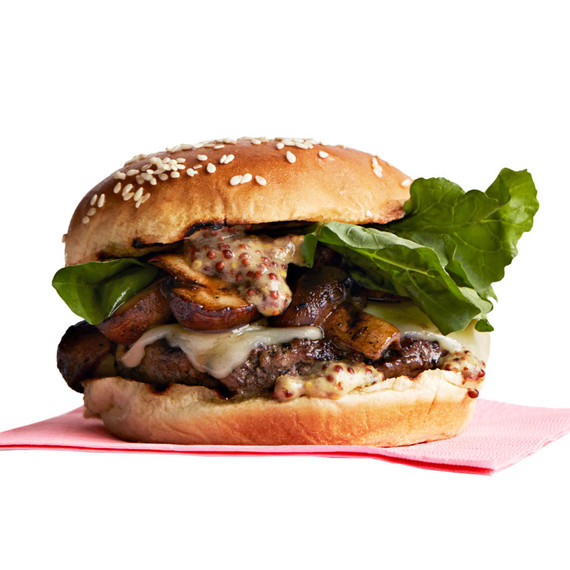 Rich & Robust
Arugula + Cremini Mushrooms + Fontina
To give a burger more umami, add cremini mushrooms. Halve 8 ounces of them, brush with olive oil, and season with salt and pepper. Grill, turning a few times, until charred in places, 5 to 7 minutes. The texture and tang of whole-grain mustard hold up well against mushrooms and peppery arugula.
And to Go with That Burger? Get Our Favorite Sides Recipes That Go Beyond Fries