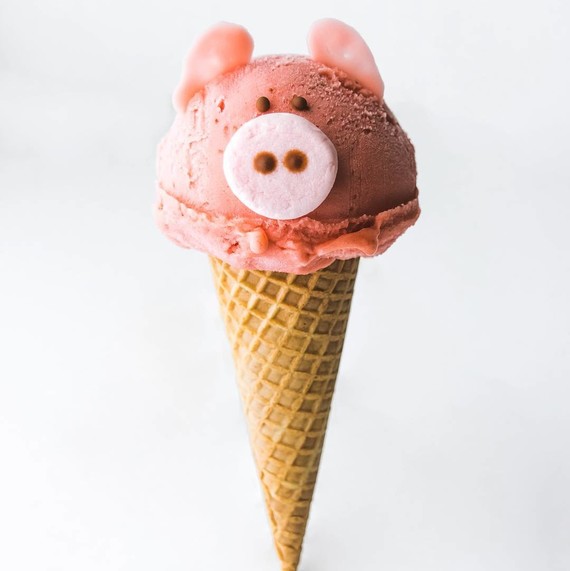 At just 22, Vyvy Hoang's cute critter creations have not only taken over Instagram feeds lately, she has even managed to turn them into one sweet business. 
(SCOOP: Up dessert with our favorite homemade gelato and ice cream recipes) 
Growing up in Germany, Hoang, who now lives in California, loved how abundant gelato shops were in Europe. "It was really cheap there too, around two Euros a cone, compared to here in Los Angeles where it can cost up to $8!" Wanting to make gelato a more accessible treat, especially in her Westminister neighborhood where Hoang felt many families would never pay that much for ice cream, she had the idea to open her own shop.
As far as topping her cones with marshmallow bunny ears and rainbow unicorn horns go, Hoang says it was more of a "just because." "I've always been a creative person," says Hoang, who also does a fair share of DIYs and paper crafts in her spare time. "And I just like cute desserts."
(UPGRADE: Your ice cream sundaes with our favorite recipes here)
All the shop's gelato is made fresh in-store. Flavors include mango, durian, green tea, taro, and Thai tea alongside chocolate and vanilla classics. "There's a big Asian community around here so I like that those familes can come in with their kids and see familiar flavors," says Hoang. Visitors can also choose from a variety of critter designs from cats and pandas to pigs and baby chicks. The teddy bear has been the most popular.
Today, Eiswelt Gelato -- "eiswelt" being German for "ice world" -- dishes up some of the cutest scoops in California, though the recent college grad hopes that one day, the business will expand beyond Orange County. And while her parents helped her get the shop up and running, it's Hoang who mostly runs the business. "My favorite part is seeing customers come in and be excited," she says. "When they get gelato in the shape of a cute animal, it puts a smile on their face and you feel like you're making someone's day!"