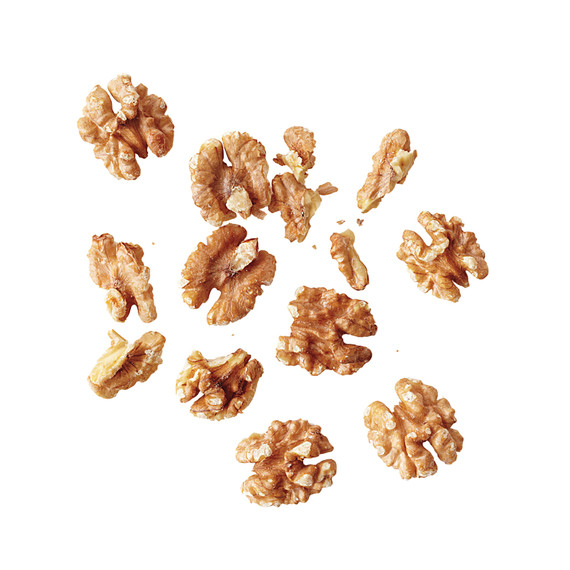 Thanks to the rise of almond milk, as well as the ubiquitous image of almonds as a healthy snack (let's not forget President Obama's nightly 7-almond habit!), almonds have been America's reigning nut for several years now. However, they're not the be-all and end-all in nut nutrition. Consider the underrated walnut, which might be even better for you and is just as versatile in the kitchen.
Health Benefits
What sets walnuts apart when it comes to nutrition? Omega-3s! With 2.5 grams per ounce, they are the only nut (and one of the few foods) that provides a significant amount of the heart-healthy, anti-inflammatory fatty acids. (Pecans only contain 0.5 grams, while other nuts don't have any.) This means that just an ounce -- or about a handful -- of walnuts fulfills the recommended daily amount of omega-3s, which is 1.1 grams for women and 1.6 grams for men.
The nuts are also rich in protein, fiber, iron, and magnesium, which help keep blood-sugar levels stable and bones strong. According to Connie Diekman, the director of university nutrition at Washington University in St. Louis, "Studies have connected walnut consumption with reduction in risk for heart disease, diabetes, and some types of cancer, and they may help fight infertility and preserve cognition. While some of these studies are still early-stage or animals-only, the indication is that walnuts can provide many positive health benefits." She attributes their underdog status to the fact that "walnuts have long been associated with holidays and baking whereas peanuts and other nuts are viewed as snacks. As evidence around the potential health benefits of walnuts continues to grow, they are appearing in more everyday items, and people are getting more comfortable with them as regular food choices."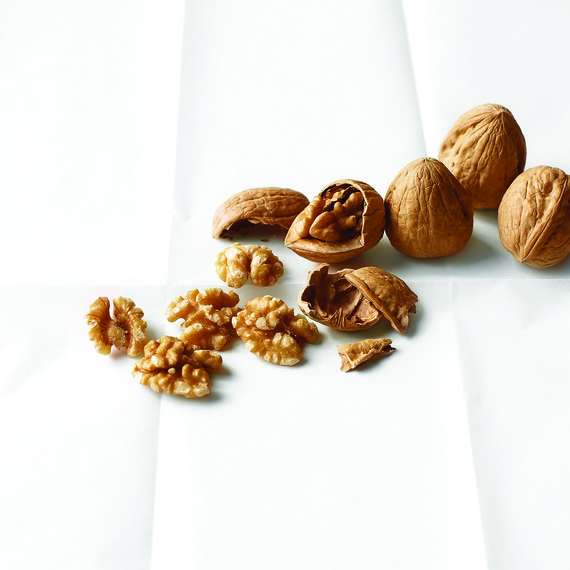 How to Buy
Two main types of walnuts grow in the United States: the pungent, tough-to-crack black walnut and the walnut you'll encounter in most supermarkets, the Persian (often called English) walnut. If buying shelled walnuts, go for the halves rather than the pieces (more cut surfaces encourage oxidation). They should be plump and crisp. If buying whole ones, avoid any with broken shells or ones that rattle when shaken (they're probably old). Be mindful of the sell-by dates on packaging. Small bits and nut "dust" in the bag or can are another sign walnuts are past their prime.
How to Store
Because of their high oil content, walnuts are susceptible to spoilage (they don't do well in heat, humidity, or light). To keep them tasting their best, store whole or shelled nuts in a tightly covered container in a cool, dry place up to 3 months. You can also refrigerate them up to 6 months, or freeze up to 1 year.
Cooking Tip
Toasting deepens walnuts' taste, improving it for baking and snacking. Here's how to toast: Arrange nuts on a rimmed baking sheet, and place in a 350-degree oven until crisp, 7 to 10 minutes. Or heat in a dry skillet over medium, tossing frequently until fragrant, 4 to 6 minutes. On occasion, the nuts' skin gives them a bitter taste. If so, drop them into a pan of boiling water; turn off the heat, let stand 2 minutes, and drain. Then bake in a 350-degree oven until dry and crisp, about 10 minutes.
Our Favorite Ways to Work Walnuts
Here are some easy ideas for enriching your diet with walnuts:
Watch how to toast nuts: