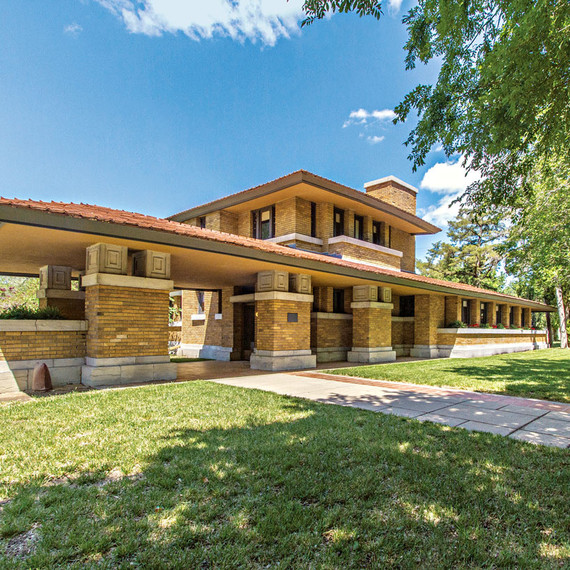 Festivities galore are set to toast the iconic architect's 150th birthday on June 8. Join in by touring one of Wright's famous homes, such as the Allen House (above), in Wichita, Kansas, the last prairie-style one he designed; or the Martin House Complex, in Buffalo, New York, now open after two decades of restoration. The celebration continues all summer at historic sites and museums from New York to Arizona.
(CHECK OUT: Wright's Original Fabric Designs from the '50s -- They're for Sale!)
Oak Park, Illinois
See four of the earliest Wright homes and the studio where he perfected his design style on the Wright Plus 150 Housewalk.
Geneva, Illinois
Fabyan Villa will hold a Frank Lloyd Wright self-guided scavenger hunt for children, tours for adults, and a product raffle, on June 8. 
Kanakee, Illinois 
The B. Harley Bradley House will unveil six newly handcrafted, reinstalled interior stained-glass skylights (originals sold by an earlier owner) in its dining room. It will also host a preview reception for the PBS documentary "An American Home," featuring the Bradley House story and its impact on the architectural community, in September.
New York City
Visit MoMA's "Frank Lloyd Wright at 150: Unpacking the Archive" to view around 450 works, including drawings, furniture, and models.
During the week of June 8, the Solomon R. Guggenheim Museum will hold dedicated architecture tours of the museum, host sketching workshops, and add Frank Lloyd Wright-related content on its website and social media channels and in its retail shops. There will also be special events on June 8 and June 13, during the Museum Mile Festival.
Mill Run, Pennsylvania
Taste a slice of Wright's favorite chocolate-strawberry birthday cake at Fallingwater's cafe, then see the "Wright for Wright" design exhibition.
Spring Green, Wisconsin
At Taliesin, a month-long celebration includes half-price tours on June 8, the opening of a newly restored site (Tan-y-Deri, a home designed for Wright's sister) on June 9, a children's event (with a birthday cake) on June 17, and the premiere of a choral composition in honor of Wright's 150th on August 6.
 
Watch Martha take a tour of Frank Lloyd Wright's John Storer House: