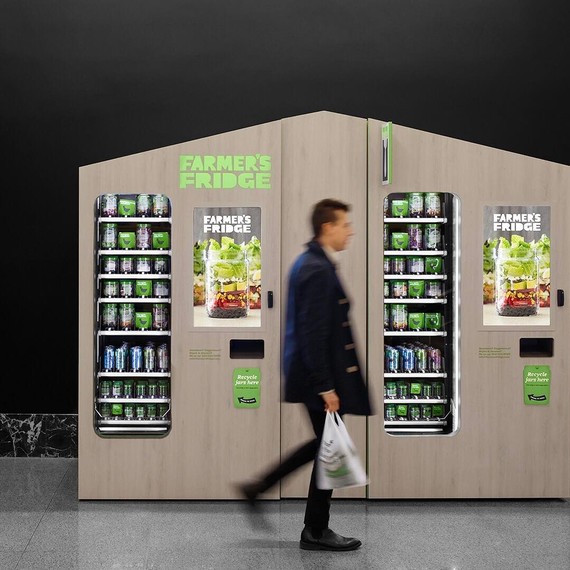 Next time you don't have time for lunch and head to the vending machines for something to tide you over, you might notice some new selections: fresh salads -- kale chicken Caesar, shrimp succotash, salmon Nicoise, and more.
Chicago-based food company, Farmer's Fridge, has been making healthier eating as easy as pushing a (touchscreen!) button since 2013. Currently, they have 75 vending machines in schools, airports, food courts, and even 7-Elevens around the Windy City. This year, they plan to roll out 200 more through the Midwest, and one day intend to be nationwide, so Farmer's Fridge could become your fresh, new lunchtime go-to.  
(MAKE: Lunch, It's the Easiest Way to Save $ and Eat Healthy. Here's How)
"I want to make it fast and easy for someone to choose a delicious, nutritious smart meal when they are on-the-go," founder Luke Saunders says. "What we're doing is taking the vending machine concept and revolutionizing it."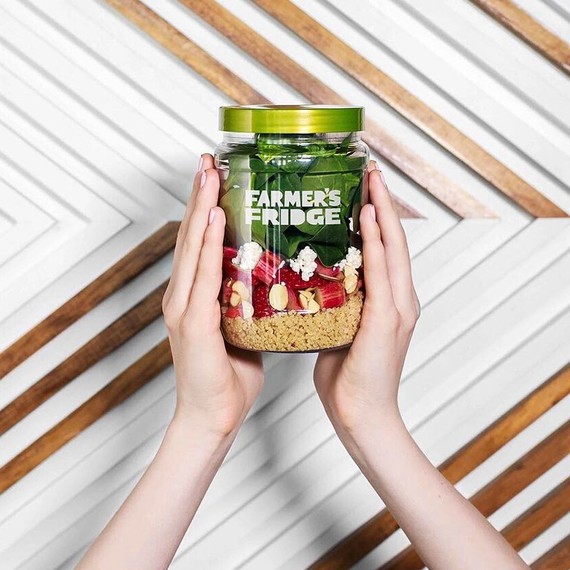 In their "fridges", as Famers' Fridge calls their vending machines, you can also find healthy non-salad items like peanut soba noodles, cauliflower "fried" rice, and snacks like almond butter-banana oatmeal, or pineapple-coconut chia pudding. All are prepared fresh each morning. Plus, food items come in recyclable glass jars and any leftovers are donated to local food pantries. 
(TRY: These Make-Ahead Noodle Salads, They're Just Right for Lunch)
That is ... if there are any leftovers! Since Saunders rolled out this lunchtime game changer,  Farmer's Fridge has developed a cult following with fans on social media raving about finally having easy access to healthy and affordable lunches -- salads are just $8 a jar -- with fresh, natural ingredients. One fan even wrote on Instagram, "I moved to Champaign from Chicago last year and have missed FF." In fact they missed the salads so much they made special trips a few times a month just to score their favorites. 
Craving a hearty yet healthy salad? Watch how to make this next-level Chicken Waldorf: