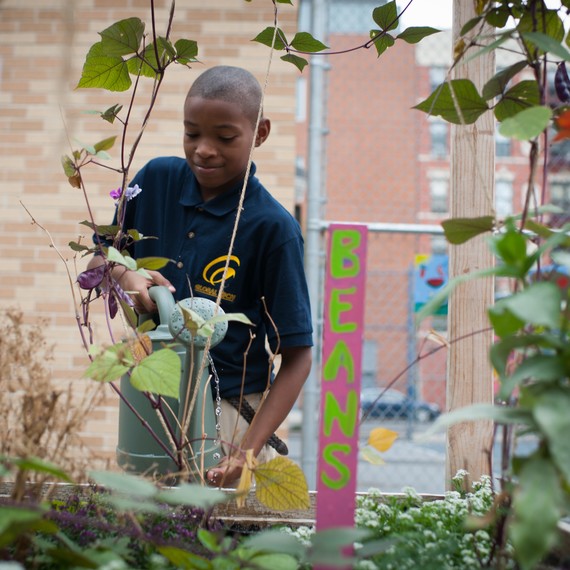 From serving a healthier breakfast to helping to fight hunger, we love schools on a mission to teach young people about good food habits. For students at P.S./M.S 7 and Global Tech Preparatory in East Harlem, New York, it starts with a seasonal farm stand they help run, right out of their playground.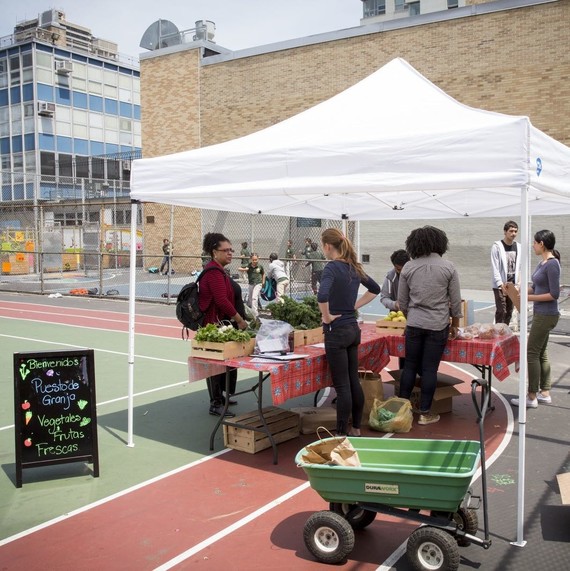 "When I'm in class, I can't wait for farm stand," says sixth-grader, Jaka who helps cashier and bag at the pay-what-you-can mini market. Here, neighborhood shoppers can find locally sourced produce at reduced rates and herbs, many of which Jaka and her classmates have grown right in the school's garden. And when she's not selling cucumbers (her favorite!), or planting seeds, you might find Jaka preparing samples -- today it's a fresh apple slaw -- for farm stand customers, all things she's learned with Edible Schoolyard NYC. 
Since 2010, the nonprofit seed-to-table educational program has been teaching some of the youngest New Yorkers about the importance of healthy food habits. At Jaka's school, kids help with the farm stand, take gardening classes outdoors and in a rooftop greenhouse, and learn about healthy cooking in a former classroom-turned-kitchen.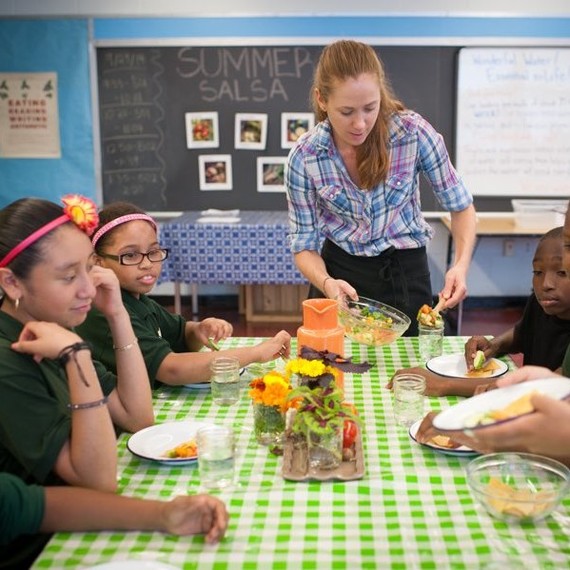 "I like that we get a chance to cook because at home, my mom doesn't cook much," says sixth-grader Ciara, who's excited about planting tomatoes to make sauce for an upcoming healthy pizza recipe. "I think [the program] is a fun way to know what you can actually do with vegetables! It's important for other kids to know that they have options, too, and not only junk food." 
(MAKE: These healthy -- and fun -- kid-friendly lunches)
The program at P.S./M.S 7 and Global Tech Preparatory is just one of six satellite school programs under Edible Schoolyard NYC which, in turn is one of six Founding programs nationwide. All of these, along with the many smaller affiliate programs, are inspired by restauranteur and activist Alice Waters who founded the first ESY in Berkeley, California in 1995. Her mission: to create an edible, hands-on education that fosters an understanding and appreciation for our environment and healthy living.
(MEET: Alice Waters, modern food visionary and pioneer behind farm-to-table cusine)
All of the Edible Schoolyard programs tailor their curriculum to the specific community needs of their students and families. At Jaka and Ciara's school, for instance, many of the students live in East Harlem, a neighborhood with limited access to fresh produce and some of the city's highest poverty and obesity levels. With Edible Schoolyard NYC, students attend classes on how to properly wash, chop, and prepare fruits and vegetables for healthy meals the same way they go to math and science.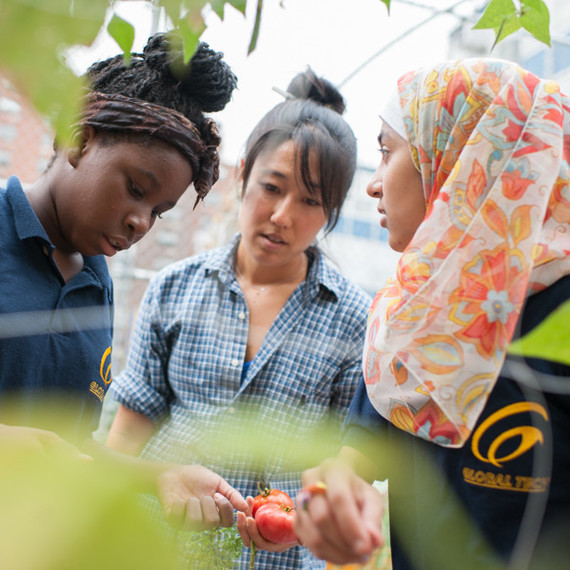 "Food is a universal language. For these kids, there's so much joy and pride that comes from cooking and growing their own food," says Kate Brashares, Edible Schoolyard NYC's Executive Director. "For kids who may not thrive in a school environment, I think this can be a great way for them to thrive." 
As she points out the carrots and eggplants she helped paint on the garden's wall mural, Ciara agrees. "I think it's a good thing. For us, or for anybody. I think we are really lucky." 
Watch Alice Waters and Martha tour the first Edible Schoolyard in Berkeley, California.