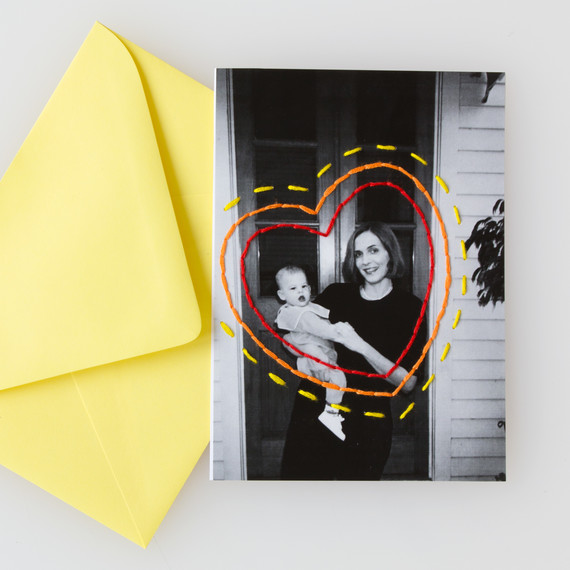 They say that a picture is worth a thousand words. And although we still expect you to add some of your own written sentiments inside your Mother's Day card, the photograph you use in this craft will go a long way to showing your mom just how special she is to you! This hand-embroidered photo card takes a little more thought and time (though not a lot more, we promise). In the end, you'll surprise mom with a more personal card than she ever expected to receive — one that is sure to turn into a favorite keepsake for years to come.
[FIND INSPIRATION: See Our Best Ideas for Mother's Day Cards]
To start, you need an old photograph and a few basic supplies. We love the idea of using a black and white photo topped with colored thread. The photo itself doesn't have to be perfectly composed or professionally taken. Choose your favorite baby photo or select a photograph of one of your favorite memories with your mother. We stitched bright shades of embroidery floss on top of our black and white photo for a sunny contrast. However, we also love the idea of using mom's favorite colors to further personalize it for her.
Once you pick your perfect photo and print a copy, you're ready to add stitches! You don't need any specialty embroidery skills and this craft is perfect for older kids as well. (We know a few grandmothers who would love to get their card in the mail for Mother's Day.) If you love the idea, but don't necessarily want to make a card, how about framing your embroidered photo? Or you can make Mother's Day brunch place cards. There are so many ways to make your photo memories marvelous!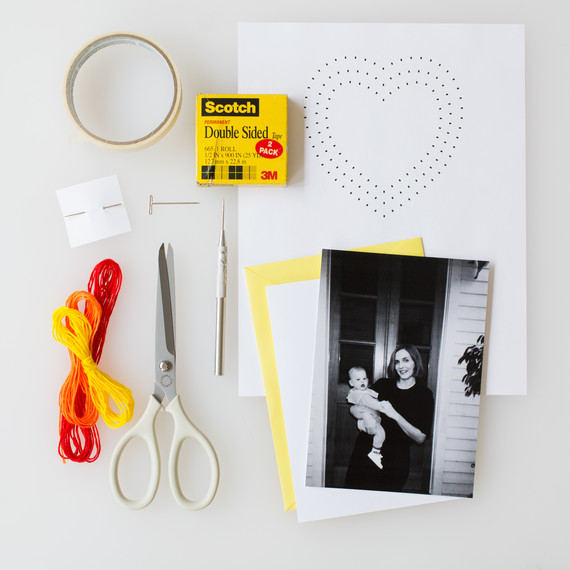 Materials:
Photograph of you and your mom (our photo was scanned and printed in black and white at 5" x 7")
Scissors
Embroidery floss
Sewing needle
Awl or t-pin
Masking tape
Double-sided tape
Heart template
5" x 7" envelope
5" x 7" blank card or card stock paper to make your own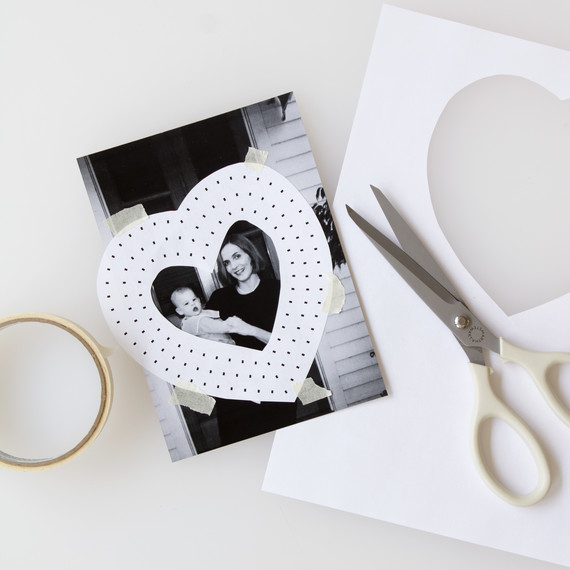 Step 1
Cut out the template and place over your photo, finding the position that works best with your image. Tape the template in place with masking tape to prevent it from sliding around.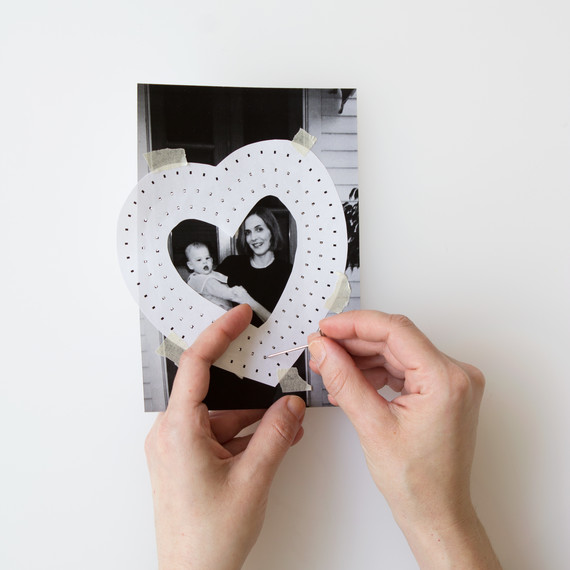 Step 2
Using your awl or T-pin, carefully poke a hole through each of the dots on the template.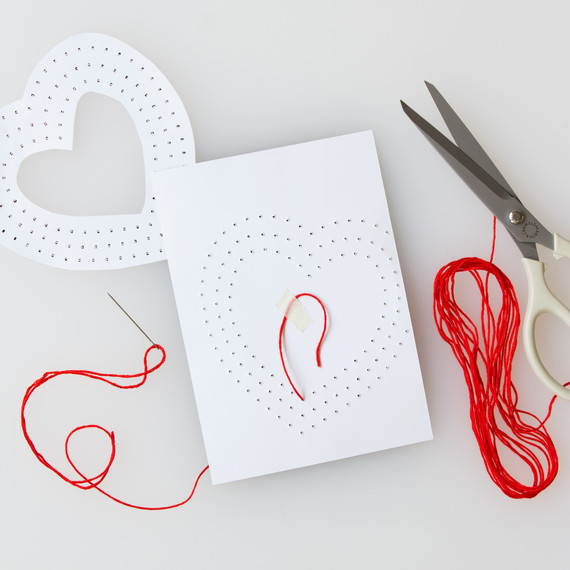 Step 3
Remove the paper template. Thread your needle with embroidery floss in the color of your choice and secure the tail-end of your thread to the back of the photo. You'll use this later to tie off the thread.
Step 4
Following the holes you made, stitch the photo in an "over under, over under" pattern. If you'd like a solid line of stitches, go back the way you came adding stitches in the opposite spaces. (We did a combination of solid and broken lines.) Tie off on the back when you are done and tackle the other hearts exactly the same way.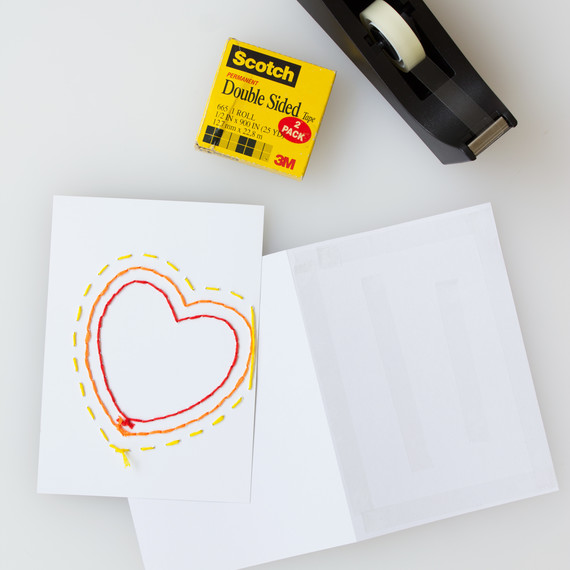 Step 5
Add lines of double-sided tape across all four edges along the front of your blank card, plus a couple rows of tape in the middle for good measure. Carefully adhere your photo to the card. Write your message to mom inside.
Looking for more ideas? Why not make this pop-up Mother's Day card​: