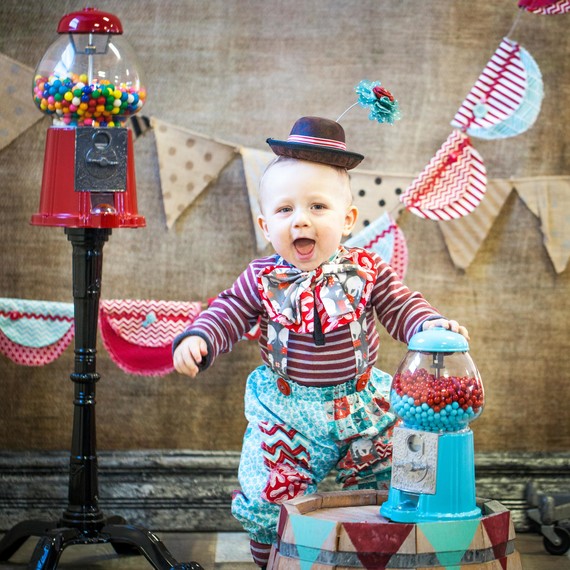 Gleaming and glittering with gold and wondrous surprises for young and old. Austin's first birthday party was an incredible party to plan! Throughout the day, the guests enjoyed winning small prizes at goldfish bowl toss, three-ring bottle toss, "pick a duck" and tin can toss. Austin's Peek-A-Boo Berry Smash Cake was a hit too, filled with berries for an extra surprise!
A little blue and red vintage rocking horse I found at a sweet antique shop called Pat's Gallery of Antiques in Fon Du Lac, Wisconsin, was what set this theme in motion. It was the theme for Austin's full first year, including his baby shower, nursery, and first birthday party. Once we found that perfect old rocking horse, I started collecting and making other items for his nursery and parties.
[FIND INSPIRATION: Kids Birthday Party Ideas & Recipes]
For Austin's adorable outfit, we started with a hat that was found at a costume shop. To make one yourself, hot-glue red and teal striped ribbon to the base right about the bill. Then, punch a hole through the top of the hat slightly off center with thick wire. Bend the wire about a half-inch from the bottom and hot-glue it to the inside of the hat. At the other end of the wire poking through the top of the hat, hot-glue red and blue flowers.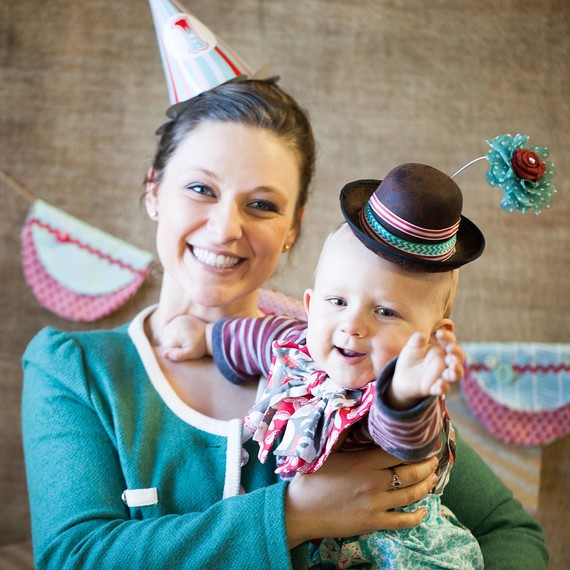 I hired my amazingly talented friend, Trisha Dallmann of Moda Images to make the rest of outfit. To recreate it, begin with a basic pantaloon bottom for the pants and suspenders. Cut out with the front and back in contrasting fabrics. To finish the look of the pants, add frayed patches to the knees and suspenders with oversized buttons in front.
If you take a closer look at his bow tie, it's actually an oversized double butterfly, with the front of the bow tie smaller than the back and attached by an adjustable neck.
[LEARN MORE: 5 Questions About Making Kids' Clothes for Mariko Nakamura]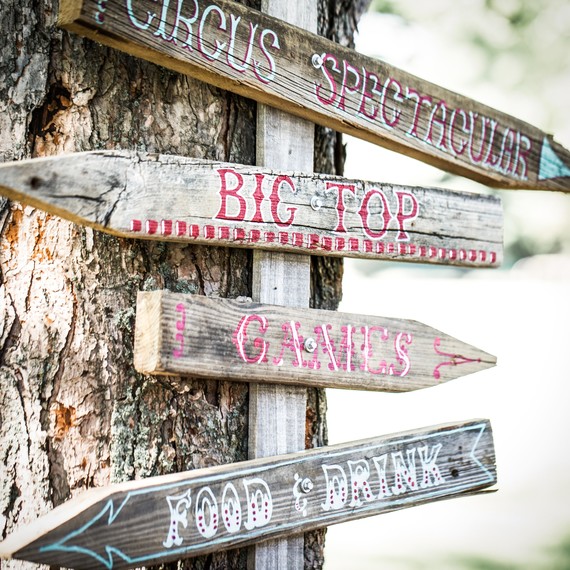 We used scrapwood to assemble the Big Top sign. To introduce your guests to the theme, hand-paint circus-themed lettering on them using red and teal acrylic paint.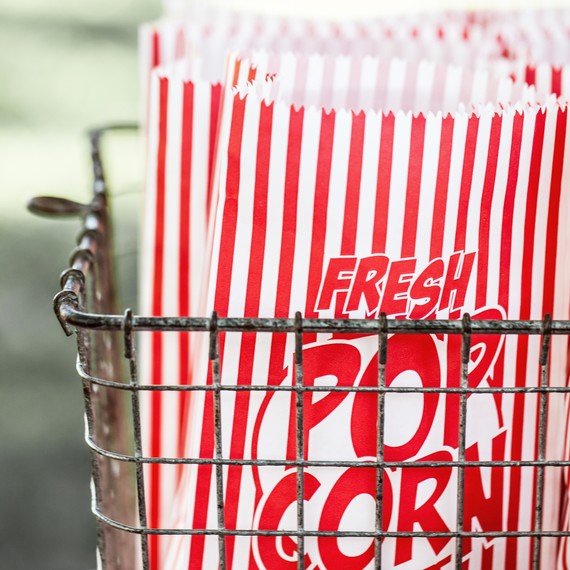 We had cupcakes, circus peanuts, blue raspberry taffy, gum balls, animal crackers, Pixi-Sticks, licorice and bags of popcorn at the treat bar.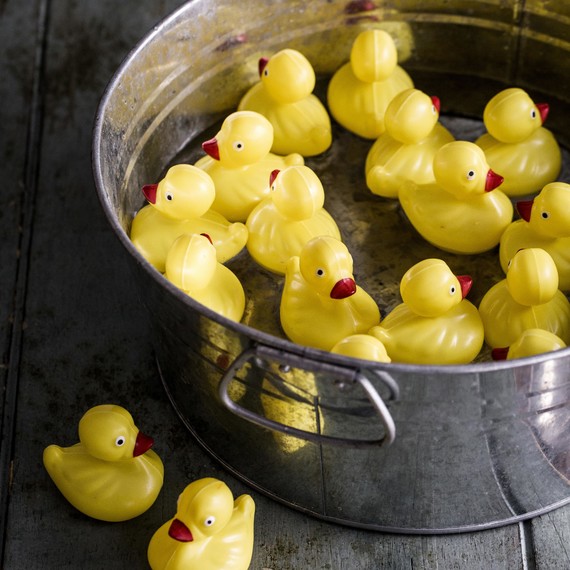 There were lots of games for guests to enjoy including Goldfish Bowl Toss, 3-Ring Soda Bottle Pop Toss, and this Duck Pond Game. To set it up, fill a galvanized tin tub half way with water and set in ducks that have numbers on the bottom.  Assign the duck's numbers to prizes. To play, guests take rounds picking a duck to see what you win. The best part is every duck is a winner and they double as take-home party favors!
[TRY IT: The Tin Can Toss Game]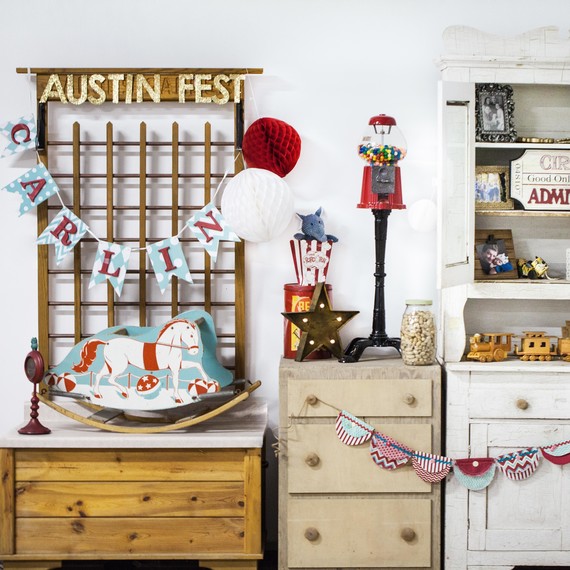 Inside, there were lots of vintage-inspired decorations. As another handmade touch, Trisha made the festive half-oval fabric banner you see here. It's a variety of ovals sewn, frayed, and embellished with no matching front and back. An oval allows for a fold roughly 1/3 of the way down allowing both sides to be seen from the front. To recreate it, run a seamstitch approximately 1 ½ inches from top which will be the casing to run a line to hang. A variety of colored rickrack can be added at the seam line, along with buttons to finish the look.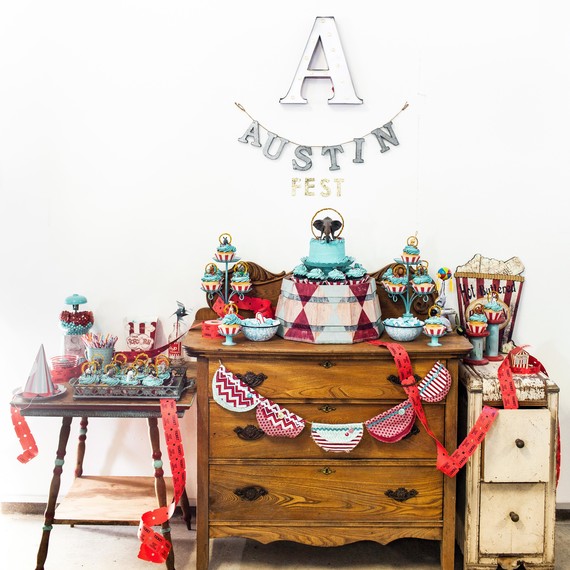 To really evoke that sense of wonder under Big Top, I incorporated vintage decorations into the treat bar like the popcorn sign, metal letters, red tickets on a roll, and a gum ball machine filled with sweets. Take a closer look at the cupcakes and each one is topped with an animal toy encircled in glittery golden pipe cleaners.
As party favors, guests won prizes of circus-themed temporary tattoos, bubbles, stickers, and pinwheels, as well as soda-pop and goldfish from the carnival games. And before leaving, they were welcomed to take home square prints from Austin's first year, which were scattered in a display on the tables like confetti.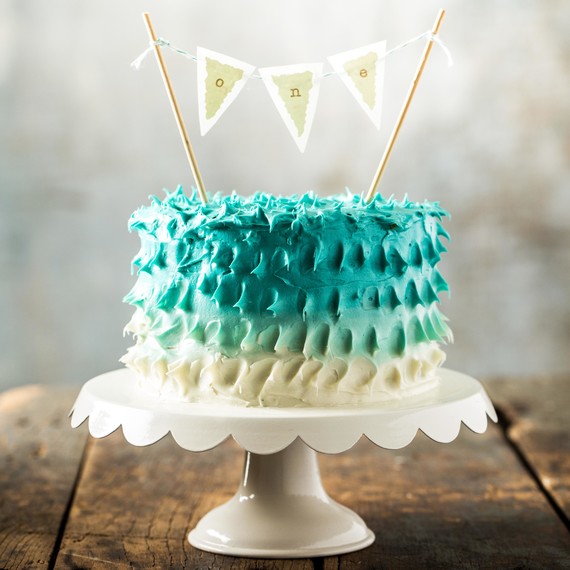 For Austin's Peek-A-Boo Berry Smash Cake, we added a banner cake topper. Using a small rubber alphabet set, stamp out an "O," "N," "E," on light teal-colored paper with enough space to cut a triangle around each of the letters with patterned scissors. Then, border the triangles with velum paper with a straight scissors. Hot-glue the triangles on a short string and tie it to two wooden skewers.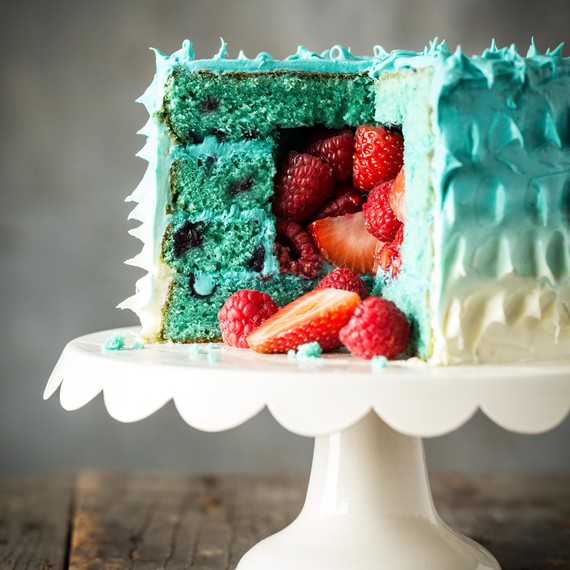 Cut a slice and the bright berries pair beautifully with the teal-colored frosting.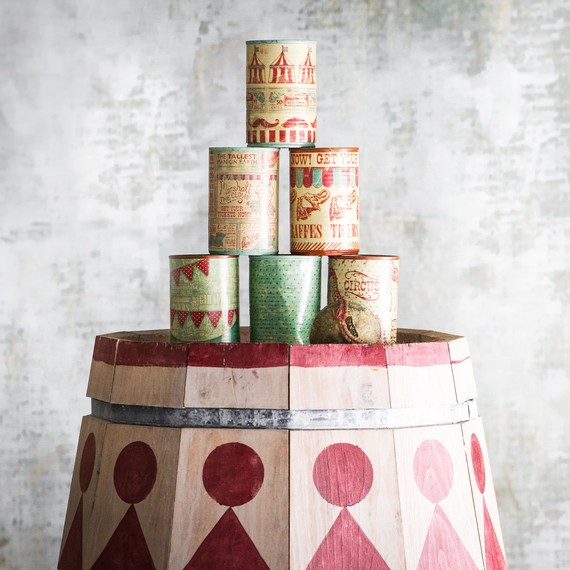 One of my favorite games from the day was Tin Can Toss, which challenges the players to knock down a pyramid of decoupaged cans atop a painted pedestal. To create this circus-inspired pedestal, start with large wooden planters found in most gardening stores; give them a white wash. Then, draw out circles and triangles around the planters. Lastly, paint them in red and teal. You're ready to play!
Watch how to make — and play! — the game here: