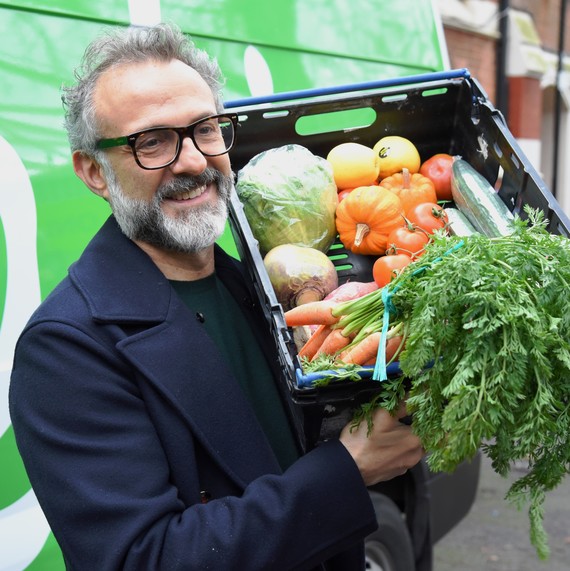 Massimo Bottura is not like most superstar chefs. For one, his celebrated restaurant, Osteria Francescana, is located in the small town of Modena, Italy and has just 12 tables. For another, after picking up pretty much every accolade in the food world, including three Michelin stars and the top rating in the World's 50 Best Restaurants, Bottura did not set his sights on opening another restaurant. Instead, he decided to found a nonprofit organization called Food for Soul that aims to nourish the needy and fight food waste.
While the goals may sound familiar, Bottura's approach is anything but. Food for Soul's model is to bring people together in a beautiful space and feed them delicious meals made from ingredients that would otherwise be thrown away. We asked Bottura about this unique emphasis on beauty when we caught up with him at the premiere of the documentary "WASTED! The Story of Food Waste," in which he and Food for Soul make an appearance. Bottura said, "Beauty makes a difference. It's how you make visible the invisible. If you build a beautiful space and invite people to come in, you change the whole community. The point is to rebuild the dignity of the people. This is not a charity project; this is a cultural project." And it's not just the aesthetics of the food or space that matter; it's everything from furniture and lighting to plates and glassware -- Bottura believes it all contributes to a person's sense of dignity.
(GET: A Sneak Peek of "Wasted! The Story of Food Waste")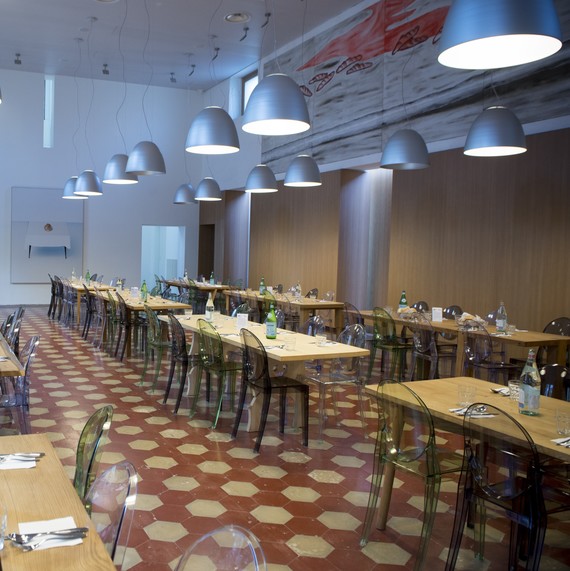 The chef-turned-social entrepreneur has witnessed the effect beauty has on nourishment in every city where Food for Soul has opened a "community kitchen" -- Milan, Modena, Bologna, and Rio de Janeiro (where they used surplus food from the 2016 Olympics, no less!). Bottura said, "When we were in Rio, someone said, 'This is the first time in our life we've been treated like human beings.'" In order to make this beauty a reality, Bottura has engaged not only his fellow chefs, but also local artists, designers, and architects to volunteer their knowledge and become more invested in their communities.
His vision has even caught the attention of the Rockefeller Foundation, which last year made a $130 million commitment to cut food waste in half by 2030. Peter Madonia, chief operating officer at the Rockefeller Foundation, said, "I went to see Massimo in Modena last December, and two hours later, I walked out knowing that I wanted to be involved. His vision knocked my socks off. That's when I came back to the foundation and said we have to make this happen in America. We have to figure out how to scale this for a dozen cities, 20 cities, 50 cities." Two months after Madonia's trip, Food for Soul received a grant for more than $500,000.
Bottura is planning to launch the first U.S. community kitchen next year, and while he's not sure where it's going to be yet, he does know who's doing the art. He said, "I just received an email from Cindy Sherman, one of my favorite artists, about getting involved. Our message about giving back is already passing through the community!"
(LEARN: About Spain's Robin Hood Restaurant -- Where Those in Need Can Eat for Free)