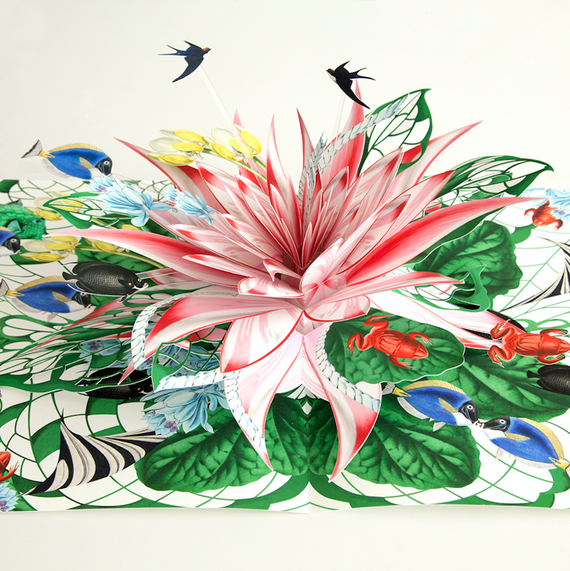 Bozka Rydlewska is an artist from Warsaw, Poland, where she creates one-of-a-kind art. And it's safe to say her that talent really "pops" as she illustrates and creates whimsical 3-D books.
Her latest pop-up series, New Botany, transports readers into a multi-dimensional botanical wonderland. Throughout these imaginative works, you will stumble upon everything you'd expect to find in nature, but with a vibrant colorful twist. There, you will find blooming lotus plants, a sea of butterflies, as well as a pond full of Koi fish. It's like a built-in adventure with every turn of the page.
Recently, we caught up with Rydlewska to get a closer look into her creative process as well as how she became interested in creating pop-up illustrations. She admits that she has been drawing since she can recollect, but she became captivated with painting when she attended the Academy of Fine Arts in Krakow, Poland, as a student. It was there that her creative knack for painting and drawing began to blend together. "Over the years, I developed my personal style, which is a mixture of the handmade, collage, and digital drawing," she tells Martha Stewart Living. "In 2013, I decided to realize my dream from childhood and create an artistic pop-up book based on my illustrations."
[DON'T MISS: Watch How You Can Draw in Thin Air With This 3-D Pen]
That pop-up series, New Botany, is indeed a dream come to life. "To me, pop-ups are like impossible worlds that grow out of books and remind me of the magic of childhood," she says. "I love the element of surprise when you turn the page of a pop-up book, and suddenly, a construction appears that seems to defy logic and it is not easy to understand how it was designed."
Flipping through the pages, it's easy to think of her art as effortless as one page flows beautifully into the next. Bozka will tell you that it's quite a detailed process. "The challenge in designing such a book is that it takes such a long time and a lot of it is done by trial and error," she says. "Sometimes, you have to make one element many times: you assemble it, only to find out that this size is not working, then you make another element a few millimeters bigger, assemble it again and it still may not be working... and like this over and over again until you get it right."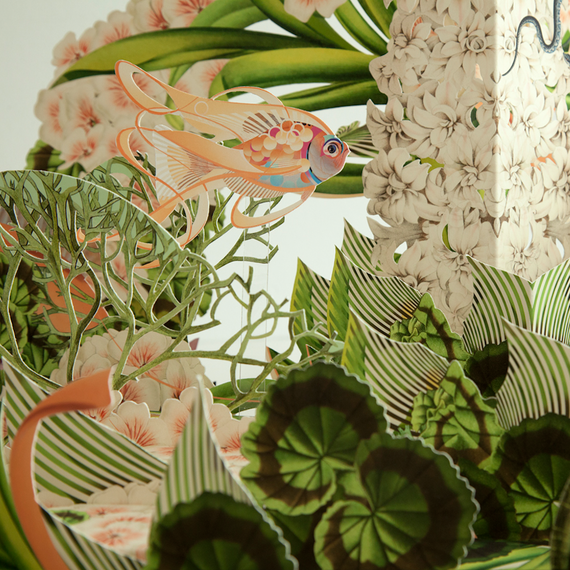 Reading her books, it's apparent with the first page that her craft is extremely intricate and detailed. "My pop-ups are quite complex and with all their elements, the challenge was to make the construction work — to fold between two pages of the book. I always say that the process was like sculpting in the paper — following your eye and intuition, not knowing exactly where it would lead me."
Luckily, her intuition leads her (and us) somewhere rather beautiful and magical. If you feel as if you've just finished a 3-D fairytale after closing the book, that's a good thing. Bozka takes inspiration from color, nature, and of course, fairytales. Imagine that.
Want to learn more? Watch the video about the history of pop-up books: