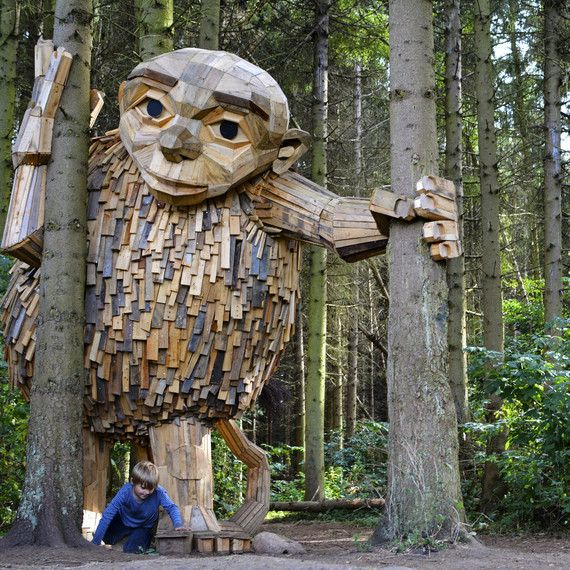 It's pretty easy to prioritize sustainability in your art -- you just need to have the right mindset at the start of your project. How many times do you simply head to the craft store to pick up new materials instead of taking a moment to think of the recycled materials you could use?
When you take the time to reuse and recycle, magical things can happen! Case in point: it would have been easy for artist Thomas Dambo to use new wood for his "Forgotten Giants" sculptures, but he chose to work with sustainable materials instead, giving discarded pallets and other scavenged lumber new life. The unwanted materials went into creating six stunning sculptures in hidden spots across Copenhagen, Denmark. 
The series of friendly giants form a scavenger hunt around the city, encouraging people to explore "beautiful and often overlooked nature spots." There's Little Tilde (above), who peeks out from behind a tree, as well as Friendly Teddy and Hill Top Trine (below).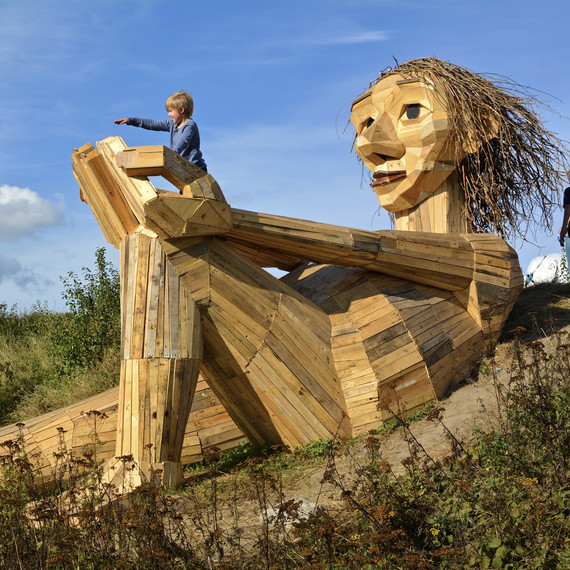 Dambo's sculptures are the perfect example of how you can make a beautiful project even more meaningful by using sustainable practices or recycled materials. It doesn't have to be recycled wood, either -- old fabric, cardboard, bottles, ribbons and more can all be used in your next craft project!
[CHECK OUT: Recycled Craft Ideas]
Watch: How to make eco-friendly recycled notebooks