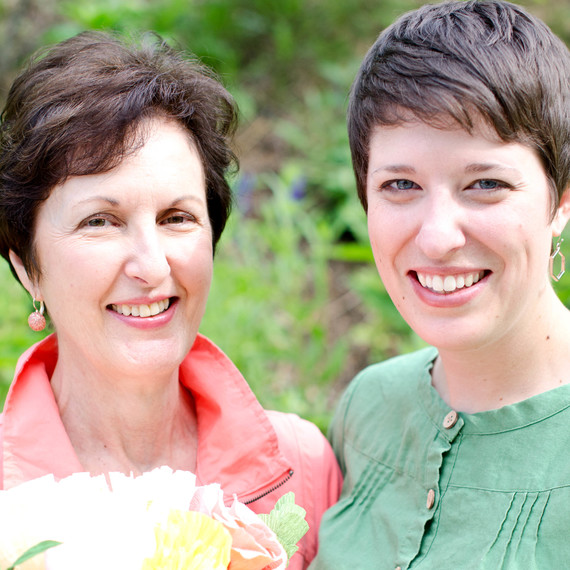 Let us introduce you to Cherie and Meredith Eastburn, the mother-daughter team behind Amaranthus Paper & Flora, a makery of paper flowers that last. In the language of flowers, amaranth signifies immortality. Vibrant and blooming in all seasons, this team's immortal paper flowers bring joy year-round.
1. Can you tell us the story behind how these flowers (and the business) started? What was the "aha!" moment to work together?
Cherie: We started making paper flowers almost four years ago to help my sister who runs a nonprofit pediatric oncology camp in Delaware. Kay's Kamp is the legacy of my niece Kaylyn who lost a brave battle against leukemia at age 18. For the organization's annual benefit gala, I had been creating live floral centerpieces, which was logistically tricky as a long-distance volunteer. So, I started experimenting with paper flowers and taught myself how to work with crepe paper.
Meredith: My mom made close to a thousand blooms, and we arranged them with live greenery for the centerpieces. Guests loved them so much that I convinced my mom that we could turn this into a business, and we launched Amaranthus in early 2014.
[MEET: More of Our Favorite Paper Flower Artists on Instagram]
2. What has it been like working together? Biggest perks and hurdles? What have you learned from each other?
Meredith: We are so alike it's kind of scary, but our strengths and preferences also complement each other well. We each have different flowers we especially like to make, so the production work divides nicely. I tend to handle our big picture planning, design, and marketing/social media, while my mom is great with the details and is the most motivated person I know — she's always working on flowers.
Cherie: It has become really enjoyable and almost relaxing! Some people like to knit or crochet, but I love cutting and shaping petals over a glass of wine or while I'm watching TV. We have a lot of fun working together, and it's a special connection we have.
Meredith: Yes, that's true! We trust and understand each other really well! I feel lucky to work so closely with my mom. I'm in total awe of her work ethic, and it makes me work harder. Sometimes, I've been told, I can get a little bossy. (I wonder where I get that from?) But we have a rule that we're not going to do this unless we're having fun.
[FIND INSPIRATION: 10 Blooms You Can Make That Will Last Forever]
3. What has it been like working long-distance from one another?
Cherie: Working from different states is challenging, but it has given us a unique way to be connected, whether by phone or text or email. The trickiest part is keeping track of supplies and flower inventory, but we've managed to make it work.
Meredith: We travel back and forth to Atlanta and Lexington regularly for production time together as well as for events and markets. And in a few months I'll be moving to Atlanta too, so it will be a whole new chapter for our business for us to be in the same place.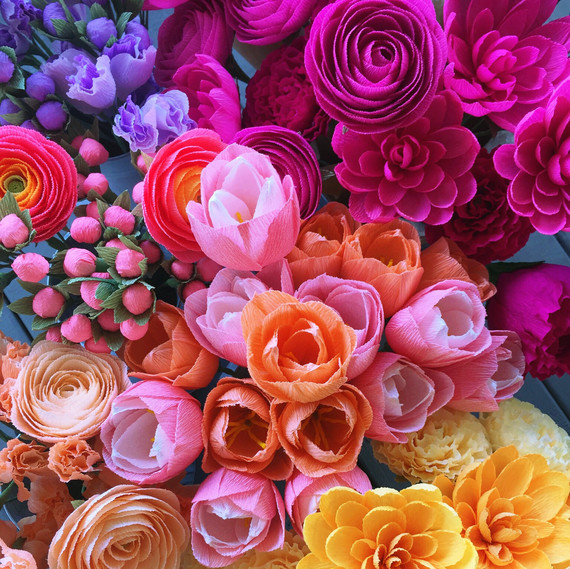 4. Can you tell us a little about your technique in paper flower making?
Cherie: We use heavy Italian and German crepe papers that have a lot of stretch to them. This allows us to scoop, cup, ruffle, twist and sculpt it into various petal forms. Our petals are all hand-cut, and then we sculpt and construct them onto wire stems, one petal at a time, using hot glue and floral tape. We make a point of not using any mass-produced, synthetic, or artificial greenery or other elements — we really believe in work that is authentic, intricate, unique, and made from scratch.  
Meredith: It's a labor of love! We like to think of our paper flowers as inspired by nature but not bound by exact realism. They're loving interpretations of living blooms, though we allow ourselves a little creative license with form and color palette. It's important to us that the blooms all "play well together" so that our clients can choose their own special combination of blooms for a personalized bouquet. 
5. What are each of your favorite flowers to make?
Meredith: Magnolias, hands down. I could make them all day, every day — and sometimes, I do! They're one of our most popular blooms. Constructing eucalyptus and leaves can also become meditative and relaxing, so I enjoy those a lot as well.
Cherie: I like making so many of them, but the ruffled Japanese ranunculus are especially fun, and I enjoy making succulents a lot too. Oh, and the oversized wall flora too! It's too difficult to pick just one favorite.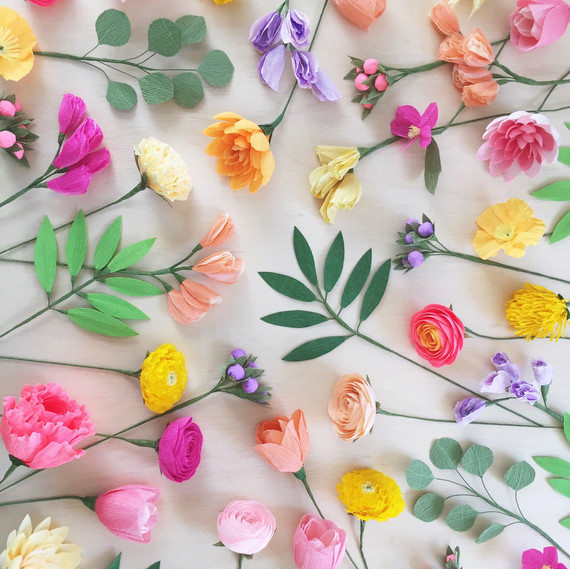 6. Describe what makes you say #ImSoMartha.
Cherie: Personally and as a business, we deeply value thoughtfulness, innovation, and care for that which is beautiful and practical. Our paper flowers are handmade and home-grown — what could be more "Martha" than that?
Meredith: Whether our customers need a splash of color at work, a special conversation piece in their home, or a meaningful gift for a loved one, we're on a mission to help fill these spaces, days and moments with lively color and lasting joy. We hope Martha would approve!