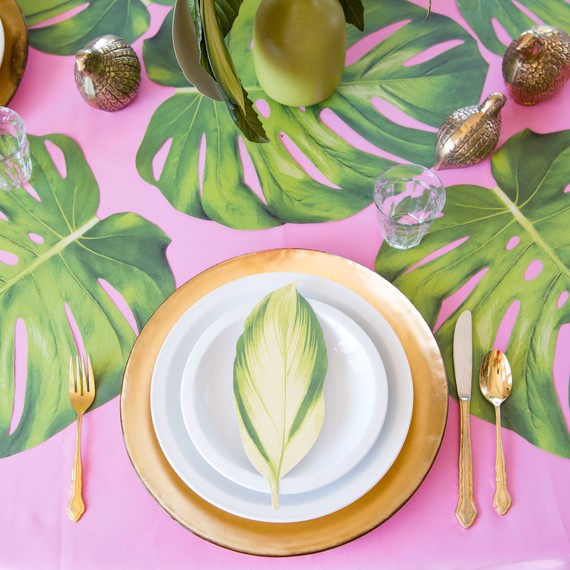 Not all moms want a tea party for Mother's Day. (I know mine sure doesn't.) So think "fun" and not "fussy" — this tropical pink and green color palette reminiscent of The Beverly Hills Hotel sets the tone for a great party. I love to go there for breakfast and gawk at the amazing wallpaper and equally amazing black and white photography of their famous guests. There is something so magical about a place that has such a glittered history and still stands the test of time.


My mom is an avid collector and we joke that she could open a catering company with all of her dishes. (Service for 50, anyone!?) During a recent visit with my mom, I described the color palette I wanted to go with for Mother's Day and she pulled the perfect pink tablecloth out of her stash. (Score!) Of course, if you're looking for a tablecloth, but can't find the right color, just head to the fabric store. It's an easy sewing project and can really make your table pop. 
[FIND INSPIRATION: Mother's Day Crafts and Decorations]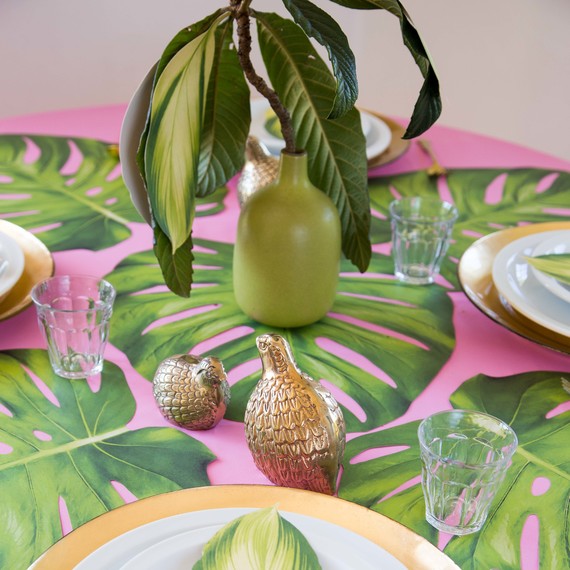 Next, I needed to find the decorative details. While visiting Nashville — which has become the destination for pretty much anything cool in the past few years — I went to one of my favorite spots Hester & Cook. They stock tons of unique supplies for hosting and entertaining, and it makes you want to throw a party every day! They are known for their paper products and make everything from custom paper runners, placemats, placards and even doilies. On this visit, I walked in the door and went straight to these incredible palm leaf papers! They can be used as placemats or a table runner. The colors really pop against the Pepto-inspired pink shade of the tablecloth. The great thing about paper is that when the party is over, you can recycle them instead of having to store them away!
They also make a smaller version that you can use for a placecard or just to add a pop of color to your everyday white plates. (That's my secret: I use white plates for everything and switch out napkins, chargers, and salad plates to make everything look fresh.) I found these gold chargers at a thrift store recently and they have become an instant favorite — I love how they pop on the white and go with everything.
Living in southern California means you never have a shortage of tropical trees. After running around my neighborhood with my trimmers, I ended up in my own yard trimming my loquat tree to stand in as a "palm tree" centerpiece. When paired with a green Heath ceramics vase, it stays within the color palette and adds a little more fun to the table. At the last moment, I added some of the paper leaves to make this centerpiece stand out. I simply curled the paper a bit and  attached them with adhesive dots.
Whenever you set a table, I recommend standing back and looking at the whole thing to see if something is crooked or missing. When I looked back at this table, I realized that it needed more gold to make the chargers work. So I pulled these brass birds and set them around the centerpiece, and the whole thing just came together. No matter where you live, injecting a little tropical flair into your party will set an instant mood of fun for your guests. What are your plans for this Mother's Day?
Feeling inspired? Why not try adding these easy-to-paint vases to your table?