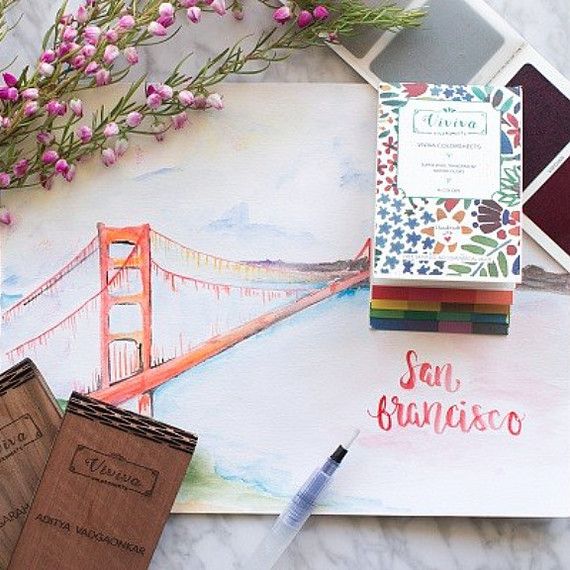 As a painter, writer, or crafter... you never really know where or when inspiration will appear. But it's not exactly easy to carry your canvas, paints, and tools around for the day. Or is it? It just got easier with the help from a new pocket-size paint innovation called Viviva Colorsheets.
What is Viviva? If you enjoy painting in your spare time, you'll be happy to learn that Viviva is a tiny booklet composed of water-soluble colors that dry instantly upon contact with the paper. The portable paint palette is made up of 16 vibrant shades with the theory that the best time to paint is at the moment when inspiration strikes.
[WATCH: This is a Surprisingly Soothing — and Easy! — Way to Paint]
Kind of genius, right? The compact colorsheets were created by Aditya Vadgaonkar who isn't a full-time painter, but a third-year medical student. Like many creatives, Aditya found that his day-to-day life was much too hectic to partake in one of his favorite hobbies — painting. Naturally, he had to do something about it.
Aditya's paints might be small, but they are surprisingly color-saturated meaning that you get a lot of color options and many uses out of the inventive painting kits. The hues range from deep pink to viridian right down to peacock blue. Pretty, right? Imagine what you can create while you're waiting for your morning coffee order with colors like these at your fingertips! 
Want to learn more? Watch how it works: