If anyone could make a tin of sardines looks adorable, it's Kate Jenkins. In fact, all her crocheted foods  --  from elaborate seafood spreads to adorable French fries and crepes -- look good enough to eat (but we'll stick to feasting with our eyes!) 
Crocheting came almost naturally to the British artist, who studied and currently works in fashion textiles. "My mother and grandmother did it. Perhaps it was a family skill passed down!" says Jenkins who first learned to master the craft as a teen. 
(COOK: Pasta With Sardines and Caramelized Fennel)
It wasn't until several years ago, when Jenkins launched her own fashion website, that she began crafting her buffet. Often, her pieces play on words ("Sew sauce" on stitched sushi, anyone?) "I was originally looking for a way to draw traffic to the site, so I started making these pieces for fun. ... food appeals to everyone!" 
Since then, the designer, who's worked with labels like Ralph Lauren and Marc Jacobs, has made hundreds of creations. Her exhibitions have ranged in theme from American diners and iconic New York fare to dinner parties. Her most recent 2015 show: an elaborate fish market. And, given Jenkins' exquisite attention to details down to sequined fish scales, we're not surprised to hear it took nine months to complete!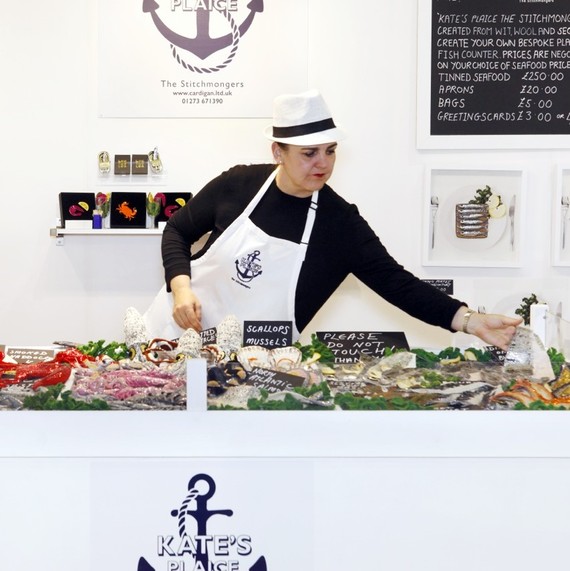 "I'd had the idea for a few years and always wanted to try making a whole fish counter," says the artist. "When I was invited to exhibit at this show, I reckoned it was time! I had to get it out of my system." Why all the interest in fish? Jenkins says, despite her seaside Brighton home, it's mostly just a fascination ("I guess I do eat a lot of seafood!")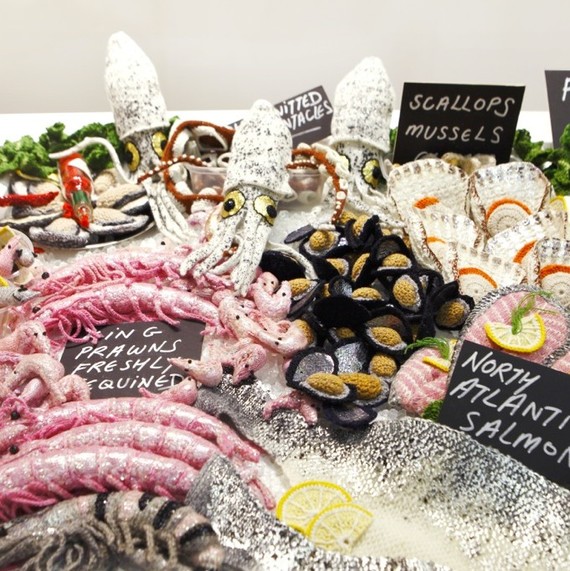 Her ideas are inspired largely by her travels (she just returned from a visit to Tokyo's world-famous Tsukiji fish market!) But wherever she goes, Jenkins says she's never without her notebook of ideas, lots of coffee, and her lucky crochet hook. "I've had it for 20 years. I panic if I don't have it!" 
(MAKE: This Japanese-inspired salmon ramen with chile-ginger dressing)
And when she's not crafting in her studio with her biggest fan and canine companion, Lottie, Jenkins says she's dreaming up her next big project: a line of cashmere sweaters, each accented with a signature embroidered food. Chances are, you'll find one stitched with a tiny tin of sardines. Stay tuned for Kate's upcoming shows and sweater line here!