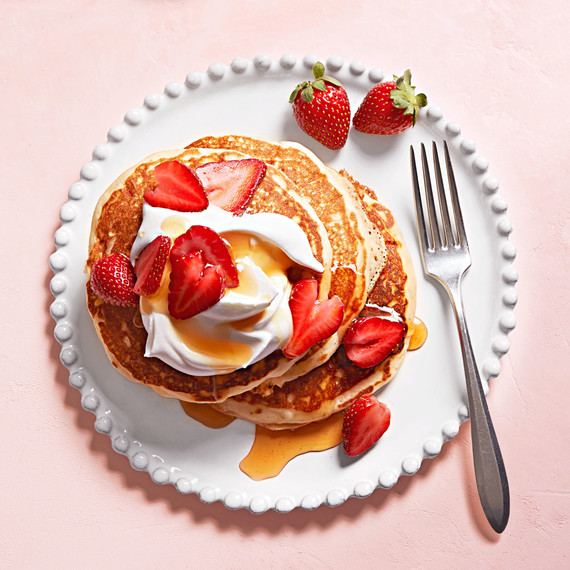 Nothing says, "It's Saturday morning!" like the scent of homemade flapjacks drifting through the house. Here, we reveal the secrets to a best-in-show breakfast, from giving the batter a splash of lemon juice to knowing just when to flip.
Curious about the picture-perfect hotcakes above? They're topped with whipped cream, strawberries, and maple syrup -- like strawberry shortcake in breakfast form! It's just one of the many ways you can tweak our test kitchen's favorite buttermilk pancake recipe. Once you master the classic, be sure to try all our next-level variations.
Grocery List
Unbleached all-purpose flour
Sugar
Baking powder
Baking soda
Buttermilk
Fresh lemon juice
Large eggs
Unsalted butter
Safflower oil
Get the Test Kitchen's Favorite Buttermilk Pancakes Recipe
Citrus Star
Lemon juice gives pancakes that tang lost from modern packaged buttermilk.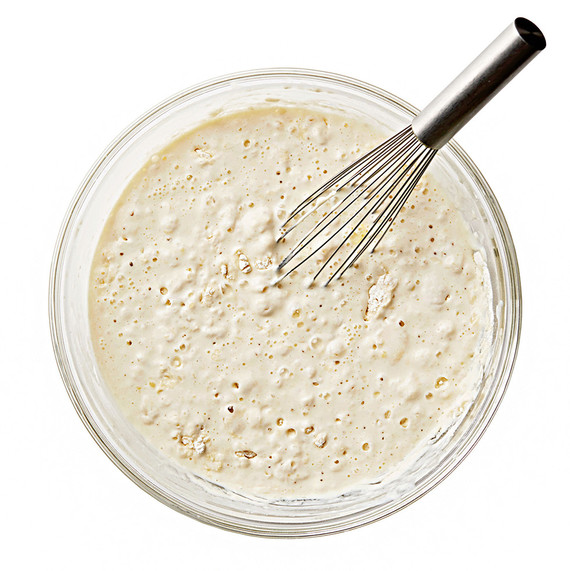 1. Mix the batter . . .
. . . just not too much. The key to airy pancakes is keeping the batter lumpy. In a large bowl, whisk together 2 cups flour, 2 tablespoons sugar, 2 teaspoons baking powder, and 1/2 teaspoon each baking soda and kosher salt until very well combined, about 30 seconds. In a large measuring cup, beat together 2 cups buttermilk, 1 1/2 teaspoons lemon juice, 2 large eggs, and 2 tablespoons melted, cooled butter. Make a well in dry ingredients; stir in wet mixture. We repeat: don't overstir. Some lumps in the batter are your friend. If it gets too smooth from overmixing, breakfast will (literally) fall flat. Let rest 10 minutes so gluten can relax for a more tender end result.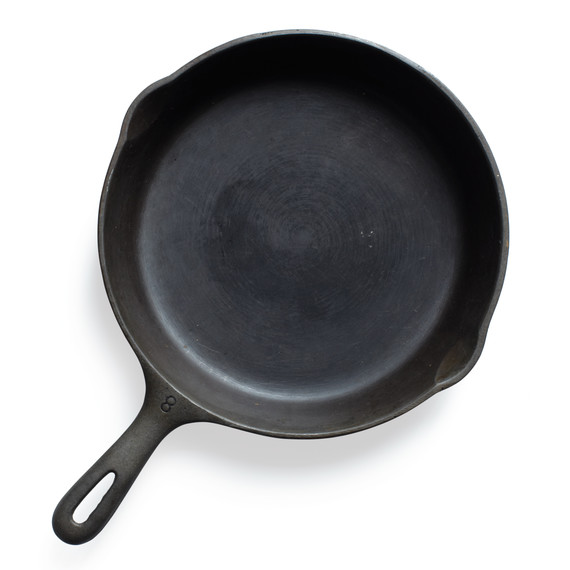 2. Oil the skillet
Too much fat in the pan leads to uneven browning, which is why we use it sparingly. Heat a large nonstick or cast-iron skillet over medium; add 1 teaspoon safflower oil, then wipe with a paper towel, leaving behind a thin film.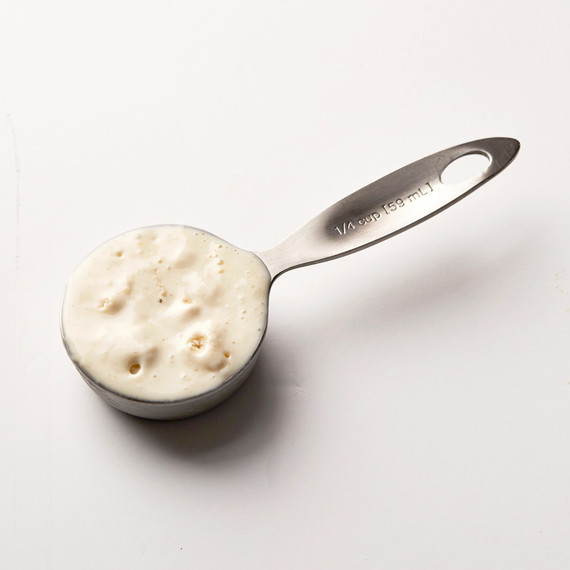 3. Pour and flip
Working in batches, add heaping quarter-cups of batter to skillet, spreading lightly with the bottom of the cup. Cook until bubbles form on surface, edges have set, and undersides are golden-brown, 2 to 3 minutes. Flip and cook 2 minutes more. Transfer to a wire rack set in a rimmed baking sheet; keep warm in a 200°F oven.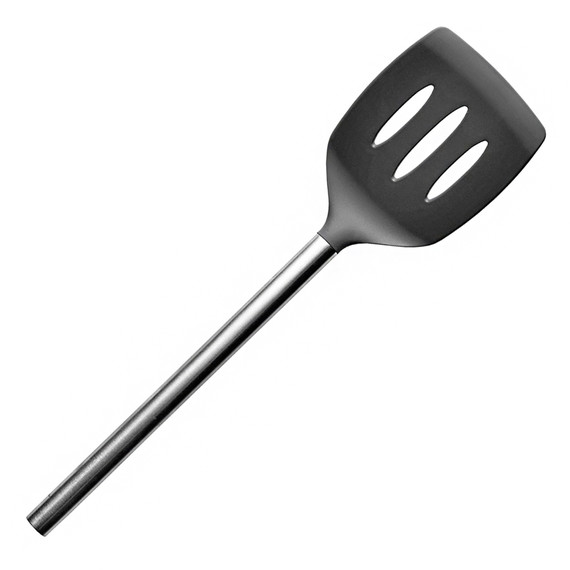 Top Tool
For easy flipping, we recommend a wide, flexible spatula. We love the Tovolo silicone slotted turner ($12, crateandbarrel.com).
Test Run
Make a single pancake first to work out the kinks. If it gets too dark on the outside, or gummy in the middle, adjust the heat to medium-low. If it sets at the edges before developing color on the bottom, turn up the heat.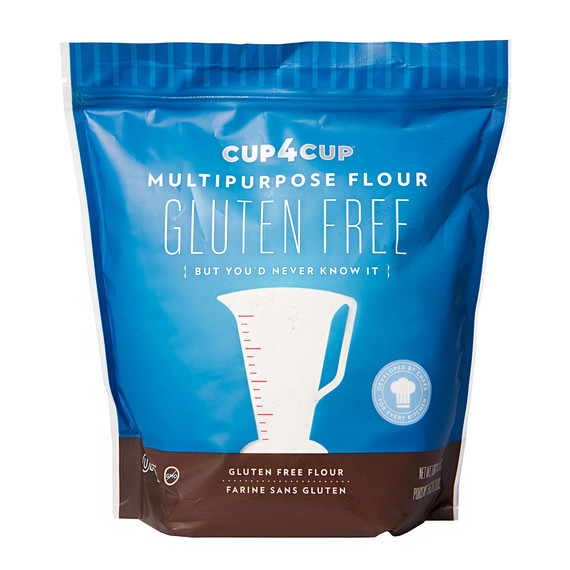 Sans-Gluten Swap
Substitute Cup4Cup, a gluten-free variety, for all-purpose flour. The batter won't need to rest, but the pancakes will take an additional 2 to 3 minutes per side to cook.
3 More Ways to Work Pancakes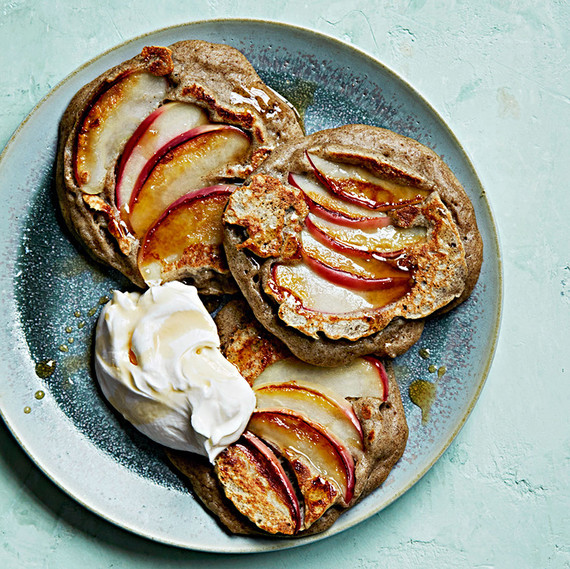 Apple-Buckwheat
A little buckwheat goes a long way to creating an earthier, deeper flavor. Replace just 1/4 cup of the flour with buckwheat flour. While cooking, add 4 or 5 very thin apple slices to each pancake as bubbles form. Sprinkle with sugar, then flip. Serve with Greek yogurt and maple syrup. Sliced nectarines, pears, or peaches are delicious, too.
Get the Apple-Buckwheat Pancakes Recipe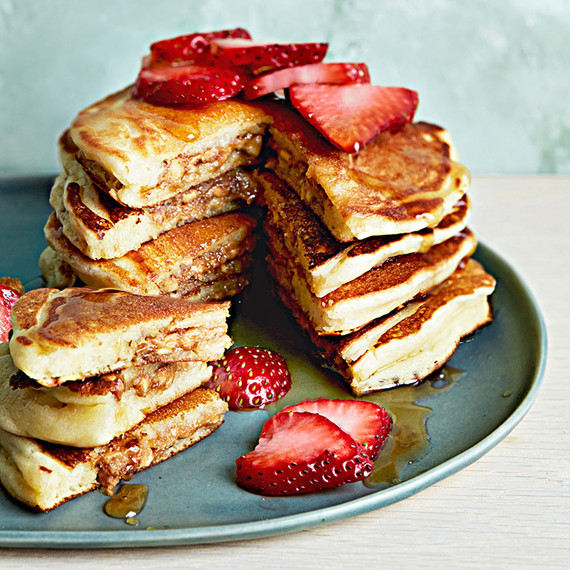 Peanut Butter & Berries
Everyone will love this riff on PB&J! Mix 2/3 cup chunky peanut butter with 1 tablespoon packed light brown sugar. Drop 2 teaspoons at a time on a parchment-lined baking sheet. Spread into disks with a spoon; freeze 1 hour. Drop 2 tablespoons batter in skillet; top with 1 disk and cover with2 more tablespoons batter. Cook 3 to 4 minutes per side. Serve with sliced strawberries and maple syrup.
Get the Peanut Butter-Stuffed Pancakes Recipe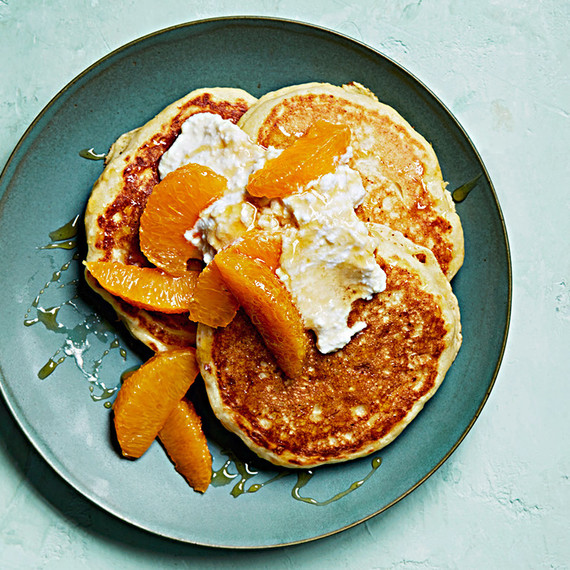 Ricotta-Cornmeal
Cornmeal adds a subtle crunch, while ricotta makes pancakes even fluffier. Replace 1/3 cup of the flour with fine yellow cornmeal, and 1/4 cup of the buttermilk with 1/2 cup fresh ricotta. Stir in 1 teaspoon orange zest, and replace the lemon juice with orange juice. Cook and serve pancakes, topped with supremed oranges, warm honey, and a dollop of ricotta.
Get the Ricotta-Cornmeal Pancakes Recipe