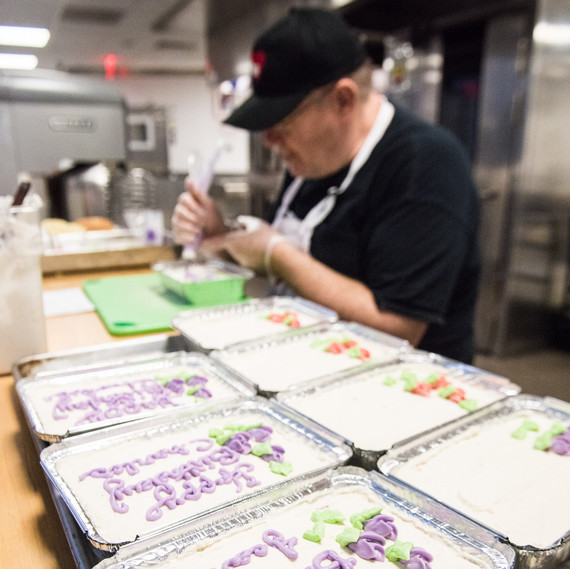 Vanilla with buttercream. It sounds like a simple cake, but more than the sheer number Chuck Piekarski bakes -- roughly 60 per week -- it's the personalization of each one and the message of love they offer that makes them special. 
"I like sitting at the end of the day with the cakes, decorating them, thinking about who they are going off to, and putting some good energy into them," Piekarski says.
For 26 years, Piekarski has been the head baker at God's Love We Deliver, which prepares and delivers meals to people suffering from HIV/AIDS, cancer, and other serious illnesses. In that time he's baked nearly 40,000 birthday cakes and 9 million desserts for clients of God's Love We Deliver.
(TRY: These Better-For-You Baked Goods from Martha's Latest Book)
 "I've received so many wonderful letters about the cakes," Piekarski says. "One guy hand-wrote me a letter saying how happy he was to get a birthday cake, that it was the first birthday cake he got in his life."
Every weekday, the non-sectarian organization cooks more than 6,200 meals, delivering them to New Yorkers suffering from life-threatening illnesses. The birthday cakes are an added way the organization tries to help clients feel a little normal while giving them joy. On May 1, God's Love We Deliver will celebrate 32 years of delivering meals and for $10, anyone can sponsor a birthday cake.
(GET: Our Recipe for Versatile Vanilla Cake)
Piekarski learned to bake in Providence, Rhode Island, at Scialo Bros. Bakery, an Italian bakery where they've used brick ovens to make breads and pastries for 100 years. Eventually he decided to move to New York to try theatre. "I wasn't cut out to always be looking for work. I like a job I know I'm going to have," he says. So, after seeing an ad in the newspaper, he applied for a job as a baker. Three 'auditions' later -- during which he baked different desserts for God's Love We Deliver -- he was offered the job. It was an easy decision to accept: " I had a partner in Providence who was the first person I knew who died of HIV, and for a while, I tried making food for him. To be in an organization that feeds people suffering from not just HIV, but many different illnesses, I thought I've got to take this job. I've been happy every since."
When Piekarski started at God's Love We Deliver, he worked out of a church basement where people worked around the clock to get out 250 meals a day and he baked one to three birthday cakes a week. Now, he and his team bake 1,500 desserts a day, including cakes, cookies, scones, and his famous brownies, which have become a fundraising item for the organization. The desserts go to God's Love clients as part of their daily meals. There are a few volunteers who help decorate, but piping the birthday cakes remains his favorite job.
"It's a little thing, but it means a lot to celebrate a person's life," Piekarski says.
Watch how to make our latest, favorite birthday treat, Confetti Cake: