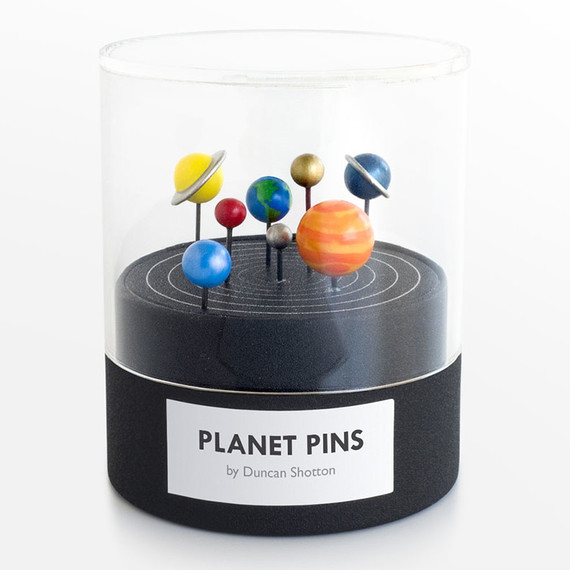 Who said push pins have to be boring? Make organization both fun and functional for your kids (or yourself!) with these hand-painted planet pins crafted by British designer Duncan Shotton. 
There are a total of eight in the collection -- sorry, Pluto! -- and each miniature orb is painted by hand in Toyko. The sets are then arranged in cute display cases showing the planets' proper alignment, which means you can also use the pins as a teaching tool. Line up the planets in the proper order and have your kids practice their names.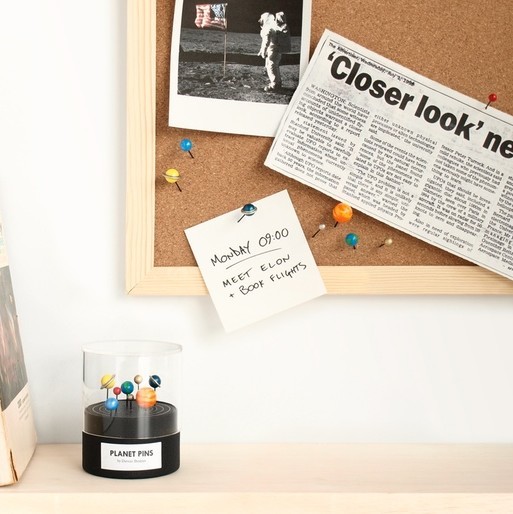 If you want to expand your universe, Shotton also offers moon push pins that are cast by hand in concrete. If you look closely, the cute lunar pin even boast tiny craters for a realistic appearance. 
You can pick up a set of these astronomical pins on Kickstarter for $28, or you can get the set of eight, plus the moon for $41. By making push pins more fun to use, you can encourage your kids to keep their play space tidy -- or you can just jazz up your own corkboard. 
[DON'T MISS: More Tips for Organized Kids' Spaces]
If your kids can't get enough of space-themed decor, they'll love the Space Odyssey birthday party Martha hosted for her grandchildren. The planet-themed cake, solar system crafts and far-out decor may be the perfect option for your next kids' party!
Watch: Top Tips for Organizing a Kid's Room