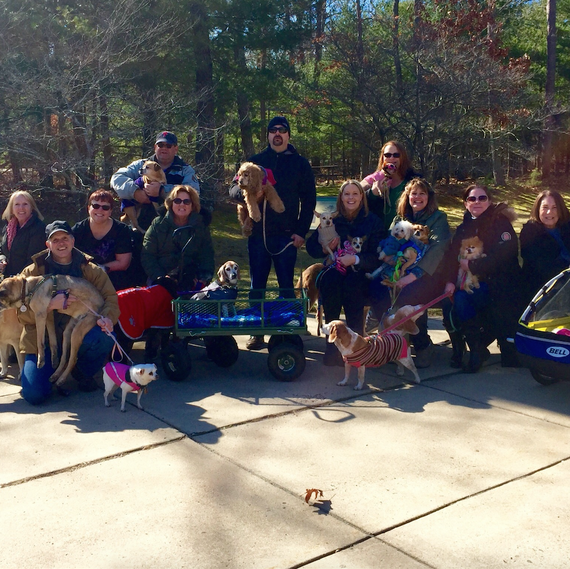 Let's face it: Elderly and ailing dogs often aren't typically the first pick at shelters. For one thing, pet owners aren't likely to have them for very long, and sick dogs may be difficult to care for without proper training.
That's where Monkey's House comes in: It's a nonprofit sanctuary for senior canines with health issues in Burlington County, New Jersey. Considered a hospice for dogs, it's run by animal advocates Michele and Jeff Allen, and named after a former foster dog. "We were forced to adopt Monkey to get him the care he needed to be comfortable," Michele tells us. "He was with us for 17 months. His crazy zest for life, his antics, and his love changed our lives forever."
[DON'T MISS: Here's What You Kneed To Know About Adopting a Shelter Pet]
Michele, who is a former nurse and believes the role prepared her for this job, says she and Jeff were fostering dogs for several years. "The phone never stopped ringing, the need never dwindled," she says. "The expense is pretty heavy for average people. We were trying to figure a way to help dogs in this terrible predicament on a larger scale without going broke."
When Monkey passed, Michele and Jeff realized their purpose. They received approval for their 501c3 in October 2015, although they had been informally operating the hospice since June. "Pushing forward with our plans to start a nonprofit, [it] lightened the load when we decided to call our home 'Monkey's House,'" Michele says. "Grief can be a great motivator and it certainly pushed us forward."
[LEARN: How to Cope With The Loss of a Pet]
Since the opening of Monkey's Bay, Michele and Jeff have welcomed 51 senior dogs into their home, and 10 recovered well enough to go to forever homes. Michele and Jeff are able to operate Monkey's House due to the care of dedicated volunteers, who give the dogs physical and emotional stimulation. "Sometimes, that means taking a slow walk with a blind pup, taking them for a car ride, [or] just sitting outside under a tree with them," Michele says. "Bathing, hand feeding, transporting to vet or grooming treatment appointments are also done by volunteers. Volunteers help with fundraising, laundry, cleaning, helping with dishes, and cooking. They will drop everything to sit with a pup who is getting ready to cross over."
As far as plans for the future, Michele and Jeff are aiming big. They want to buy nearby property with six acres, and educate folks by dispelling myths about supporting and caring for dogs until the very end.
"We want to teach other rescues about what we do here," Michele tells us. "We would like to become a place where people can come for a week with their terminally ill dog, learn about diet changes that will promote wellness, get refocused on enjoying life with their dog rather then being overwhelmed by illness or fear of loss, and discussing and troubleshooting challenges that may be faced as the pup declines." For more information, check out the Monkey's House Facebook page.
And if your hands are tied by a costly senior dog, consider taking your pet to a veterinary hospital: a facility where veterinary students and residents participate in caring for your animal at a lower cost. The Humane Society reports local vet schools provide affordable assistance, so be sure to check out The American Veterinary Medical Association, or VeterinarySchools.com to find one near you.
Are you a pet owner? Watch how Martha maintains pet hygiene in her home: