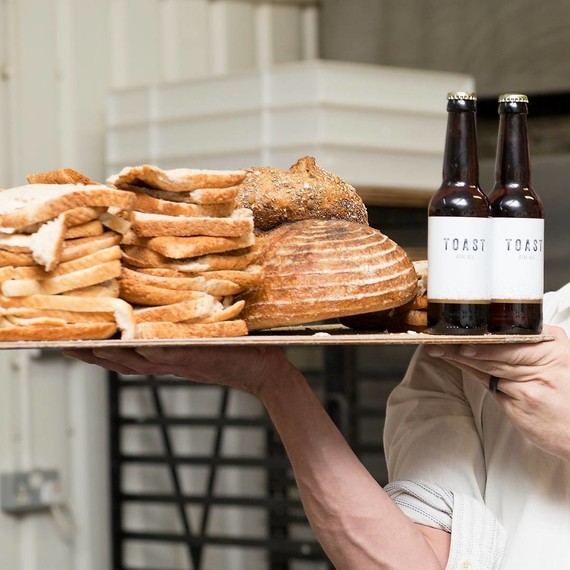 We knew leftover bread made for excellent bread pudding or dried herb breadcrumbs. But one brewery is showing us loaves can become so much more, all while helping to reduce food waste by tons. 
At Toast Ale in England, brewers use surplus fresh bread from local sandwich makers, delis, and bakeries to make craft beers. Why bread? In the UK alone, 44% of all bread produced daily ends up thrown away at the end of the day. So in 2016, looking for a way to significantly reduce this food waste, Toast Ale founder, Tristram Stuart decided to give these loaves a second life. The process is simple: first, the surplus bread is sliced and mashed into crumbs. Then, the crumbs are brewed with barley, hops and yeast, bottled, and voila -- delicious craft beer! In each bottle of Toast Pale Ale, you're drinking a slice of bread that would've otherwise ended up in a landfill. 
(MAKE: Pizza dough out of your favorite beer -- our recipe here!)
"Ideally we wouldn't be wasting this bread in the first place, but at the moment, there's so much being wasted that even charities feeding the hungry can't use it all," said Stuart in Toast Ale's recent Indie GoGo campaign video. Currently, the brewery is raising money to bring this movement across the Atlantic with an exclusive all-American Pale Ale. The more money they raise, the more "upcycled" beers they can brew, bottle and sell. Plus, all of the beer sale profits will go towards Feedback, an environmental organization helping to end food waste. 
(MEET: The duo behind this waste-free supermarket in Stockholm) 
Since Toast Ale's debut, the brewery has helped divert 7,000 pounds of bread from UK landfills. In the U.S, they want to double that number. "We hope to put ourselves out of business," said Stuart. "The day there's no waste bread is the day Toast Pale Ale can no longer exist." 
Of course, making beer is not the only way to use leftover bread. At home turn those surplus slices into breadcrumbs: