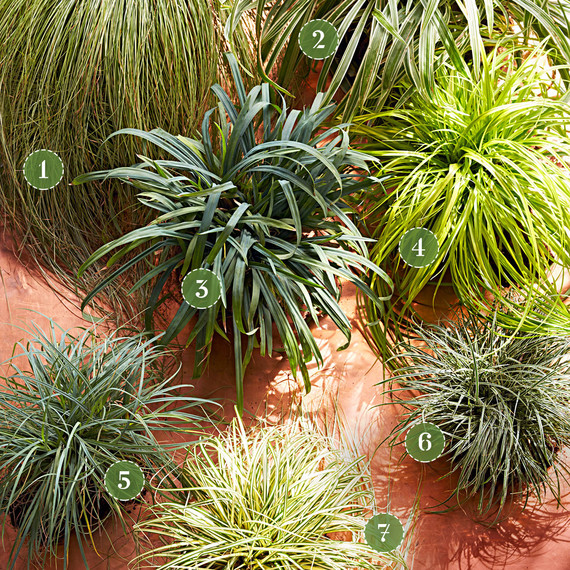 Carex grow in wet or dry soil, sun or shade, and don't tempt deer. "There's one for every situation," says Bill Kolvek, owner of Bill Kolvek Perennials, in Chestnut Ridge, New York. "They're tough as nails and long-lived." Plant now and they'll pop all season.
1  |  Carex morrowii var. temnolepis 'Silk Tassel'
This pompom-like shade lover works well anchoring a rain garden.
2  |  C. siderosticha 'Variegata'
The clumping broadleaf groundcover is a welcome, pest-resistant alternative to popular dwarf hosta.
3  |  C. laxiculmis
Native to eastern North America, this evergreen variety can reach a foot in height.
4 |  C. oshimensis 'Everillo'
For extra-vivid chartreuse foliage, plant it in a spot that gets lots of morning sun.
5 |  C. flacca
Also known as C. glauca, it's drought-tolerant once established and slow to spread, so it works nicely in small areas.
6 |  C. conica 'Snowline'
The dark-green foliage has delicate white edges, and it produces small purple flowers in spring.
7 |  C. oshimensis 'Evergold'
This weeping variegated cultivar is a showstopper in a container or border.
See how these simple gardening tips can help spruce up your green space!