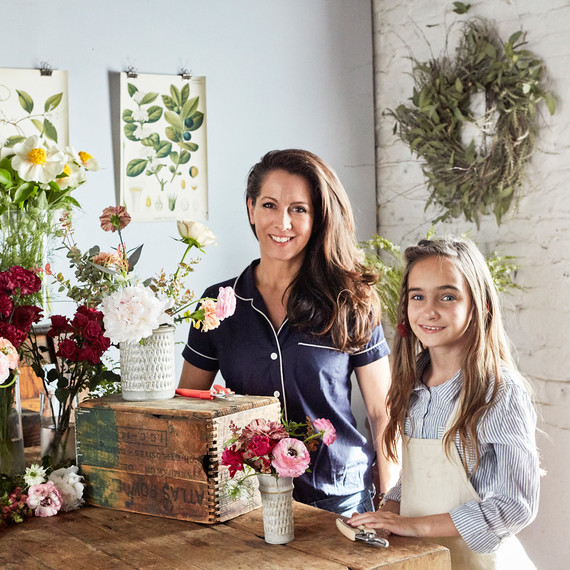 My mom is one of my most dedicated followers on Instagram, so for Mother's Day, I wanted to surprise her with a special post. It has always been a time when I get to do something creative with my own daughter, Stella, and this year, we decided to make a mother-daughter flower arrangement. She likes being involved in projects and even though she's only nine, Stella is quite the little florist.
She reminded me that we had two vases which would work perfectly for this: A pair of vintage ones from Rörstrand, a Swedish company that has been in in business since 1726, and has employed some of the finest ceramic artists, like Hertha Bengtsson​. They're real treasures and we loved that there was a large and a small -- one for me and one for her!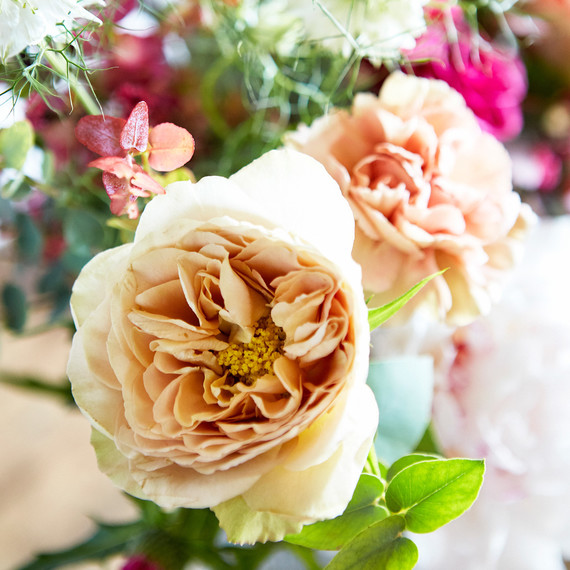 For me, the vase is almost as important as the flowers that it holds. I love featuring vintage or repurposed vessels as much as possible, but I also like to use what's on hand. An old bottle dug up from a landfill can look as pretty as something pricey!
For our Mother's Day arrangements, we chose various shades of pale peach and pinks, as well as some dark pinks and a lot of greens. I adore nude tones, and they help soften up stronger colors in the palette.
We mixed some flowers I had at the studio with some spray roses and carnations we found at our corner bodega. We also picked and mixed in some twigs and greens from outside, which gives the arrangement a bit of character -- just like adding a special herb or spice to a dish. I love mixing flowers that are strong and last a long time with more delicate blooms. This makes for a design that evolves over the course of a week or two as I pull out wilting blooms.
The arrangements I make for my clients are often recognizable for their shape, with a balance between short and long stems, and most often with a high point and a low point, just like this one. Stella also went for an asymmetrical style and it came out so cute!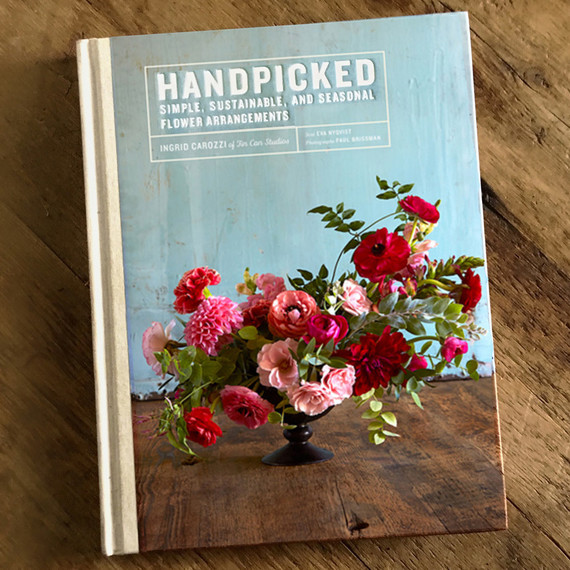 I approach flower arranging a bit like cooking, so quite often I use terms like "ingredients" and "recipes". (But if you are like me, you will probably look at the pictures, skim through the instructions, and do your own thing!) Below you will find a "recipe" for our Mother-Daughter arrangement. You can find more recipes like this in my book, Handpicked, which launched earlier this spring.
My favorite method for creating arrangements is to use chicken wire in the base of the vase. The netlike openings keep most stems in place, but still allows you to move them around. This way, you can reposition your flowers until you're happy with your design. You just cut out a piece and form it into a ball.
I'm not a "traditional" florist, and no two arrangements are ever alike, but I have come up with a few rules to follow.
Have more flowers than vase. I often go for a ratio of two-thirds flowers to one-third vase. It is a lush and sumptuous style that reminds me of the Old Dutch Masters.
I think of one flower or a piece of foliage as my focal point. In florist-speak, it's called a gestural flower.
My focal point is always off center; I don't like to build pyramids or globes. In my opinion, asymmetrical arrangements are more interesting.
I always prime my vase with foliage to support and frame the flowers.
Stella and Ingrid's Mother's Day Bouquets
Ingredients we used:
Carnations
Spray Roses
Ranunculus
Nigella
Foxglove
Peony
Eucalyptus
Lepto, thistle + other greens and twigs we found outside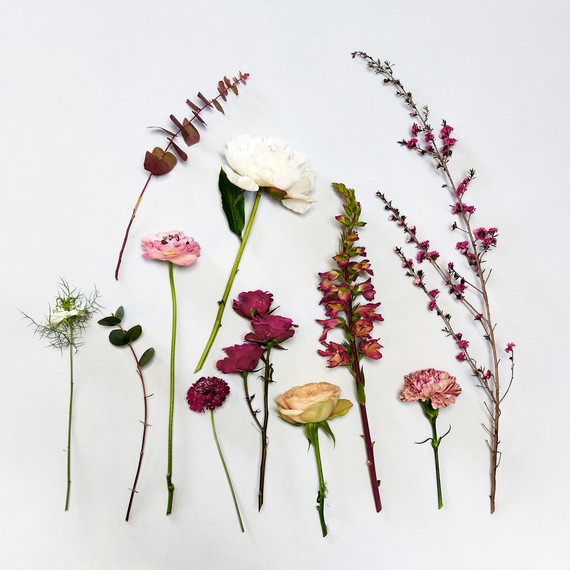 1. Choose your flowers: Carnations, nigella, roses, ranunculus, foxglove, peony, eucalyptus, lepto, thistle, and twigs.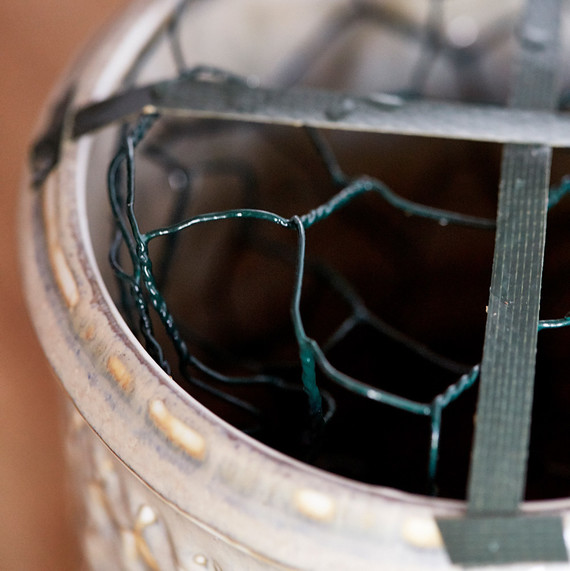 2. Put the chicken wire in the vase. Tape it up.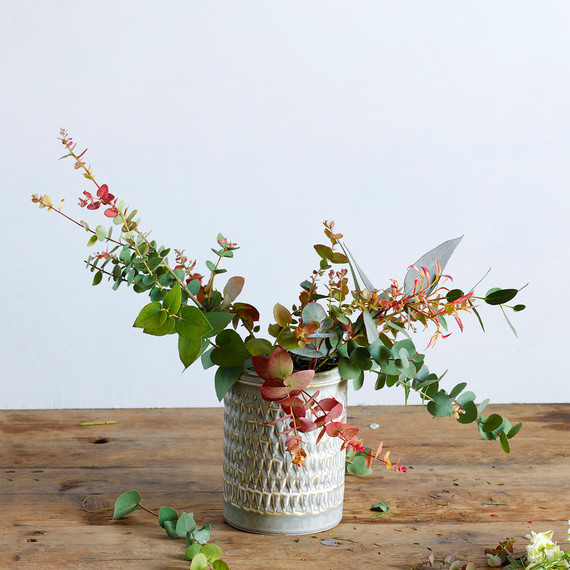 3. Arrange greenery around the rim.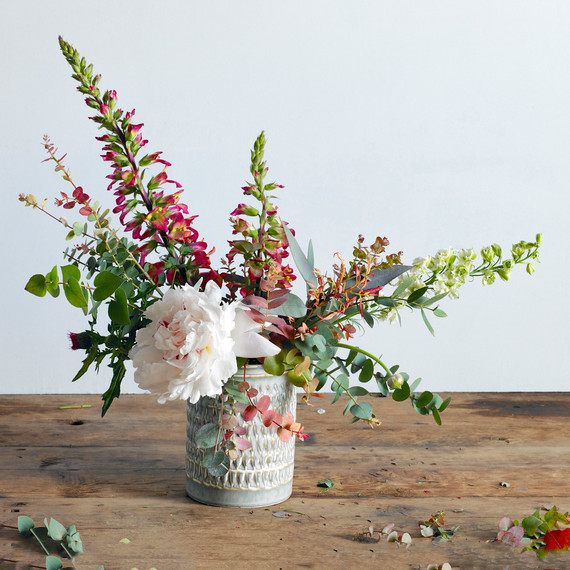 4. Place a large flower off center and set your height.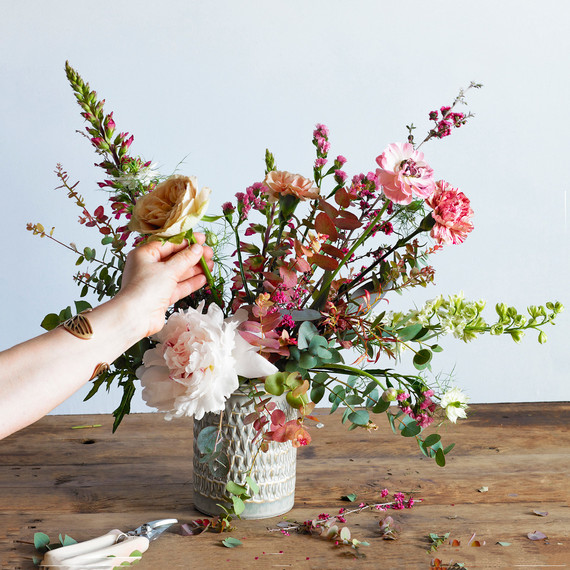 5. Fill in with flowers while turning the vase.