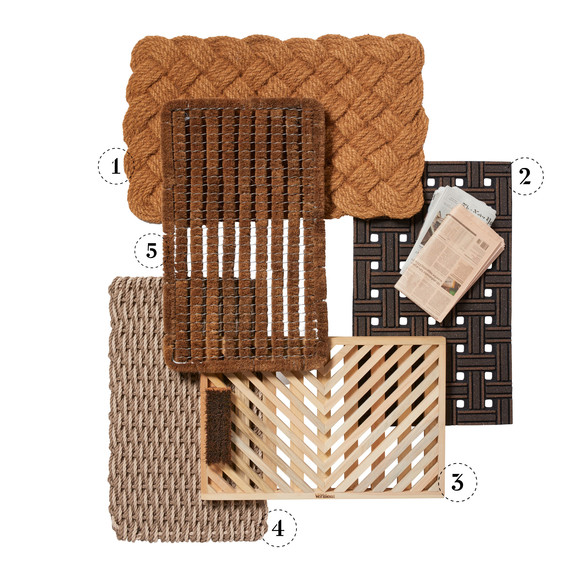 As Flannery O'Connor might have said, a good doormat is hard to find -- but not for lack of options. Pretty ones often don't perform well (and vice versa), but these five picks are stylish, sturdy, and get the job done.
To keep these hardworking rugs clean, vacuum or shake them out weekly, and hose them off and hang to air-dry as needed.
1. Eco Coco
This all-natural love knot–inspired braid is mold-resistant, soft underfoot, and biodegradable. Terrain Knot Weave, from $98, shopterrain.com.
2. Rubber, Meet Road
No-slip backing made of 90 percent–recycled rubber and a gritty top provide traction for muddy shoes. Apache Mills Weave, $11.50, homedepot.com.
3. VIP entry
A sharp chevron motif in white pine (with an added replaceable boot brush) has graphic appeal. Vermont Wooden, from $93, jkadams.com.
4. Cable Knit
When floating lobster rope was outlawed in 2009 for entangling whales, the mildewproof cord found new work on shore as a sand and salt stopper. Cape Cod Doormats The Wave, in Palomino & Taupe, from $44, capecoddoormats.com.
5. Fuzzy Logic
Stiff coir-bristle stripes reinforced with wire have extra sole-cleaning oomph. Williams Sonoma Rectangle Stripes Wire Brush, from $70, williams-sonoma.com.