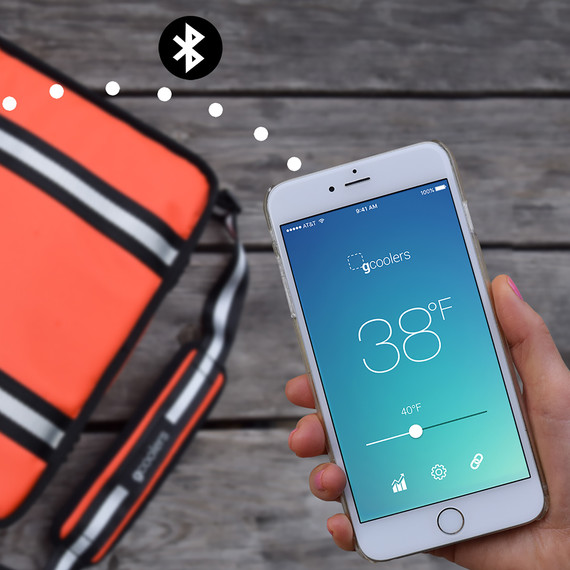 The weather has started to warm up and picnic season is coming fast. Toting the food for your picnic, or the provisions you need for a beach day or your lakehouse vacation, is not always easy when it comes to food safety and freshness. (Where does the ice go again to keep everything coolest?) Luckily, the newest cooler on the market makes things a little bit easier: it tells you the temperature of your food, right on your smartphone. 
The gCooler – dubbed the world's first ever smart cooler – takes advantage of bluetooth technology to communicate between the cooler and your phone so that you always know the inner temperature of your cooler -- without unzipping it and letting hot air in! 
(MAKE: These Recipes for Your Next Picnic.)
All you have to do is insert the g-tag (the rechargeable bluetooth transmitter) into the waterproof pouch and clip that pouch into the inside of the Gcooler. Then, pack your cooler as you would normally (and yes, the ice should go on top because cold air travels down). Once you've finished packing, zip up your cooler and pull out your phone to set the gCooler app to alert you if your cooler reaches a certain temperature. Of course, just knowing the temperature of your cooler isn't enough to actually make your food stay colder longer. That's exactly why the gCooler is made with five layers of insulation. 
Started about a year ago by three partners -- brother and sister Justin Kang and Sara Song and software engineer Bo Ryu -- the idea for the gCooler came about after Kang had the unfortunate experience of eating from a bag of food that had been left in the sun for too long and getting sick as a result. Kang, a businessman with a strong background in the IT industry, began thinking about how great it would be to have a gadget that could tell you the temperature of food before you ate it, to prevent you from consuming anything that might not be safe to eat. That lead to the idea for a cooler that used bluetooth technology to let you know the temperature of your food. From there, Song, who has a background in fashion design, took the reins on design while Ryu took care of the technical details. And now, the gCooler has made its way to Amazon, where picnic-bound shoppers can snag one for $70. 
(KEEP COOL: With thse Fabulous Flavored Ice Cube Ideas)
We're wondering why in the world didn't anyone think of this sooner? After all, in a day and age where just about everything comes back to an app -- in case you didn't know, you can now use apps to do everything from watering your plants to monitoring your fridge to making your bed -- it's a wonder that an app-connected cooler for the summer is only now hitting the market. 
We're just looking forward to never having to drink a lukewarm iced tea again. Ever.