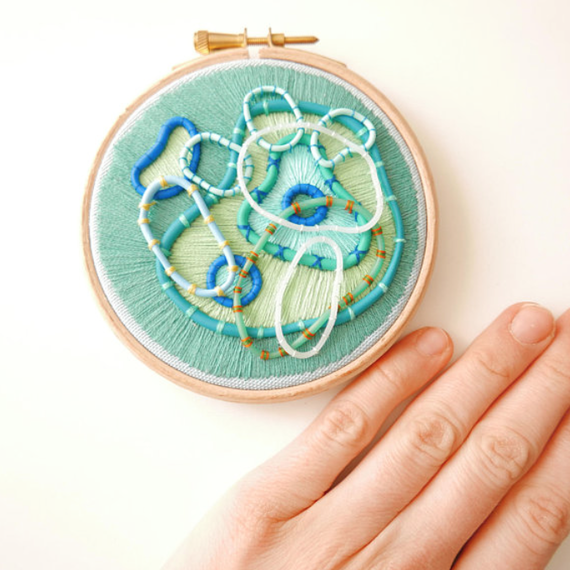 As any crafter will tell you — including Martha herself — inspiration can be found anywhere and everywhere. After all, it's the hope that you'll create something refreshingly new, something never attempted before. One Polish artist who works in embroidery and polymer clay sculpture, was able to just that by giving her hoop art a multi-dimensional twist in the form of abstract shapes and imaginative wall clocks.
Justyna Wołodkiewicz aka Nibyniebro (meaning, "just like the sky") explains that she combines a unique visual concept of color, patterns, and 3-D clay art into each of her creations. Color plays a big role in her art, but Justyna always includes another element — clay. "In every piece that I design," she tells Martha Stewart Living. "There is always a polymer clay sculpture incorporated. Some of them are simple circles, balls, small walls; some others are more complex."
[DON'T MISS: This Embroidery is Bright, Colorful, and Brings Portraits to Life]
At first, you might think she glues each sculpture onto the hoop, but that's not the case. "The key point is to stitch every shape with the thread and a needle," Justyna explains. Usually, she says that her abstract sculptures come first, which then inspires her stitch patterns; other times, the embroidery inspiration strikes first. You just never know what might make for a good hoop art idea. "It's about my world of imagination, where many things can happen," she explains in her Etsy shop, "where the emotions take different shapes and wear new costumes."
"I find inspiration in other artists works, in architecture, in nature, but the source of images that come into my head is vast," she says. "The idea of stitched object has been present around for a while and has always attracted me!" Justyna creates all of her embroidered hoops and clocks from her home in Poland. Currently, she has around 22 imaginative items in her Etsy shop — waiting for a colorful place to call home.
Feeling inspired to give it a try? Watch how to stitch a set of heirloom dinner napkins: