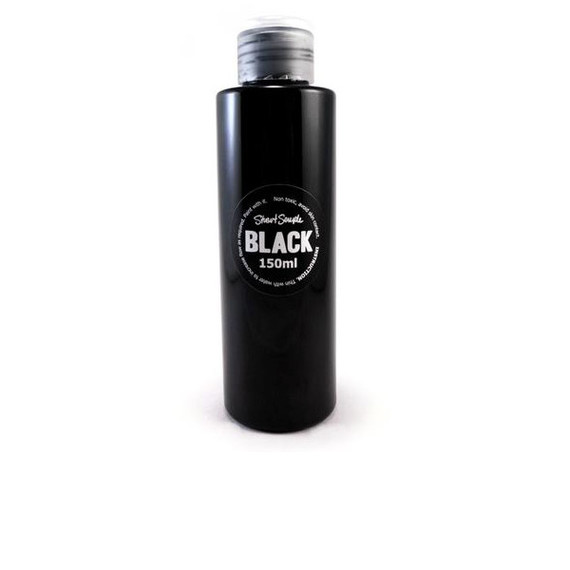 Matte paint is actually everywhere — furniture, dinnerware, even your home office.
But would you consider black matte paint? Even more daring, would you paint it the mattest, flattest black in the entire world?
Introducing Black 2.0, a black paint devised by artist Stuart Semple in response to Vantablack 2.0, which is the paint known as the "blackest" black in existence. In case you aren't caught up on your paint feuds (understandable), the original Vantablack was created by British manufacturers, NanoSystem, who collaborated with British artist Anish Kapoor, The Guardian reports. Kapoor earned exclusive rights to painting with Vantablack 2.0, however; so really, we can all hail Semple as our new hero, since Black 2.0 is available for public use.
According to Semple, his version of black paint, Black 2.0, is "the most pigmented, flattest, mattest, black acrylic paint in the world."
But is it really blacker than the original Vantablack 2.0? Developed by British company Surrey Nanosystems, its researchers have said it's "so black that our spectrometers can't measure it."
[WATCH: Take 30 Seconds to Watch These Relaxing Paint Videos]
We'll let you decide. For now, you can order Semple's version of the world's mattest black at his website. The description states, "The first version of BLACK was created by artist Stuart Semple in close collaboration with color chemists, specialists from the cosmetics industry and architectural coatings experts. It's foundation is Stuart's 'Super-Base' which enables this paint to hold more pigment than any other whilst drying to an anti-reflective, super flat finish."
Hey, we'll take it.
Feeling inspired? Watch how to make a set of easy-to-paint flower vases — the black base really lets the color pop: