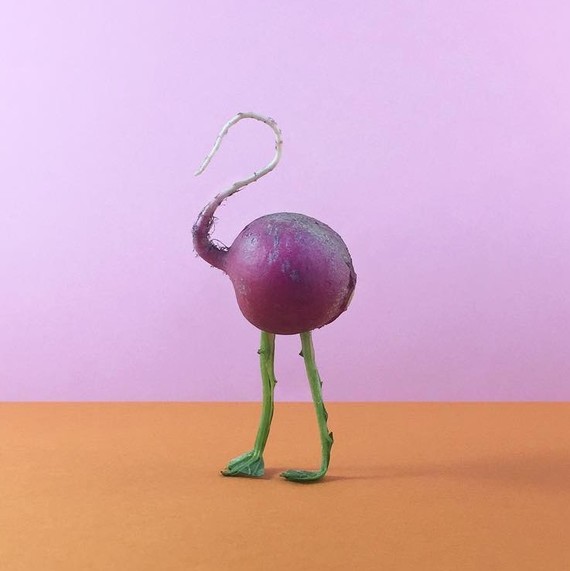 From little cauliflower trees to radish flamingoes, Danling Xiao's tiny food sculptures are whimsical enough to make you smile (and seriously crave a carrot)! But there's much more to her art than its cute factor. With each creation, Xiao tells an important story about sustainability, from the positive impacts of shopping seasonally, to the dangers of deforestation.
When she began the photo series on Instagram in 2013, the Chinese graphic designer says it was simply a creative outlet. But as she began focusing more on each piece and nurturing the creation process, Xiao says she started to become more mindful -- of herself, of others, and of her effects on the environment. Soon, the Sydney resident found herself looking for ways to live a more sustainable life.
(GO GREENER: Here's how you can shop, cook, and eat more sustainably) 
"I became more aware of everyday waste and the size of my carbon footprint," says Xiao, who has since evolved the photo project to be part of a larger creative collective called Mundane Matters. Here, Xiao collaborates with other artists and government organizations to host talks, events, workshops, and support sustainable food businesses through marketing initiatives.
Xiao says she had always sought a deeper meaning in her graphic design work. Today, as she explores new ways to combine art and creativity to spread the eco-friendly word -- check out her banana business "cards"! -- Xiao says she's never felt happier. "Sometimes not everyone understands [what sustainability is]. I may speak to 100 people, and only one person will respond positively. Some people don't have the time. But, like anything in life, you have to keep trying."
When it comes to making the mini-masterpieces, Xiao says she loves scoping out "ugly produce." "Imperfect fruits and veggies usually get left behind at markets; I love picking the ugliest ones!" The artist also notes that after each photo shoot, all food sculptures get eaten, leaving no waste behind.