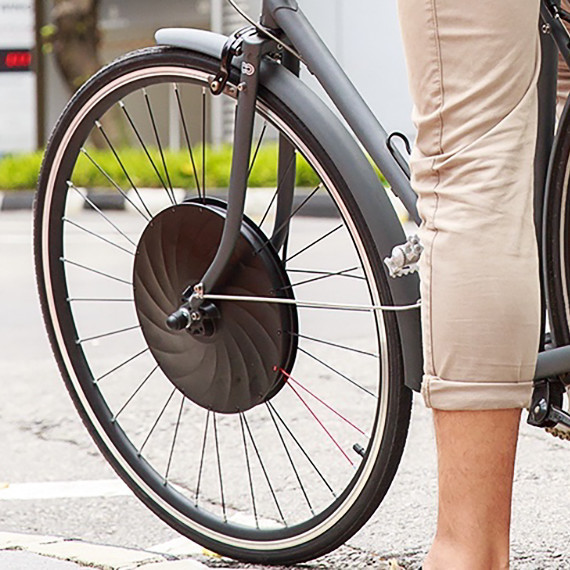 Bicycling is a wonderful way to stay active during the warmer months, but despite your best intentions, your bike might find itself collecting dust in the garage. If you're just not excited about cycling, why not upgrade your ride to biking to the next level? UrbanX is a "drop in" e-bike wheel that can convert any regular bicycle into a fun, exciting electric ride. 
What's the benefit of an electric bicycle? Having a little extra help when you're riding allows you to tackle new challenges on two wheels. Whether you want to ride farther, tackle hill-filled routes or simply keep up with your family members, an e-bike can help you achieve those goals -- all while getting fit and having fun!
The UrbanX is easy to install: Simply replace your front wheel and hook up the throttle cable. Once your new e-bike is set up, you can use full-electric mode or pedal assist, or you can simply ride normally. Each battery charge has a range of 30 miles and a top speed of 15 or 20 mph, depending on which version you choose. 
You can currently get an UrbanX on Kickstarter for a discounted price of $299 -- significantly less expensive than buying a full electric bike. The units are expected to ship in July, so you can have your new e-bike in time for summer. 
If you've been thinking about adopting new healthy habits this summer, bicycling is a great choice. So what are you waiting for? Start planning that bike tour you've always wanted to take!
WATCH: Helpful Tips for Bike Travelers