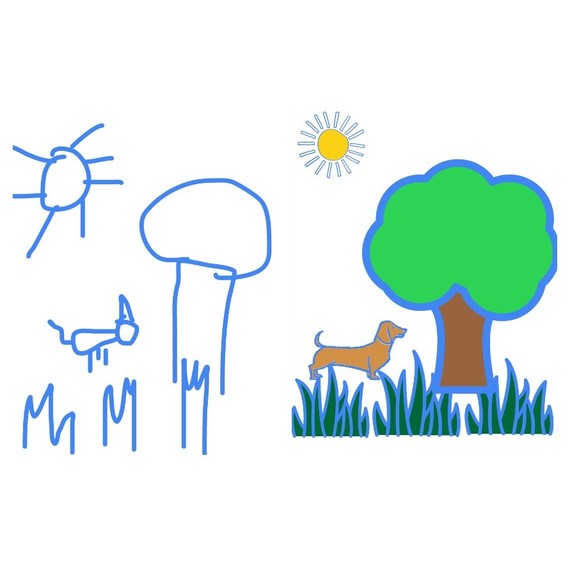 As parents, we love to display our children's hand-drawn artwork with pride... even if we're not quite sure exactly what it's supposed to depict. For the younger set, these pictures mostly come out as scribbles with a vague resemblance of something. That's why we were so excited to discover Google's latest AI experiment: AutoDraw. It's a drawing tool that turns scribbles into recognizable icons. 
[DIY: Stuffed Animals from Kids' Drawings]
Say your child wants to draw their dog running in a park, but may not know how to form the shapes. All kids have to do is draw a vague shape of each item they want in their drawing on the screen, and select from icons that appear with suggestions of what the program thinks they're drawing.  Within minutes, your kids will have created a picture that they're proud of and you will be too.
What we like about this (besides the fact that it makes drawing so fun and easy for kids) is that it collaborates with artists to create the generated images. You can tell which images are made by artists by the gold star that will be placed next to their image — the best part is that anyone can submit an image to be used on AutoDraw.
[TRY THIS: Turn Your Child's Drawing Into an Embroidered Tote Bag]
So, what are you waiting for? Show your kids Auto Draw and let the masterpieces roll in. (You can also try it yourself — it can be fun for adults too!)
Want to learn more? Watch this video to see how AutoDraw works: