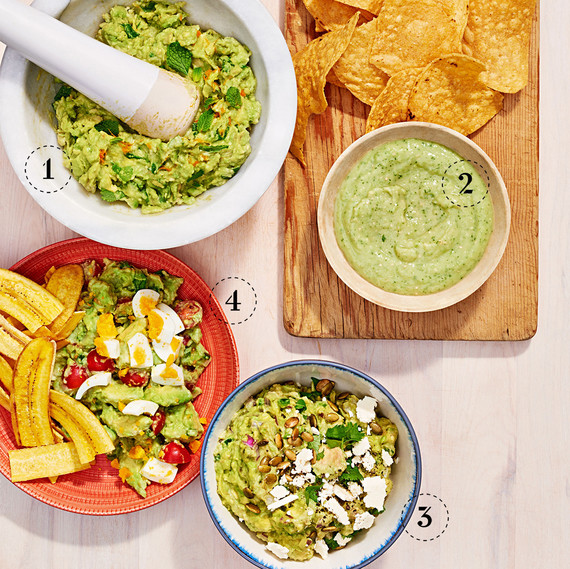 Everyone needs a back-pocket guacamole recipe. Our go-to guacamole starts with 3 ripe but firm avocados, peeled, pitted, and lightly mashed. We add 2 tablespoons fresh lime juice, 1/4 cup each chopped white onion and jalapeno, 1/2 cup chopped cilantro, 2 teaspoons kosher salt, and 1/4 teaspoon freshly ground pepper. But a celebration calls for a twist, like one of these variations.
1. Minty Margarita
Omit the white onion and add 1/2 teaspoon grated orange zest plus 1 tablespoon fresh orange juice; swap in 1/4 cup mint for the cilantro.
Get the Minty Margarita Guacamole Recipe
2. Taco Truck-Style
Swap in 2 cups chopped tomatillos for 1 of the avocados; omit the lime juice. Puree in a food processor with 1/2 cup water until smooth.
Get the Taco Truck-Style Guacamole Recipe
3. Modern Mex
Swap in red onion for the white onion. Top with 1/4 cup toasted pepitas and 3 tablespoons crumbled cotija or feta cheese.
Get the  Guacamole with Toasted Pepitas and Cotija Cheese Recipe
4. Martha's Classic
Fold in 1 cup halved or quartered cherry tomatoes and 2 chopped hard-cooked eggs. Serve with plantain chips.