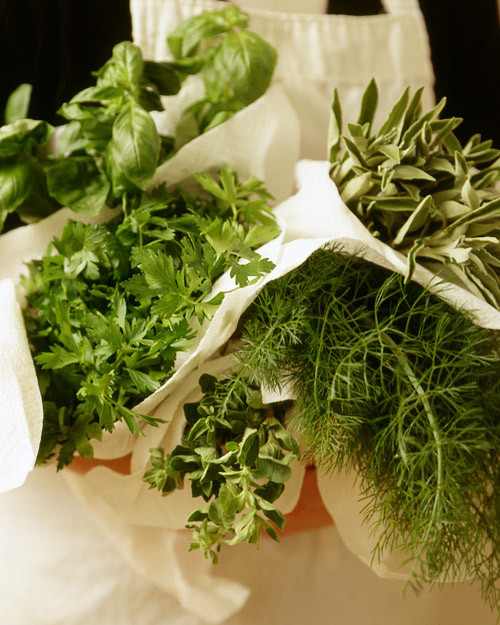 When it comes to eco-friendly cooking and eating, the words "organic," "local," and "expensive" may come to mind, but going green doesn't have to come with a hefty price tag. And while shopping organic and opting for "greener" appliances may be smart investments down the line, these aren't the only ways to be kinder to the planet -- and your wallet. 
1. Shop Bulk
Shopping in the bulk food aisle allows you to control both how much you buy and how much you pay (only buy a little if you want to try something new rather than committing to a five-pound bag). And when you buy only what you need, you lower the chances of food spoiling and being wasted, along with your hard-earned money! Many bulk food stores even allow you to BYO-containers, eliminating waste altogether. 
(WASTE LESS: By turning those vegetable stalks into soup stock -- here's the how-to.)
2. (Meal) Plan Ahead
Planning your meals ahead of time not only cuts back on weekday stress, but can also save you from those "hangry" impulse buys, like defaulting to take-out (not to mention all that excess packaging)! Meal planning also encourages more at-home cooking, a healthy habit for both you and Mother Nature. Don't toss those leftovers either -- try making scraps into stir-frys or cake trimmings intro trifles. 
(TRY: These 5 delicious ways to do make-ahead office lunches)
3. Less Buying, More DIY-ing 
Growing your own food is a great idea (ready to start a vegetable garden?) but if you don't have the space, time, or green thumb, start small, like with a mini indoor herb garden. Growing your own herbs is a simple way to save. No more plastic pouches with a few sprigs of thyme, now you'll have a healthy plant to cut from. Worried you won't be able to use all that fresh rosemary? Try freezing it, drying it, or enjoying it in new ways (we love this infused honey and these savory muffins!).
4. Keep Cleaning Simple
When it's time to make your kitchen sparkle and shine again, skip chemical-heavy store-bought products and opt into making your own -- all you need is distilled vinegar, lemon, baking soda, and your favorite essential oils. (If you can't pronounce any of the ingredients in your soaps and suface cleaners, maybe you don't want them in your home after all!)
5. Bigger is not always better
Buying a family-sized pack of pudding cups may seem like a better deal, but if you don't eat them the deal is a dud, wasting food and your money. Save value-packaged options for non-perishable items, or for foods you already consume on a daily basis; rice, pasta, or granola bars for school lunches. If you do find yourself with extra food near their expiration dates, consider freezing them (turn pudding cups into homemade freezer fudge pops!) Here's an extra green tip: fuller freezers run more efficiently than empty ones. 
(PREP: These easy and delicious freezer-friendly meals for the week)
6. Unplug Your Coffee Maker
Many home appliances continue to bump up your electric bill even when they're turned off. And while it may not seem like smaller items such as coffee makers and microwaves burn much energy when not in use (also know as "phantom power"), every watt adds up. A quick fix: consolidate smaller appliances to a power strip. This way, when you leave the house, turning off appliances and saving energy is as easy as a flick of a switch. 
Hungry for a greener way to cook? Try this simple broccoli stalk salad: