As a largely self-taught artist and mastermind behind 2,000 works of art, it's safe to say that Vincent van Gogh was a do-it-yourselfer. One of his most notable works is The Starry Night, a painting that was meant to depict van Gogh's view from the Saint-Paul asylum, where he stayed for a year and created his Saint-Remy collection. Surprisingly, van Gogh himself actually considered the piece a failure as he told his brother Theo in a letter. While Van Gogh himself may not have appreciated The Starry Night, many find it to be an exquisite work of art, which is why there have been countless works that have been inspired by it including these five methods — all of which you can try at home.
1. Water Marbling
This striking recreation (and one that is mesmerizing to watch in-progress, by the way) was created by Turkish artist Garip Ay. He uses a paper marbling technique, known otherwise as ebru, in which colorful patterns are designed by sprinkling and brushing color pigments on a pan of oily water and then transferred onto paper.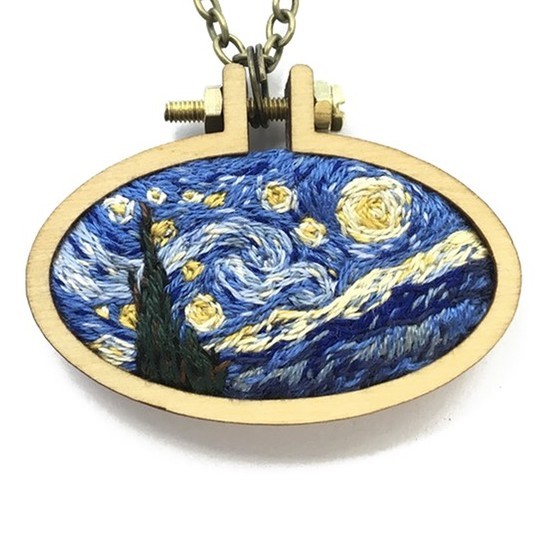 2. Jewelry
Why not wear your favorite work of art? This pendant by Jessica Blazek recreates the famous painting on a much smaller scale — more specifically, 1.5" x 1" in size. Thanks to Blazek, not only can you appreciate a tiny yet detailed recreation of  The Starry Night, but you can carry it with you every day.
[LEARN MORE: Wear Your Favorite Work of Art With One of These Embroidered Pendants]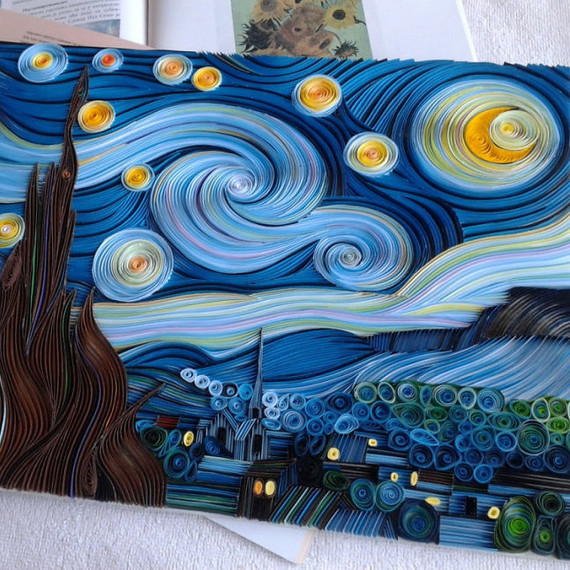 3. Quilled Paper
This whirly-swirly design inspired by The Starry Night was crafted by Vesna Rikic, who captured the night sky ever so perfectly with small strips of paper. Van Gogh himself said, "I often think that the night is more alive and more richly colored than the day." The same statement can be applied to Rikic's version as it has no loss of rich colors, swirls, and the overall feeling of vibrancy.
[LEARN MORE: See How "The Starry Night" Was Recreated Through Quilling Paper]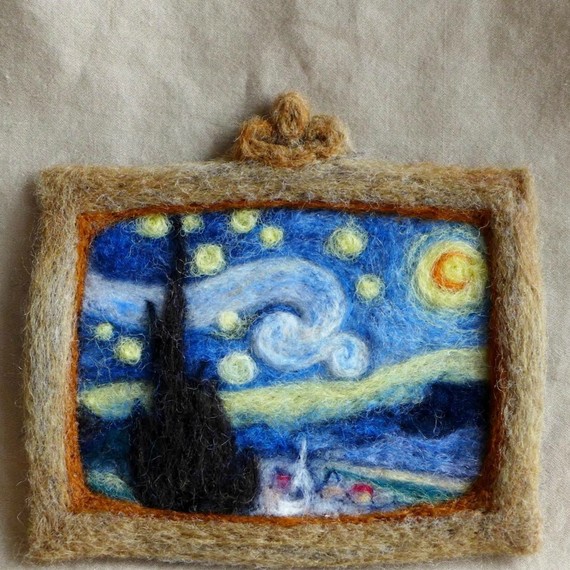 4. Needle Felting
Keeping things small is maker Winnie Chui, whose passion is creating dollhouse furniture through needle-felting wool. It just so happens that her needle-felted antique style furniture set includes a miniature painting. She compares her needle felting to an artist's shading and layering as she uses special barbed needles to compress and stitch the fibers together.
[LEARN MORE: This Teeny-Tiny Furniture Was Made From Needle-Felted Wool]
5. Embroidery
Using satin and ribbon stitch embroidery technique, artist Meko Gelashvili recreated The Starry Night so perfectly that you almost can't decipher between her version and the real thing. She told Martha Stewart Living she was inspired to recreate the piece because of her soft spot for impressionists. "Impressionist paintings bring peace to my mind every time I see one. Impressionists were trying to catch a moment in time and to make it timeless. It is and always will be the source of my greatest inspiration."
[LEARN MORE: Take a Closer Look at These Vivid Paintings — They're Embroidered!]