It's not new, and it wasn't the hippies with their natural food stores that did it first. Buying in bulk was the norm in general stores and the first small independent groceries over a hundred years ago. But it seems that recently, more and more shoppers are making bulk buying a major part of their food shopping. As consumers demand healthier and more wholesome foods on grocery shelves, we're all finding ourselves looking for options: gluten-free options, low-sugar options, whole-grain options, and the bulk aisle is the answer. Still not sure? Read on for the scoop on why buying bulk really is a smarter way to shop.
A Healthier Way to Shop
"There's a lot of upsides to buying bulk, but a big one is that it encourages more people to explore cooking," says Molly Siegler, a culinary expert at Whole Foods Market. Take spices, for example. Ever have a recipe that only needs 3/4 teaspoon of five-spice powder? Or two teaspoons of garam masala? With bulk shopping, you can buy just the amount you need without worrying what you'll do with the extra. "It really allows people who might not be ready to commit to a lot of something different, like coconut sugar or spelt flour, to still try new foods."
(MAKE: Our favorite waste-free leftover recipes for eco-conscious eaters) 
A Cheaper Way to Shop
Yes, really; buying food in bulk doesn't mean you have to buy a lot, and it can save you money because you buy what you need, not what the size of the package is. "Often times, we might buy something in a bigger package because (we think) it's cheaper," says Siegler. "But if the rest ends up going bad, it's just wasted."
(CHECK OUT: This bioplastic packaging combatting food waste)
A Greener Way to Shop
Did you know that, on average in the U.S, food packaging accounts for 23 perecnt -- or about 39 million tons a year -- of the solid waste stream? On top of saving you dollars and encouraging you to try new foodss, buying bulk helps cut back on those snack bags, cartons, and pasta boxes that would otherwise end up in landfills. Many stores that sell foods in bulk even allow shoppers to bring their own jars and containers to help eliminate waste altogether.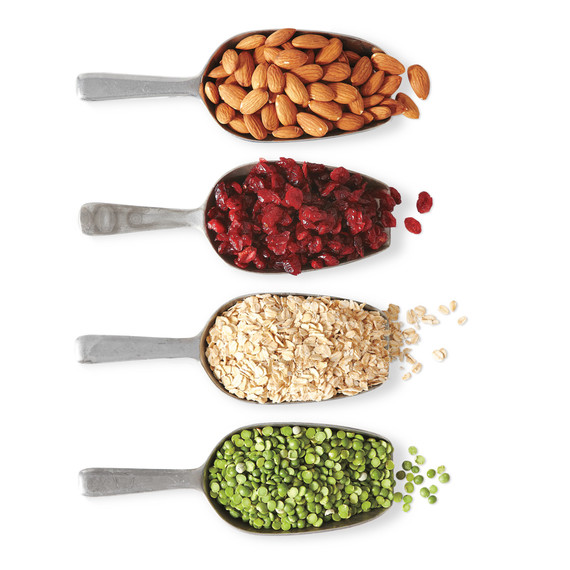 The Best Foods to Buy in Bulk
For cost-effective shopping that also reduces packaging, we stick to less perishable items: popcorn kernels, dried pasta, oats, rice, and other dried grains and legumes. Nuts also work, as long as you store them in an airtight container in the freezer. Dried fruits, which can turn brown with lengthy exposure to light and air, should be purchased in smaller containers.