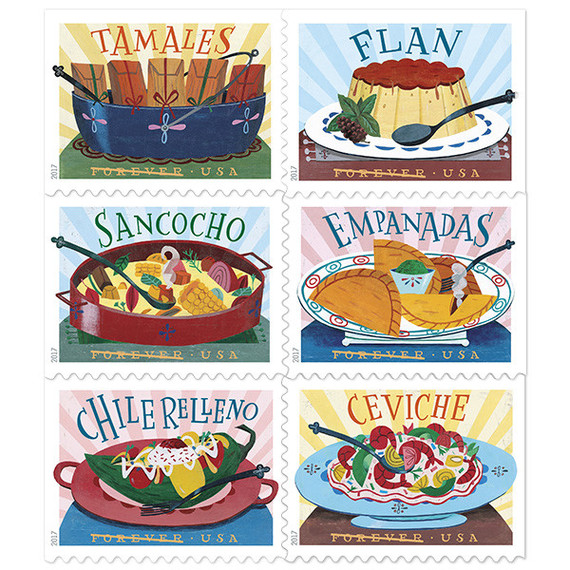 The United States Postal Service is paying tribute to Central and South American, Mexican, and Caribbean foods through its latest collection of stamps, aptly titled "Delicioso." The vibrant, playful illustrations depict six iconic dishes: tamales, flan, sancocho, empanadas, chile relleno, and ceviche. Antonio Alcalá, one of the USPS art directors, says, "I was thrilled with this subject. One of the goals of the stamps program is to try and reflect the variety and diversity of American culture, so this was an opportunity to acknowledge the contributions of these Latin-American culinary traditions."
He enlisted children's book illustrator John Parra, who describes his style as "a mixture of Mexican and American folk art," to help develop the look and feel of the stamps. Parra says, "I was already familiar with most of the dishes -- my background is Mexican, I grew up in California, and my aunts were famous for their cooking. The challenge was the size -- a stamp is only 1 inch by 1 inch -- so I had to break the illustrations down into very graphic elements and make sure they read as food right away." To achieve this, Parra applied multiple layers of acrylic paint to textured boards and used sandpaper to scratch in and impart a worn, vintage look. Alcalá then did the lettering for the illustrations by hand.
Just like snail mail, there is no instant gratification when it comes to creating stamps -- the "Delicioso" collection is the result of a rigorous two-year process. Alcalá explains, "All stamp ideas first have to be approved by the Citizens' Stamp Advisory Committee. For this particular collection, we worked with a few consultants whose areas of expertise were the foods of Mexico, Central and South America, or the Southwest United States. They came up with a list of dishes that would be appropriate, and we selected the final six from that list. We then showed the artwork as it was being done to that same committee, as well as management at the postal service. Once they were happy with the design, the stamps were sent to the postmaster general for final approval."
The good news is that the wait is finally over! The stamps will be available nationwide starting April 20th. In the meantime, use them as inspiration for dinner tonight: start with Pork Empanadas with Thyme or Ceviche with Tropical Fruit and Habanero, serve Chicken Tamales with Salsa Roja or Baked Chiles Rellenos as your main dish, and end the meal with Classic Flan.
Watch USPS art director Antonio Alcalá break down how stamps get designed: