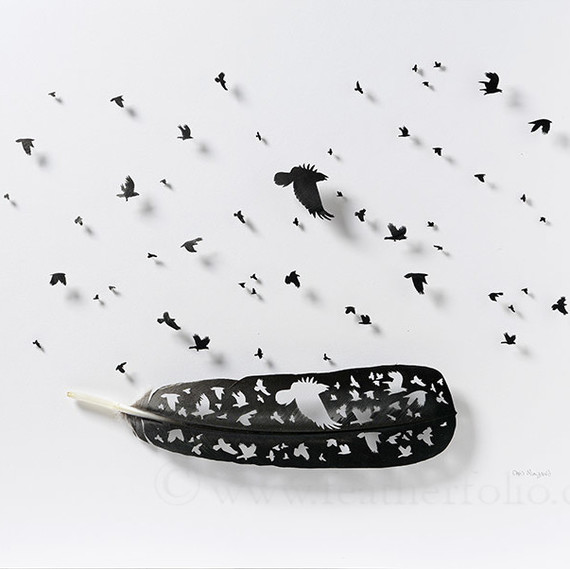 It's not uncommon to see birds in art whether painted, drawn, or embroidered — however, something more delicate and rare is artwork made completely from a bird's feather. 
One artist who uses feathers so magnificently is Chris Maynard, who does so because of the inspiration he sees in them. "I am inspired by the meaning feathers have for all people. We all want to fly, metaphorically but can only fly with our bodies as we dream," Maynard tells Martha Stewart Living. "Themes of escape, hope, getting to where we would like to be, bridges between here and the heavens are all meanings we associate with feathers. Others are beauty and healing."
[FIND INSPIRATION: We're Feeling All Aflutter Because of These Delicately Beaded Birds]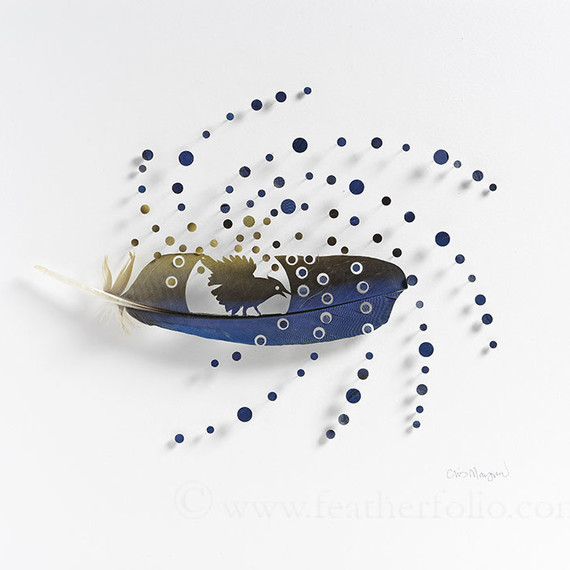 A feather is an unlikely medium, so when we saw Maynard's work, we were intrigued as to how he was able to cut out shapes so meticulously from each feather to create his works of art. 
He tells us that he is constantly sketching in an attempt to create something he'd like to pursue, when he likes the direction his sketch is going, he refines it and puts it on the computer to be sized down to the size of a feather. From there, he uses the print out as a template to cut each feather using surgical knives and tiny scissors. Pretty simple, right?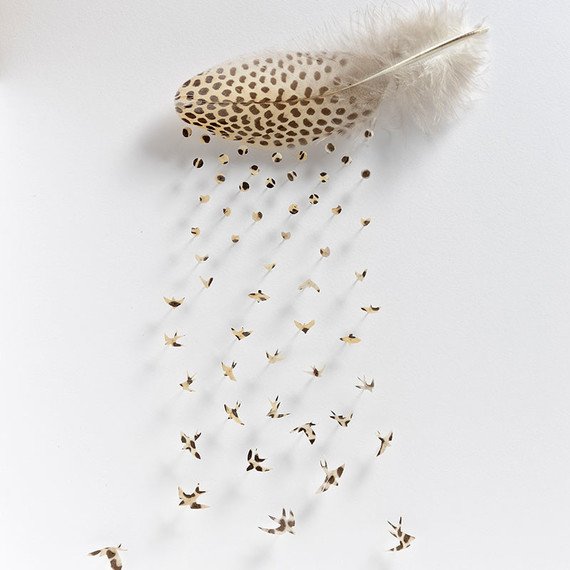 Something important to note is that Maynard strictly observes the laws in place meant to protect birds, meaning that he only uses feathers that are legal to be used. Most feathers from birds in the United States cannot be used, which is why Maynard sources his feathers from private aviaries, which are host to birds from outside of the country such as pheasants and parrots. An exception to the rule are turkey feathers, which are legal to use and their tail feathers happen to be Maynard's favorite — he tells us its because of the feathers large size and a wide variety of patterns and subtle colors.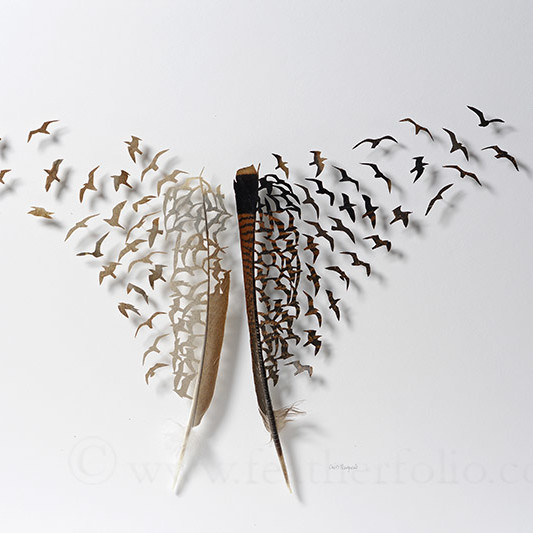 If you're enthralled with Maynard's work like us, then you'll be happy to know that it can be bought directly through his website featherfolio.com, as well as in galleries listed on the site in Santa Fe, New York. Denver, and Paris.
Want to learn more? Watch his technique in action: