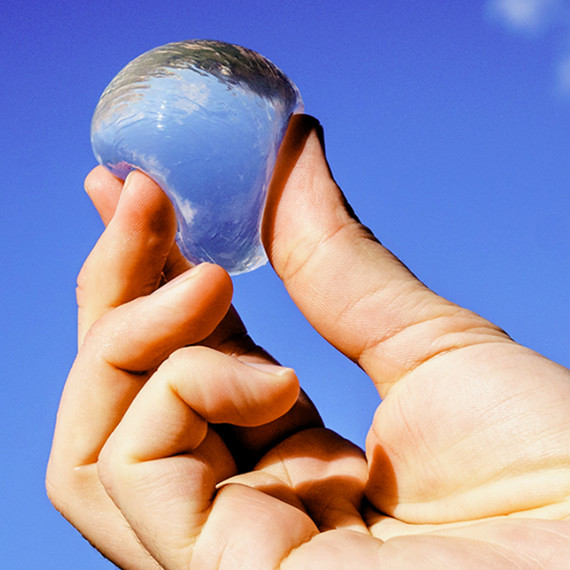 We all know we use too many water bottles and we don't recycle enough, well thanks to the engineers at Skipping Rocks Lab in London, edible water containers may be a solution to curbing plastic waste once and for all. 
It would be an understatement to say that plastic water bottles have a considerable negative impact on the environment. (Only about a third of plastic used in the U.S. was recycled in 2013, and estimates suggest that it takes about 3 liters of water to package just 1 liter of bottled water.) Sure there are ways to curb plastic bottle use -- think things like the Brita, or S'well bottles, or just bringing you own water bottle  -- the latest container for your water goes further than any before. Why? Because, once you've finished drinking from it, you can eat it. 
Ooho, a new kind of "water bottle" in a sense, is essentially a flexible water blob that acts as a squishy container for your water. Each Ooho, which is meant to hold a single serving of water, can be used by puncturing a hole in the outer sachet and pouring the water right into your mouth, or by even consuming the bubble as whole. And because it is made entirely from plants and seaweed, the Ooho is compostable and biodegradable in about 4-6 weeks (like a piece of fruit, essentially), but is also 100% edible. 
(KNOW: These are five things you're not recycling, but should be.)

So how does it work exactly? Well, the bubble has a gelatinous membrane (hence why it looks and moves a bit like Jell-O), and is made with a cooking technique called spherification that transforms liquid into gel with the help of an edible gelling agent. This is a method that you might be familiar with thanks to other popular products that use it, like the fake roe that you may find on sushi or the bubbles in bubble tea. 
Ooho is the brainchild of engineers at Skipping Rocks Lab, who thought up the concept as a way to tackle the ever-growing issue that is non-renewable resource consumption. After having worked to perfect their prototype since 2014, the engineers set out to raise about $500,000 (£400,000) to bring Ooho to market -- a goal which they quickly met and exceeded, having now raised over $1 million (£799,990). The way they see it, the Ooho could be ideal for events like marathons and outdoor festivals, and their goal is to see that happening within the next year or so. 
(LEARN: Boost your recycling game with these simple tips.)
Down the road, there are even a few other developments that could come into play for the Ooho. For example, these sachets have the potential to hold not just water, but soft drinks, juice, alcohol, and even makeup. There's also the possibility of flavoring and coloring each sachet to make it more appealing, and tastier, when Oohos are consumed whole. (Currently the sachets aren't flavored.)
To learn more about Ooho and Skipping Rocks Labs, visit skippingrockslab.com or check out their crowdfunding campaign at crowdcube.com.